10 of the BIGGEST College of Education Stories of 2020
by Ashley Lawrence / Dec 16, 2020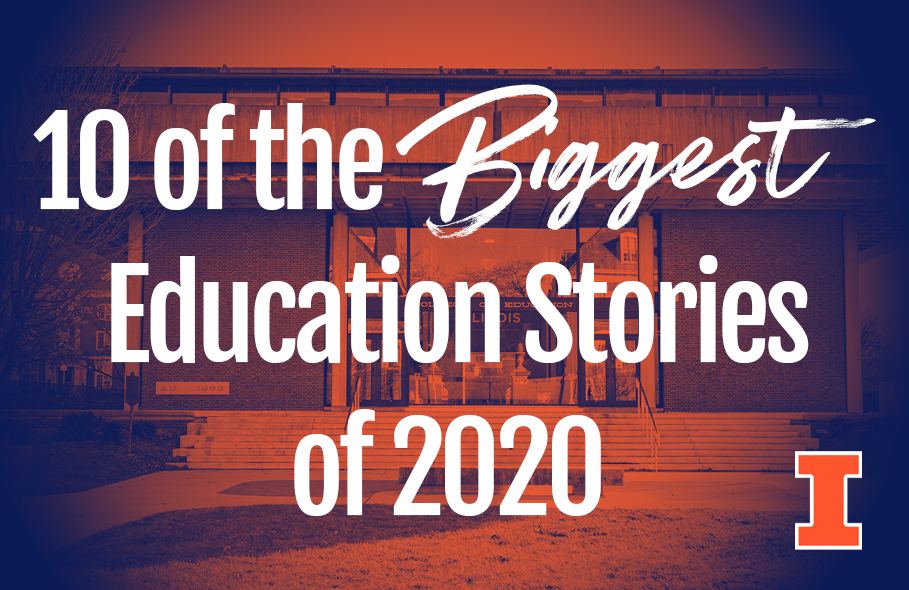 Three cheers to all for giving your best during a very difficult year. While mostly we've been toe-tapping for 2021 to get here already, let's look back on what happened this year. But just the good stuff!


Fall 2020 Undergraduate Enrollment
Looking at you, Class of 2024! Despite a pandemic changing college life as we knew it, Education at Illinois welcomed more first-year students this fall than ever (in recent history, anyway). The College's 11.2% freshman class increase was the largest on campus—a true testament to our outstanding Undergraduate Student Academic Affairs team!
New Faculty Hires
Hello, expertise! Our College broadened faculty ranks and deepened scholarship and experience across all departments and research disciplines in Education—adding 13% more tenure-track faculty for Fall 2020. Thrilled to have these professors' fresh and innovative perspectives joining our world-class faculty family!
Research Funding Gains
Increased investigator capacity (see above!) can translate to more grant submissions (14% more than 2019) and more research dollars (8% more funding than 2019). And the COVID-19 education landscape gave rise to 10 new research projects seed-funded by the Bureau of Educational Research, many of which are expected to develop into larger proposals.
Online Programs' Growth
Continued dominance in this space? Check. Overall ranked #8 in the nation in 2020 by U.S. News and World Report, our online programs continue to rock. We're providing students around the world more opportunities than ever to advance their scholarship, career, and the field of education. Read this story and this one, too, to learn how.
We CU Community Engaged Scholars Program
Dividends have already been realized from the College's leadership and investment in this public engagement program that gives students transformative, real-world learning experiences meeting local organizations' needs—and leaving everyone richer in the process.
LearnAway Launched
Emergency manual, anyone? When COVID-19 moved Illinois' public K-12 classes out of schools and to Chromebooks, tablets, Zoom rooms and more, the College sprung into action. LearnAway, a website for educators teaching online learners age birth to grade 12, was born. It's a one-stop-shop repository of curated resources—including "10 Talk" videos from expert educators on topics specific to remote instruction.
Involvement in NSF's AI Institutes
Artificial intelligence is being gathered and refined every second, minute, hour, and day—everywhere around us. But it's not every day that NSF funds interdisciplinary institutes to study concepts like AI. Big congrats to the folks in the College who are involved to explore how AI can impact education and society.
Generosity Wasn't Cancelled
Friends, alumni, and donors showed up for what really matters, going above and beyond despite all the uncertainties of 2020. Contributions to Education's With I campaign surpassed $23M of its $25M goal as of publication—that's 92% of the way there! Additionally, new endowments like the Gallaher Transfer Gateways and Constance Anna Wachs Memorial scholarships have created more support for students when they need it most.
Still Leading the Way on Social Justice, Diversity, Equity, Inclusion
We seized several national moments to continue conversations around these topics, having discussions about what we can do within education to advance the ideals of creating a more vibrant, hopeful world. And we walk the walk, too—College of Education folks are doing the work to make a difference and realize these goals.
When Challenge Calls, Great Minds Answer: WE DID IT.
We came together, we stayed together, and we're stronger together. We carried out a plan successfully—thanks to SCIENCE and copious amounts of test tubes and saliva—1 million to be exact—showing the world that arriving and returning to a bustling campus safely amid a pandemic can be done. We moved Education instruction operations from mostly in-person to mostly online, clearing any and all IT and tech hurdles along the way. And even with all the Zoom classes, meetings, and hangouts, we didn't break the Internet!