Dept. of Curriculum & Instruction's Online Ed.M. Program Thriving
by Tom Hanlon / Oct 16, 2020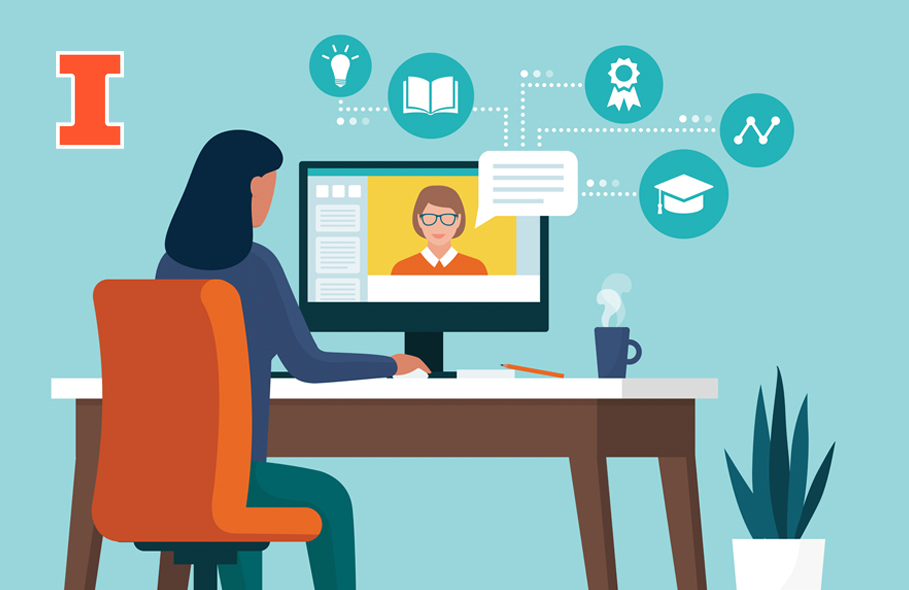 The new online Ed.M. program offered through Curriculum & Instruction at the University of Illinois Urbana-Champaign, with two options for certificates of specialization, helps pave the way to greater income and highly sought-after skills.
The online Master of Education (Ed.M.) program in Curriculum & Instruction, launched in 2019 by the College of Education, is growing in leaps and bounds.
"We have at least 60 students who are enrolled in our online program this year, as compared to 15 last year," says Sarah McCarthey, department head and professor in the Department of Curriculum & Instruction.
The department also offers two online certificates of specialization that can be tied to the online Ed.M. or an online Ed.D.—one in bilingual/bicultural and one in digital learning.
About a third of the 60 online Ed.M. students are pursuing a new bilingual/bicultural concentration as part of their Ed.M., McCarthey says.
Bilingual/Bicultural Certificate
The bilingual/bicultural certificate of specialization helps current and preservice teachers understand and master the key teaching strategies to support multilingual students in their classrooms. The certificate consists of five courses (which align with the Illinois State Board of Education bilingual and ESL endorsements), clinical experience, and a bilingual endorsement exam. Upon successful completion of the concentration, Illinois teachers can add an endorsement to their Illinois Professional Educator License (PEL).
Part of the learning will include curricular and instructional strategies for using digital media to teach students for whom English is a second language.
Certificate Advantages
One advantage of these certificates is they can be pursued either as standalone skill-building and credentialing products, or students can leverage them toward their Ed.M. or Ed.D. And students don't have to decide up front whether they want to commit to an advanced degree; they can later apply the courses to such a degree, if they so choose.
An even greater advantage is the faculty involved.
"We designed our online program to capitalize on the strengths of our faculty," says McCarthey. "We have a really strong bilingual/ESL faculty, and we have an amazing DELTA faculty." (DELTA stands for Digital Environments for Learning, Teaching, & Agency.) "Our programs are designed to leverage the expertise of our faculty."
Digital Learning Certificate
The certificate in digital learning is aimed at graduate students who want to learn more about the potential of technology in formal (e.g., schools) and informal (e.g., museums and after-school clubs) environments.
"With technology and digital learning expanding so rapidly, we decided to offer a concentration for that," McCarthey says.
The faculty for the digital learning certificate includes tenure-track professors conducting research in the field. "Mike Tissenbaum is developing specific tools for teachers, and teaches the social media class," McCarthey notes. "Robb Lindgren does research on virtual reality, and is teaching the games design course. Emma Mercier is an expert in collaborative learning, and she teaches a course on that topic that goes beyond just collaborative learning with technological tools to address the theories and philosophy behind collaborative learning and how it differs from other theories and practices. Luc Paquette teaches the course on computer programming for teachers. In that course, you have computer science people mixing with practicing teachers."
Increased Pay, Sought-After Skills
The students pursuing the digital learning certificate get a lot of hands-on practice. "In some courses, students gain enough information and knowledge to develop their own app, for instance," McCarthey says. "The fact that you can get a master's degree and increase your pay scale while gaining digital learning expertise sets this program apart. With this, teachers will know how to use digital learning effectively with kids in their class.
"There's no concentration or program like it in the state offering this set of courses with the incredible expertise that we have with our faculty."
Both the digital learning and the bilingual/bicultural certificates help the students to stand out, McCarthey says.
"A prospective employer sees those certificates and they say, 'Oh, what could you bring to our school, what could you bring to our district?' Or even 'What could you bring to other kinds of employment opportunities?' McCarthey says. "We're seeing, for instance, curriculum developers who work for agencies or companies come into our program. So, it goes beyond the classroom teacher."