Online Programs Unveil 15 Affordable, Career-Boosting Specializations
by Tom Hanlon / Sep 10, 2020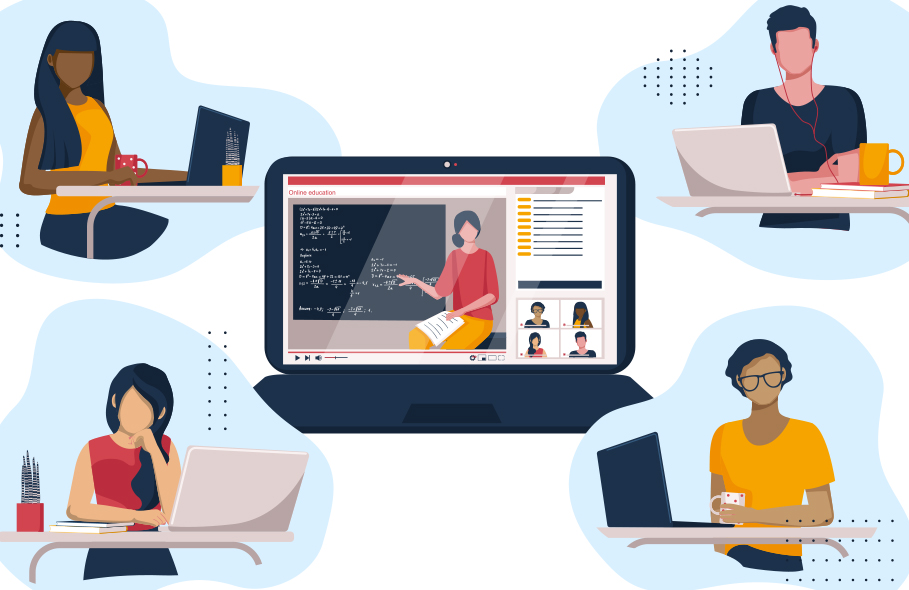 Certificates of Specialization provide highly sought-after skills and professional development opportunities for graduate students seeking to strengthen their credentials and marketability.
The College of Education at the University of Illinois at Urbana-Champaign has long been known for its strong academic offerings. But some of those strengths have been unobtrusively tucked away within various degree programs.
Until now.
This fall, online programs is unveiling 15 heretofore hidden gems: its online Certificates of Specialization (CoS) lineup. While three are new, 12 have been in place—but under a variety of headings and designations, depending on the department they are attached to.
Now, the CoS's are unified, rebranded, and will be more readily discovered and recognized for the impact they can have on graduate students.
"These certificates are great for people who are looking to increase their marketability," says Sangeetha Gopalakrishnan, who assumed her position as director of online programs in May. "In this job market, to show you have expertise in a certain area is very valuable."
Many Strengths
Gopalakrishnan notes that the CoS's have many strengths to offer students:
They are available to both non-degree-seeking and degree-seeking students, and students can add as many CoS's to their vita as they want.
The certificates are stackable. Non-degree-seeking students who earn a CoS can apply those credits to a master's or EdD if they later choose to enroll in a degree program.
Those already in a graduate program can strengthen their vita by pursuing a minor area of concentration and adding a credential—without having to take an extra course if the CoS courses are already part of their program.
The certificate offerings span a wide variety of topics (see the list below).
They can be relatively quickly obtained—much quicker than attaining a full degree. ("The number of courses in each certificate range from two to five, depending on the material that needs to be mastered," Gopalakrishnan says. "Most are three courses, which is far more doable than committing to an entire degree program.")
They are light on the pocketbook—a great option for people who may not currently have the funds to pursue a full master's or doctorate.
Shining the Light on CoS's
"This really has been unexplored potential for the College and its students, to this point," says Gopalakrishnan. "The timing is right to shine the light on these certificates, to help people see them as viable and valuable options."
These CoS's mark a double rebranding of sorts: The College is rebranding these lesser-known certificates, making them more widely familiar to students, and the students themselves will undergo a rebranding of their own—enhancing their credentials, expertise, and marketability. And that, says Gopalakrishnan, is all the more important in today's shifting job market.
Certificate of Specialization Offerings
The three new certificates of specialization offered this fall are Online Teaching in Higher Education Environment, Community College Leadership, and Designing Learning Systems in the Workplace. The full roster of CoS's is:
Bilingual/Bicultural
Learn key teaching strategies to help you support multilingual students.
Master new digital media and other instructional strategies to effectively teach students for whom English is a second language.
Community College Leadership
Prepare to take on leadership roles, from dean to the presidency, in community colleges.
Hone your leadership skills.
Designing Learning Systems in the Workplace
Be grounded in instructional system design and learning technologies.
Enhance and improve your skills in the areas of workforce training and learning development in organizations.
Digital Learning
Investigate the creation and research of digital environments for learning and teaching.
Explore the potential of technology in diverse learning environments, such as schools, museums, after-school settings.
Study educational applications, games, and toys.
Diversity & Equity in Education
Study social justice issues within learning environments.
Learn transformative approaches for diversity and equity issues with P-16 learning environments.
Diversity & Equity in Education with an Emphasis in Human Resource Development
Become competent in transformative approaches to diversity and equity issues in the workplace.
Discover an interdisciplinary approach that covers the intersection of disability, race, gender, sexual orientation, social class, and poverty.
Foundations of eLearning in Higher Education
Understand the design, development, evaluation, and management of eLearning programs and systems across organizations.
Acquire knowledge in digital game-based learning, immersive learning technology, evidence-driven learning technology evaluation, mobile learning systems, and more.
Global Studies in Education
Address education and global change from social justice and critical democracy perspectives.
Understand the globalization of policy and pedagogy in different contexts, including online environments and in children and youth studies.
Human Resource Development
Gain an understanding of the applied processes you can use to improve workplace performance and individual learning in organizations.
Enhance your knowledge about a variety of topics, from principles in human resource education, learning technologies, strategic human resource development, to learning on the job and more.
Instructional Design (in partnership with Coursera)
Acquire skills related to instructional and training system design and learning technologies.
Solve real-world educational challenges and integrate technology with today's learning environments.
International Education Administration & Leadership
Be equipped to lead, develop, implement, and evaluate international programming and internationalization activities in business/industry and postsecondary settings.
Use your newfound knowledge in both private and public sectors.
Learning Design & Leadership
Learn how to create more engaging learning environments by integrating new media technologies.
Help your students become active designers of their own knowledge, rather than just handing knowledge down to them.
Address the challenges of differentiating instruction to meet the needs of diverse learners.
New Learning
Create more engaging learning environments for your students.
Integrate new media technologies in your classroom.
Online Teaching in Higher Education Environment
Enhance and develop your online teaching competencies.
Design, implement, and sustain meaningful online learning experiences for diverse populations in higher education contexts.
Technology Specialist
Understand technology and how to use it in your classroom.
Learn about emerging technologies and their implications on teaching and learning.