Professor Duo Paving the Way to Education at Illinois
by Tom Hanlon / Aug 3, 2020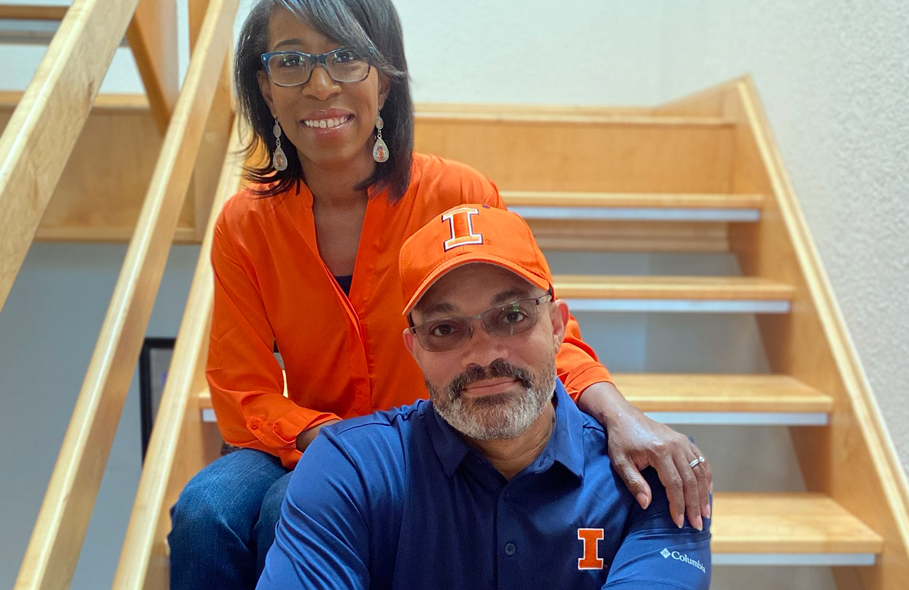 James Gallaher and Eboni Zamani-Gallaher have created a scholarship specifically designed to help community college students make a successful transfer to the University of Illinois.
James Gallaher and Eboni Zamani-Gallaher well know the value of a community college education.
James, executive director of strategic initiatives, Illinois Human Resources, and a clinical assistant professor in the College of Education at the University of Illinois in Urbana-Champaign, went through the Community College of the Air Force while serving in the military; Eboni, a professor in the College's Education Policy, Organization & Leadership Department, is director of the Office of Community College Research and Leadership and executive director of the Council for the Study of Community Colleges.
"We both value how community colleges can create a pipeline to further education and greater mobility," Eboni says. "When I dug into looking at the number of community college transfer students in the College, I knew we had to do something, given how few there were. Especially when there's a need to have more diversity in our preservice teacher pool. Community colleges enroll a critical mass of first-generation students of color."
So, the Gallahers created an endowed scholarship—the Gallaher Transfer Gateways Scholarship, which they paid one-fourth of the total gift in a lump sum, with the rest made each year through monthly payroll deduction through 2024.
"We want to incentivize the College to become more transfer friendly," Eboni explains. "The scholarship can only be used for community college transfers and students of color are strongly encouraged to apply; there's a priority for low-income and first-generation students."
Both James and Eboni received scholarship funds as Bagley Scholars when they were working on their PhDs at the University of Illinois (they first met on campus in 1997 and married in 2003). "It struck me that somebody who wasn't a gazillionaire could still make room in their finances that helped me out while I was in school," James says. "So, I thought we could do the same. Our scholarship is a way to give back to students who are coming into the College of Education."
The Gallahers donated funds to the Bagley scholarship and to the AERA Mentorship Award before endowing their own scholarship.
"For both of us, a lot of it is 'to whom much is given, much is expected,'" Eboni says. "We've been very fortunate. We've been blessed."
They are intentional about passing those blessings on. "The affordability of college is so different from when we were coming through," she says. "Anything you can do to curb costs helps. We want community colleges to be where the path starts, not ends. We see them as an on-ramp."
That on-ramp will presumably be more heavily trafficked with scholarships like the Gallahers'.
"I hope our gift creates a spark of giving," Eboni says. "Like James says, ordinary folks who have budgets and bills can find ways to prioritize and do good and put good out in the world. We're hoping our scholarship plants a seed where other people can do the same thing."
James has an additional hope. "A lot of people coming out of community college don't even have the University of Illinois in their thought process," he says. "We want to get the community college population to realize they can come to Illinois, that there is some support to try to get them here and to help them while they are here."