New Scholarship Honors Alumna's Lifelong Devotion to Education
by Ashley Lawrence / Sep 25, 2020
A new scholarship has been established in memory of alumna Constance "Connie" Wachs Grune (right) by her daughter Susan Meister (middle).
Constance Anna Wachs' name, already immortalized on a Bronze Tablet hanging in the university's Main Library, will now live on through a new scholarship for College of Education undergraduate students. The Constance Anna Wachs Memorial Scholarship, recently established by her daughter Susan (Grune) Meister, will inspire and support future generations of elementary education majors at Illinois.
Born and raised in Chicago, Constance (Connie) attended Thomas Kelly High School and graduated as valedictorian of her class. She applied and was accepted to the University of Illinois Urbana-Champaign, eventually earning a bachelor's degree from the College of Education and Bronze Tablet Top Honors distinction in 1956. According to her daughter Susan, as a student her mother thoroughly enjoyed campus life and never missed a Fighting Illini football game. Connie cherished her Illinois football music box that played the Illinois Fight Song, as well as the plethora of orange and blue treasures she accumulated over time.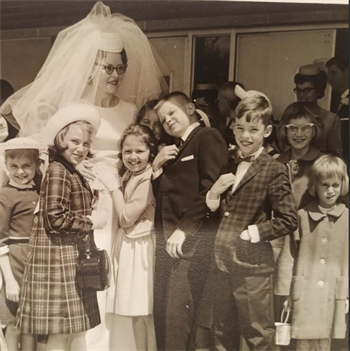 When she finished her degree at Illinois, her grandfather gave her the choice of either $1,000 cash or a mink coat," says Susan. "At 21 years old she chose the money and put it into a fund for her future children's education—long before she even had children. That's how meaningful education was to her."
Connie accepted a position teaching fourth grade at Walker Elementary School in Clarendon Hills, Illinois, eventually staying for 14 years. She was an exceptional teacher and well-loved by the children in her classes. Susan says that in 1962, her mother's fourth grade students surprised her by showing up at the church to attend her wedding ceremony.
While teaching, Connie also worked toward a master's degree in education at Roosevelt University in Chicago.
"At some point—and she had to turn this down—my mom was offered an adjunct professor position to be a teacher educator. It would have meant relocating from Chicago, however, and at that point in her life she just couldn't do it. It was such an honor for her, though, because she was offered the opportunity to teach future educators," says Susan.
Around this time Susan was born, and Connie took time off from teaching to spend with her daughter at home. But she couldn't stay away from the classroom for long. Soon, Connie began volunteering as a librarian at her daughter's elementary school, reading books to students.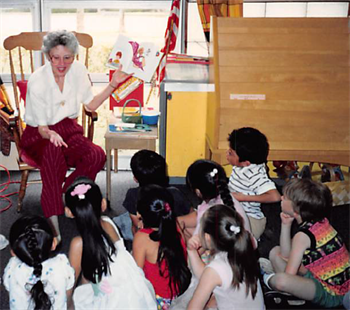 In 1982, Connie returned to the workforce as a Youth Services Librarian at Hodgkins Public Library, where she spent the next 20 years coordinating all the reading programs and activities for children. Participation in children's reading programs grew by more than 300% during her tenure.
"My mother was an amazing storyteller—it actually sealed the library job interview for her," says Susan. "She loved her time at U of I, and by sharing stories with me it was clear how much she valued her education from Illinois. It definitely influenced me to apply."
Susan, B.S. '91, graduated with honors from the College of Business and went on to earn both a master's and a law degree in her own academic pursuits, much of which she attributes to her mother's inspiring passion for education and love of learning.
"People always saw her as someone who had this contagious enthusiasm. She would write letters to me when I was in college, and her personality would just jump off the page," says Susan, "She was the greatest support, encouragement, and inspiration in my life."
Connie passed away in December 2019, after a rewarding and fulfilling 87 years of life. Her daughter immediately knew how she wanted to honor her late mother.
"My mom's gift from God was her ability to teach young children in a way that made them love learning and feel a sense of self-confidence and personal growth. She spent her entire adult life using this gift to make a positive impact on thousands of young lives—including my life and the lives of her grandchildren," says Susan. "The Constance Anna Wachs Memorial Scholarship will support aspiring elementary school teachers as they pursue a degree in Education at the University of Illinois. Through this gift, I am confident that my mom's legacy will live on through others."
Above and beyond the With Illinois campaign goals, the College of Education aims to raise an additional $1.5M in scholarship support for Education at Illinois students. To partner with us in our challenge to back the next generation of teachers and leaders, please call our office at 217-244-7228 or email advancement@education.illinois.edu and start your own inspiring story.