Ready to change the world?
We prepare our students to succeed. We offer teacher licensure and non-licensure degree options—so you can choose the right fit for your future.
From the moment you arrive on campus, you'll have a network of people looking out for you.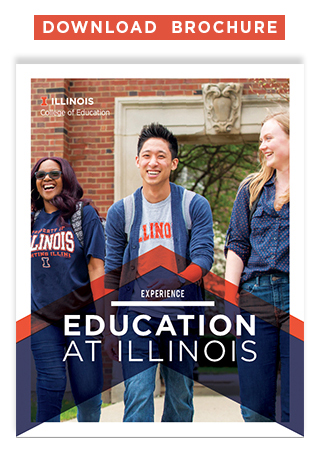 It starts with your academic adviser who will help you
make thebest decisions. Professors and others will serve as valued mentors. Your fellow students will play a role, too, through peer advising programs, student organizations, and lasting friendships.
After graduation? You'll still be able to count on us for assistance with curriculum planning and connecting with faculty and alumni for support.
Degree Options
Do you want to be a teacher?
We offer four teacher licensure degrees as well
as a minor in secondary teaching.
Visit this page for information about the Illinois State Board of Education (ISBE) requirements in our licensure programs.
Clinical Experiences Fee
University of Illinois at Urbana-Champaign educator preparation programs have Board of Trustee approval to assess a one-time clinical experience fee, currently $790, prior to a students first clinical experience in the K-12 schools. This fee is assessed via a "course" that shows on a students registration for the term assessed as EDPR 203. This EDPR 203 "course" does not appear on transcripts or carry any course credit, but is a means by which students are assessed the program required clinical fee for K-12 supervision.
This fee is assessed when you begin your professional education sequence; fall of junior year for Early Childhood, Elementary and Middle Grades majors, spring of sophomore year for Special Education majors and spring of junior year for Secondary Education minors.

Interested in the field of education but not sure you want to be a teacher?
Our Bachelor of Science in Learning and Education Studies major will prepare you to lead in education, training, and management positions in business, government, healthcare, international schools and more. We offer four areas of concentration in this non-licensure degree:
Applying to the College of Education:
Information for Freshman Admissions
Information for Off-Campus Transfers
Information for Current Illinois students
Undergraduate Academic Advising
From admission to graduation—our Student Academic Affairs Office is a great place to go for answers to your questions. Illinois may be a large university, but at the College of Education, we'll make sure you never get lost in the crowd.
School and Community Experiences
School and Community Experiences coordinates all aspects of field placements for student teachers leading to Illinois Licensure in Early Childhood, Elementary, and Secondary Education.
State Licensure for Teachers
Public school teachers must be officially certified before they're hired. At Illinois, the Council on Teacher Education manages teacher licensure in cooperation with your degree program to ensure that you've met all of the necessary requirements.
Teaching Science with Alumna Kelsey Aikman
We prepare you to teach science in elementary classrooms in ways that engage students through both hands-on and minds-on science inquiry.