Secondary Education Minor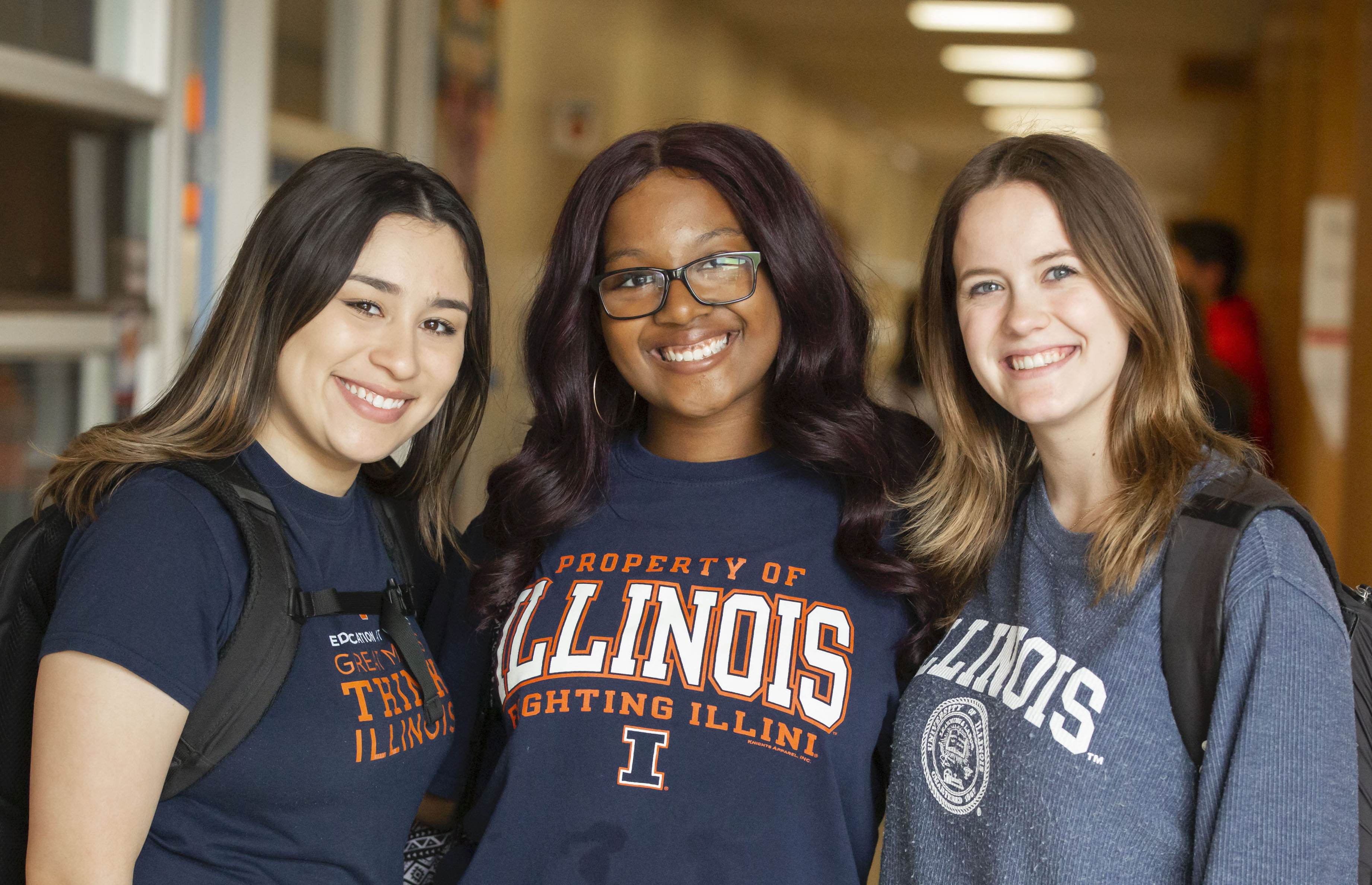 If you are a student currently enrolled in the Secondary Education minor, the following information applies to you.
Secondary Education Advisor email: secedadvising@education.illinois.edu
Year 1 Spring

CI 401: Introductory Teaching in a Diverse Society (3 hrs)

Effectively serve diverse high school students
The purpose of teaching the specific content area


CI 473: Disciplinary Literacy (3 hrs)


Language and literacy instruction in content area
Illinois Professional Teaching Standards

Year 2 Fall

CI 403: Teaching a Diverse High School Student Population (3 hrs)

Planning and strategies for units and lessons

SPED 405: General Educator's Role in Special Education (3 hrs)

Educating students with special needs
Roles of teachers and related service providers
Curriculum individualization and instructional strategies

EPSY 485: Assessing Student Performance (3 hrs)

How to write and use assessments, measurements, and evaluations in a school setting

Year 2 Spring

CI 404: Teaching and Assessing Secondary School Students (3 hrs)

Developing curriculum, teaching, and assessing learning in the high school years
Online Wednesdays @ 6 PM

EDPR 442: Educational Practice in Secondary Education (12 hrs)

NO OTHER CLASSES MAY BE TAKEN
Mandatory Events/Sessions
COE SAAO

Year One

Induction Meeting

Placements
Student teaching
Courses
Secondary Education Program
School and Community Experiences

Year One

Resume Workshop

Write an education resume and cover letter

CI 401 Orientation

Placement information
Danielson framework
edTPA
Background check information
Cover letter information

CI 403 orientation

Year Two

Supervisor orientation for CI 403

edTPA Support

Preparation for what should be included

Student Teaching Orientation

Keynote from local administrator
Panel of previous student teachers
License information

Student Teaching Placement Day

Meet and greet supervising teachers

Charge Ceremony

Formal recognition before student teaching
Council on Teacher Education

Year One

CoTE Orientation

Mandated Reporter training
Information about CoTE requirements and roles
Held each fall (typically early to mid-October) prior to the registration process
Attendance is required in order to obtain the appropriate attribute to register for the courses in the minor
School Placements and Student Teaching
Detailed information about your classroom placements and student teaching can be found on the School and Community Experiences website.
This information will also be broadly covered in your induction meeting after being admitted to the program.
EDPR 203

Will appear the spring you start the professional education sequence
Student teaching placement fee
ILTS

Content area test to show knowledge about a subject
The test carries a fee of $122.
edTPA

Assessment of teacher readiness
Required to earn your license in the State of Illinois
Will be multiple information sessions about the edTPA each semester
Common questions about the edTPA, including the fee, can be found here.
Lynn Burdick, in the College of Education, is the main contact for the edTPA on our campus

License Registration

CoTE will give you information about how and when to register your license.
You cannot use your Illinois license to teach unless it is registered and the fee is paid.
State Board of Education

You will be granted a license through the Illinois State Board of Education
CoTE will direct you in how to do this your Senior year of the minor.
CoTE

The Council on Teacher Education (CoTE) is a core resource on campus for students seeking licensure.
CoTE requirements for student teaching and licensure are listed here.
Secondary education licensure powerpoint can be found on this page as well.
Endorsements are additional areas someone is licensed to teach.
They are needed to teach a content area and/or to teach AP courses in that content.
Example 1:

If you have a Biology endorsement, you can teach any science, but you can ONLY teach AP Biology, NOT AP Chemistry.

Example 2:

If you teach English but would also like to be able to teach History, you would need an History endorsement.
Specific questions about endorsements should be directed to the Council on Teacher Education.