Counseling Psychology Student Perspectives
Curious about what it is like to be a student in the Counseling Psychology Program?
Erin Budesheim
I completed my undergraduate education at Creighton University in Omaha, Nebraska where I graduated with my B.A. in Psychology in 2019. During my undergraduate career I participated in internships working with adolescents in juvenile detention centers and partial psychiatric hospitalization settings. In my prior research experience, I found my passion for mental health stigma in college students and promoting positive development.

At the University of Illinois in the Counseling Psychology Program, I work with Dr. Chris Napolitano. My research focuses on adolescent and young adult resilience and mental health outcomes. I am specifically interested in working with college students during times of transition and prevention of mental health problems influenced by positive psychology.

Outside of school, I enjoy exercising, studying art history, shopping, cooking ethnically diverse dishes, and watching new shows on Netflix.
Richmond Hayes
I am a first-year graduate student in the Counseling Psychology Program working under the guidance of Dr. Helen Neville. Broadly, my research is focused on facilitating the transformation of unhealthy and oppressive societal structures. More specifically, I am interested in generating new knowledge that provides solutions to individuals, families, and communities of the African diaspora who have been affected by the criminal justice system.

Prior to joining the Counseling Psychology Program, I completed my B.S. in Psychology with a minor in the Administration of Justice at Howard University and earned my M.A. in Forensic Psychology from The George Washington University. Upon graduation, I worked as a Pathways Intern at the U.S. Department of Justice in the Criminal Division.

Outside of the Program and the RACE lab, I enjoy collecting sneakers, engaging in outdoor activities, and traveling the world.

Mai Hoang
Before I joined the Counseling Psychology program in the fall of 2014, I worked as a Research Administrator at the Massachusetts Institute of Technology for five years. During this time, I had an opportunity to teach entrepreneurship as a volunteer at Casa Isla, a short-term revocation center for high-risk youth in Quincy, Massachusetts. This experience was one of the key events that inspired me to pursue a Ph.D. in counseling psychology.

Broadly speaking, my research interests include exploring diversity education and treatment approaches that foster critical consciousness, as well as examining how people's beliefs and biases are related to outcomes, including cognitive engagement level, empathy, social behaviors or wellbeing. Currently, I work under the guidance of Dr. Helen Neville and am involved with several different research projects.
In my free time, I enjoy swimming and taking long walks. I also like cooking and throwing dinner parties, reading and traveling.
Diana Lesmes
I worked for almost 7 years as a professor for the industrial engineering department of the Universidad de los Andes, in Bogota, Colombia. Where I also did my B.Sc. and M.Sc. in Industrial Engineering with an emphasis in Statistics.
For the last 4 years, I taught a class for first-year industrial engineering students, in which I helped them to develop entrepreneurial projects, their soft skills, and career plan. This experience made me realize my love for teaching and encouraged me to do a Ph.D. in Counseling Psychology.

I joined this program in fall 2019, and since then, my research interest focuses on career counseling. In specific, research that seeks to help people to find fulfillment and joy with what they study or do for a living. At present, I work under the guidance of Dr. James Rounds, doing research on major life goals and its relationship with interest and personality.

In my free time, I enjoy jogging, reading, and watching superheroes series on Netflix with my daughter.
Amir Maghsoodi

I am in my 2nd year in the Counseling Psychology Ph.D. program. My research interests combine social psychology, developmental psychology, and personality psychology. Working with Dr. Nidia Ruedas-Gracia, I explore psychosocial factors that underlie and promote resilience of marginalized and oppressed members of society. I currently pursue this work by studying "sense of belonging" and racial/ethnic identity development, and am particularly interested in exploring these and related themes among Southwest-Asian immigrants in the US. I am passionate about using my training in Psychology in the service of social justice. As a 1.5-generation Iranian-American immigrant, myself, I am especially resolute on advocating for the rights of SWANA/MENA immigrants.

My clinical interests revolve around working with students and young adults who are grappling with issues of identity, anxiety, and adjusting to major life transitions. Furthermore, I am interested in working with couples and groups, focusing on the relational processes that happen between two or more people. I enjoy providing individual therapy and observing group therapy as a practicum counselor at the Counseling Center.

Before coming to the University of Illinois, I researched people's life stories (aka narrative identity) and relationship narratives with Dr. Dan McAdams and Dr. Janina Bühler at Northwestern University. Prior to that, I was a Ph.D. candidate in Applied Physics.

I enjoy going on walks with my partner, Chloe, and our dog. I love to play the guitar and piano while singing Western and Iranian pop songs. In March, you can expect me to arrive in class with Iranian pastries in celebration of Norooz, the Persian New Year.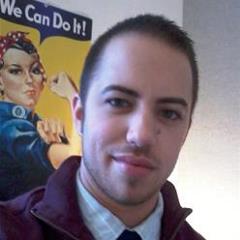 Chris Murdock
I serve as the Graduate Assistant Counselor at UIUC's Faculty/Staff Assistance Program. I have research experience in the cognitive-neuroscience of depression, outcome evaluation, and various aspects of vocational psychology and have published chapters on the role of work values in vocational rehabilitation and the person-environment fit approach to vocational counseling. I am broadly interested in psychotherapy evaluation; gender-role stress, masculinity, and the development of feminism and gender-consciousness in men; and disseminating evidence-based vocational guidance to under-served populations (current and former prisoners, veterans, student-athletes, etc.). I am an instructor and course-coordinator for an undergraduate career- and life-planning course, a consultant and trainer on the UIUC LGBT Ally Network Training Committee, and the facilitator of two support groups for LGBT-identified and questioning undergraduate and graduate students. I have 8 years of counseling experience that includes training in behavior therapy with developmentally disabled children, neuropsychological assessment and family therapy at a university training clinic, individual therapy at a university student health center, individual and couples therapy in an EAP setting, and individual and group therapy in the Post-Traumatic Stress Disorders Clinic at the Illiana VA Medical Center in Danville, IL.
Nimot M. Ogunfemi
After completing my Bachelor's degree in Psychology from the University of Illinois at Urbana-Champaign in 2015, I worked in Chicago and its surrounding neighborhoods as a volunteer and employee of several community centered organizations. I returned to UIUC in the fall of 2017 to join the College of Education's Counseling Psychology program. As an undergrad, I completed a distinction thesis examining the relationship between stereotypes and comradery amongst black college aged women.

Early exposure to the fine arts cultivated my interest in psychological processes. My current research interests rest at intersection of race and mental health, specifically the effect of cultural stimuli, like religion and art, on racial identity, success and resilience. I aim to work towards the continuation of introducing cultural frameworks to psychological intervention and promoting self-efficacy and mental health awareness in communities of color. I am currently working under the guidance of Dr. Helen Neville, namely on the #PowerUp Project on civic engagement and participatory action in youth of color.

In my spare time, I enjoy visiting museums, participating in and talking about creative processes, and reading.
Katie Rhoades

Before coming to the Counseling Psychology program in Fall 2018, I completed a B.A. in Psychology, a B.A. in Neuroscience, and a minor in Business Entrepreneurship at the University of Colorado at Boulder. During my undergraduate time, I was a peer educator at the university's Counseling Center, a peer mentor for students on academic probation, and completed an honors thesis examining the relationship between dopamine polymorphisms and risky sexual behavior. After graduating, I worked as a medical assistant where I developed my love for health and working one-on-one with others. At the University of Illinois, I am advised by Dr. Robyn Gobin and Dr. Lisa Kinderman. My current research focuses on the mental and physical health of sexual assault survivors with a focus on PTSD, sexual health, and the impact of betrayal trauma. My current graduate assistantship is at McKinley Health Center conducting sexual health outreach. I have previously been an assistant at the Counseling Center conducting LGBTQ+ outreach. This year, I will be teaching EPSY 220: Career Theory and Practice and have previously been a TA for EPSY 202: Exploring Cultural Diversity. I am a member of the Psychology of Women Quarterly 2019-2020 Student Advisory Board and of APA Divisions 35 and 17. I am passionate about health psychology, advocacy for sexual trauma survivors, women's and LGBTQ+ issues, and sex therapy. It is important to me that my work focuses on empowerment, social justice, and overall wellness. In my free time, I love to listen to indie music (shout out to Polyvinyl Records in Champaign!), rock climb, practice yoga, run, and go to art museums.
Briana Williams
I am a first year graduate student in the Counseling Psychology Program. I recently graduated from a small historically black college, Claflin University, in South Carolina. I am advised by Dr. Anita Hund. Broadly speaking, my research interests include the social needs and experiences of sexual minorities of color. I aspire to utilize my research to adequately inform and improve counseling and supportive contexts for sexual minority adolescents and young adults.
I work as a graduate assistant for the Counseling Center Paraprofessional program, a peer education program that provides undergraduate students opportunities to develop professional skills and facilitation abilities. Also, I work as a Teaching Assistant for EPSY 202: Exploring Cultural Diversity, a course dedicated to providing social justice education.
In my spare time, the little that I do have, I enjoy writing poetry, binge watching Netflix shows, browsing my twitter feed, and shopping.
Ted Worm
I am originally from the Washington, DC area where I studied Psychology and History at Georgetown University. After earning my degree, I worked at the American Psychological Association on the PsycINFO databases. I went on to earn my Masters in Clinical Mental Health Counseling from Johns Hopkins University, and serve as a research assistant in the Georgetown University Culture and Emotions Lab. At the lab we compared models of emotions (happiness, sadness, pity) across cultural settings. My current research interests focus on building interventions that help improve adult cognition and optimize development, and investigating cross-cultural differences in adult cognition and well-being. I am working with Dr. Stine-Morrow to investigate the Flow experience in older adults.
Jisoo Youn

I graduated from Seoul National University with a B.A. in Education and Child & Family Studies and an M.A. in Counseling. While there, I had an opportunity to join many research projects about children, teenagers, and their career development. This experience led me to find how much I love this topic, and motivated me to pursue my doctoral degree.

Currently, I am working with Dr. James Rounds and Dr. Chris Napolitano. My recent research questions include how relational factors like parent-child relationships can affect career development. My goal is to grow as a professional practitioner who empowers teenagers based on theory and research, as well as to study their career issues.

In my spare time, I enjoy reading detective novels, doing yoga and spending time with my friends. Going grocery shopping became my new favorite hobby after I came to Champaign-Urbana!