Counseling Psychology Student Perspectives
Curious about what it is like to be a student in the Counseling Psychology Program?
Arielle Brown
Before joining the UIUC Counseling Psychology team, I attended Louisiana State University in Baton Rouge (Geaux Tigers!). I am from Norco, Louisiana and I currently hold a B.S. in psychology. I am a McNair Scholar and a mentor to young females.
I wish to pursue research regarding Black identity and academic achievement/attitudes with college students and eventually become a professor. My advisor, Dr. Helen Neville, will provide me with the awesome guidance I need to achieve my ambitions. Currently, I am the graduate assistant for Black Student Outreach at the counseling center, and I am Dr. Landrum-Brown's teaching assistant for EPSY 202: Exploring Cultural Diversity.
In my spare time, I enjoy watching old episodes of Grey's Anatomy, chatting with friends, dining out, working out, sleeping, and attending church. I believe life can be great if you balance the mental, physical, and spiritual components of yourself. Email: aabrown3@illinois.edu
Dawn Brown
I entered the Counseling Psychology program in the Fall of 2014. I moved to Champaign from Chicago, and grew up in the south suburbs. I earned my B.A in Psychology from the University of Miami, and went on to earn my M.S. in Psychology from DePaul University. Prior to coming to UIUC I was working as a Research Assistant at Northwestern University with the IMPACT Program. At IMPACT worked on an interactive online HIV prevention study for young men who have sex with men called Keep It Up!
In the Counseling Psychology program I am working with Dr. Anita Hund. My research interests include gender expression among queer women, and the relationship between gender expression and minority stress.
In my free time I enjoy spending time with family and friends, and my two (miniature dachshund) kids Woodie and Rufus.
Namrata (Nami) Doshi
Prior to entering the program in the fall of 2012, I received my B.A. in Cognitive Psychology and a minor in Educational Studies from the University of California,
Irvine. I was born and raised in the Orange County area near the gorgeous Southern California coast. I am currently in my second year of the program and have enjoyed the opportunities to be an instructor of Career Theory and Practice, where we apply different vocational philosophies to help students explore their career opportunities.
Since my first year, I have also been exposed to more clinical training and assessment work including screening for learning disabilities and ADHD, providing individual counseling, and participating in various treatment teams concerning topics like alcohol/drug consumption and trauma exposure. Furthermore, I am the graduate assistant for the Trauma Treatment Team, which allows me to lead psychoeducational outreach programs and train a group of paraprofessionals in bringing awareness to topics related to trauma. These experiences have provided me with valuable training in being a multiculturally competent professional, which has helped me in my various graduate school endeavors.
My advisor, Dr. Dorothy Espelage, has mentored me in pursuing my research interests, which revolve around sexual assault experiences within the adolescent and young adult population. My future plans include conducting an analysis of peer group effects in perpetuating the violent behaviors with sexually-based intent in adolescent individuals. To stay sane, I enjoy trying out new exercise classes, reading (for fun), hanging out with family and friends, and exploring new cities. Email:nddoshi2@illinois.edu
Katherine Earl
I entered the Counseling Psychology program in Fall 2012 after obtaining my B.A. in Psychology from the University of Dayton. As an undergraduate student, I researched forgiveness; specifically, I completed my honors thesis on the mediating effects of rumination between self-forgiveness and perfectionism. I also worked as a research assistant in Human Factors Psychology studying issues pertaining mainly to vigilance and performance under stress. I obtained my M.S. at UIUC in Educational Psychology in December 2014. My current research interests are relatively diverse including: values, vocational interests, well-being, stigma, personality, suicide prevention, coping mechanisms, engineering education, and social justice. I have been a teaching assistant for Theories of Psychotherapy and Career Theory and Practice as well as Research Assistant for Engineering Education. I have completed practicums at UIUC's Counseling Center, ISU's Counseling Services, and Veterans Affairs in Danville, IL. I am currently working at the Faculty/Staff Assistance Program as a GA counselor, running two campus support groups, and working on my dissertation relating to interests and values of engineering students.
In my free time, I love to run, sing, practice yoga, watch movies, pleasure read, journal, eat ice cream, and play with my beloved Portuguese Water Dog, Ariel. Email: earl2@illinois.edu
Mai Hoang
Before I joined the Counseling Psychology program in the fall of 2014, I worked as a Research Administrator at the Massachusetts Institute of Technology for five years. During this time, I had an opportunity to teach entrepreneurship as a volunteer at Casa Isla, a short-term revocation center for high-risk youth in Quincy, Massachusetts. This experience was one of the key events that inspired me to pursue a Ph.D. degree in counseling psychology.
Broadly speaking, my research interests include understanding how racial and ethnic minority youths form their critical consciousness, and how it relates to their social, academic and psychological outcomes. My goal is to investigate and understand ways to empower minority youths from low-income and high-risk environments, to succeed and commit to make changes to their own communities. Currently, I work under the guidance of Dr. Helen Neville and involve with several different research projects.
In my free time, I enjoy swimming and taking long walks. I also like cooking and throwing dinner parties, reading, knitting, and traveling. Email: thhoang3@illinois.edu
Matthew King
After graduating from UIUC with a B.S. in Psychology in 2014, I continued my education into the Counseling Psychology program. I have been engaged in several research projects in Central Illinois Schools with my advisor Dr. Dorothy Espelage and our team, as well as with the National Center for Supercomputing Applications. I am looking forward to continue working with our schools and students.
This year, I will be serving as a Graduate Assistant for the Integraive Health and Wellness team as well as a practicum counselor at the Universtiy's Counseling Center. My research interests focus on bullying and victimization among students with disabilites and the protective role of the school environment and its relation to bullying in schools. I am excited to continue to work with and receive mentoring form Dr. Espelage and members of our lab.
I am also an avid runner, enjoy playing sports, and just generally love to be outdoors. Feel free to email me at king56@illinois.edu.
Chris Murdock
I serve as the Graduate Assistant Counselor at UIUC's Faculty/Staff Assistance Program. I have research experience in the cognitive-neuroscience of depression, outcome evaluation, and various aspects of vocational psychology and have published chapters on the role of work values in vocational rehabilitation and the person-environment fit approach to vocational counseling. I am broadly interested in psychotherapy evaluation; gender-role stress, masculinity, and the development of feminism and gender-consciousness in men; and disseminating evidence-based vocational guidance to under-served populations (current and former prisoners, veterans, student-athletes, etc.). I am an instructor and course-coordinator for an undergraduate career- and life-planning course, a consultant and trainer on the UIUC LGBT Ally Network Training Committee, and the facilitator of two support groups for LGBT-identified and questioning undergraduate and graduate students. I have 8 years of counseling experience that includes training in behavior therapy with developmentally disabled children, neuropsychological assessment and family therapy at a university training clinic, individual therapy at a university student health center, individual and couples therapy in an EAP setting, and individual and group therapy in the Post-Traumatic Stress Disorders Clinic at the Illiana VA Medical Center in Danville, IL. Email: cmurdoc2@illinois.edu
Jessamyn Perlus
I received BA's in Psychology and Spanish from the State University of New York at Geneseo (SUNY Geneseo) in 2012. My previous research experiences in Geneseo and my hometown, Ithaca NY, were in the field of developmental psychology and spanned language acquisition in infants to relational aggression among teenagers. After graduation I worked as a research fellow in the Health Behavior Branch of the National Institute of Child Health and Human Development studying adolescents and young adults, particularly during times of life transition.
‪I entered the Counseling Psychology program in August 2014. I am working with Dr. James Rounds. My research focuses on vocation, specifically interests and career choice. I also do research and advising at The Career Center.
‪In my spare time I enjoy traveling and cooking. Email: perlus2@illinois.edu
Sarah Rinehart
Before I joined the Counseling Psychology program in the fall of 2012, I tutored elementary students in reading at a school in Minneapolis for two years. Many of my students had various behavior and mental health issues, and through working with them I was inspired to pursue this degree. I'm originally from Minnesota and graduated with a B.A. in English from St. Olaf College.
My research interests include how students' various social identities (specifically race, gender, and sexual orientation) affect their experiences with bullying. I'm interested in creating a measure of race-related or race-based bullying. My advisor is Dr. Dorothy Espelage, and I have worked on a number of different projects as a member of her lab.
In my free time, I enjoy playing the violin, cross-country skiing, and eating good food. Email: sarah.rinehart@gmail.com
Ted Worm
I entered the UIUC Counseling Psychology program in the Fall of 2015. Prior to becoming an Illini, I worked at the American Psychological Association as the PsycINFO Journal Content Supervisor where I helped supervise the acquisition of new journals into PsycINFO.
Outside of the APA I worked in the Georgetown Culture and Emotions Lab, analyzing the cultural shaping of emotions and social support. I also interned at Vesta Inc. in Lanham, MD working with a variety of clients in outpatient and residential rehabilitation settings.
I graduated from Johns Hopkins University with a M.S. in Clinical Mental Health Counseling and earned my B.A. in Psychology and History at Georgetown University. My research focus includes bullying, victimization, peer relations and school climate.
Shengmei "Christina" Xu
I enter the counseling psychology program in 2013 after graduating in psychology major from Tsinghua University, China. As an undergraduate student, I joined the Tsinghua Counseling psychology lab and worked with Professor Fumin Fan. I worked as observer and research assistants in several projects focusing on therapeutic factors of group therapy for university students, for example, a mindfulness group therapy for students with high sense of loneliness.
Cultural psychology has always been my topic of interest ever since my freshmen year. I read some cool cross-cultural studies comparing Asians' and Americans' behavior, cognition, thinking, emotions, morals, values and beliefs. It seems fun to observe and explore the possible differences between diverse cultural groups. That's where my undergraduate thesis topic derives from. For this thesis, I studied the relationship between self-criticism, depression, implicit and explicit self-esteem in Chinese university students. I also compared my work with results of Westerners to see if there are some cultural differences in the way self-criticism moderates the relationship between self-esteem and depression. My future research interest will focus on international students' development of racial attitudes and empathy for different racial groups.
I enjoy playing the tennis, swimming and running for fun. As an international student, I really enjoy the cultural diversity here in counseling program at UIUC. Everybody is so enthusiastic to communicate and help! We have brilliant professors and outstanding graduate students here and I am learning a lot every day! Email: sxu30@illinois.edu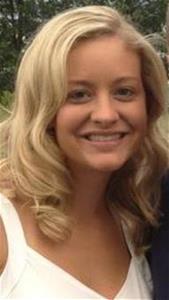 Jenna Yates
I entered the Counseling Psychology program in August 2012, after transferring from the Rehabilitation Counseling program here. I received my Bachelor's degree in Psychology at UIUC in 2011. I am originally from Springfield, Illinois, but I have been familiar with Champaign-Urbana since I was five years old. My family would make special trips to the area for the famous Papa Del's pizza, which I still frequently visit!
My research interests include disability studies with a focus on college students and their career readiness. Currently, I am working on a project exploring disabled and nondisabled students perceived career readiness. I am working with Dr. James Rounds from the Counseling Psychology department as well as Dr. David Strauser from the Rehabilitation department.
In my spare time, I enjoy being with my family, going on walks, biking, traveling, eating out, and watching movies! Email:Jennareid183@gmail.com.