10 of the BIGGEST College of Education Stories of 2021
by Ashley Lawrence / Dec 15, 2021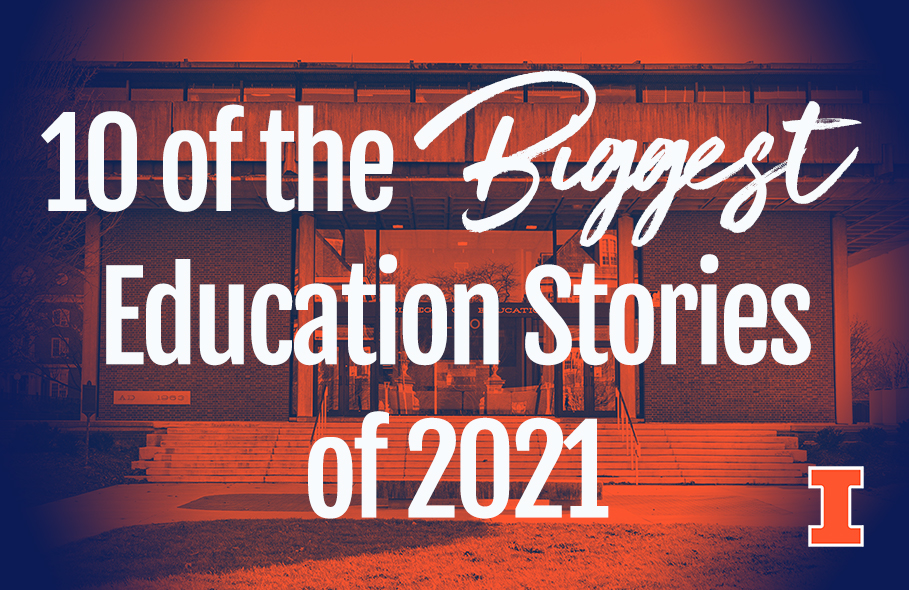 With 2021 almost in the rearview, it's time to look back and remember many of the year's notable achievements and advances from the College of Education. Here's to everyone in the Education at Illinois community giving their best during another challenging year. Now, enjoy this rundown of uplifting and exceptional work happening here!


#3 Best Online Graduate Education Programs in the Nation Ranking
Yep, we're #3! Our Online Master's in Education Programs were once again named among the nation's top-ranked, according to the 2021 Best Online Graduate Education Programs list from U.S. News & World Report. Education at Illinois was ranked No. 3 on the list, moving up five spots from 2020, out of 296 institutions evaluated. The College's overall programs ranking score was 96 of a possible 100.
IECAM Contributions to Support Illinois Children and Families
Crucial after a year of remote everything for kids, faculty and staff with the Illinois Early Childhood Asset Map group IECAM partnered with the Erikson Institute, a graduate school in child development, and Voices for Illinois Children, an advocacy group, to develop a new 2021 edition of the Illinois Risk and Reach Report. Learn more about IECAM and their early childhood data portal and you'll understand why their work is vital to the citizens of Illinois.
Secondary Education Teaching Endorsement in Computer Science Launches
In large part because of tireless and creative efforts of folks in the College of Education and other campus units, this certification program earned approval from state boards during the first half of 2021. The first cohort of in-service educators began their endorsement coursework in Summer 2021, a big step in growing the future computing workforce in Illinois and positively impacting the state's economy.
College Informs State Policy, Influences Equity
In 2021, Illinois Governor J.B. Pritzker signed into law two key pieces of legislation that were directly championed by College of Education faculty, staff, and alumni. Progress happened toward addressing the pandemic of systemic racism within education when omnibus HB2170 was passed. And alumna Cristina Pacione-Zayas was behind the passage of HB2878 which looks to increase educators for early childhood programs in Illinois.
New IGlobal Program a Runaway Success
How do you cultivate global, cultural experiences and perspectives while rooted at home during a worldwide pandemic? Our Office of International Programs solved this conundrum for middle school students throughout the region and Illinois undergrads alike. IGlobal is a virtual study abroad program, and its participation has been epic!
Inaugural Director of Public Engagement
While the College is a perennial leader on campus and in the community in public engagement activity, this year we committed to formalizing this focus for years to come. Emily Stone says her four primary areas are, "supporting students in public engagement efforts, supporting faculty and staff in public engagement opportunities, supporting community partners and matching academic collaborators (faculty, staff, or students), and developing a strategic plan in public engagement for the College."
David Zola Coffee Bar Opens, Honoring Legacy
In a event that safely gathered faculty, administrators, students and those who know how special Dr. David Zola's impact on future educators was, we unveiled a space in our Student Services corridor that encourages conversation, camaraderie, mentoring, and community. Over coffee, tea, or hot chocolate, of course.
2021 Distinguished and Young Alumni Awarded
After a pandemic-affected year, it was wonderful to welcome our handful of 2021 Distinguished Alumni and Young Alumni Award recipients back to campus. These leaders in the field were reacquainted in-person with their alma mater and recognized by Dean James D. Anderson during a small awards event.
Champaign Freedom School Revitalized
As part of the Children's Defense Fund, the Champaign Freedom School returned locally this summer thanks in part to efforts from members of the College. An exciting future is ahead for this program, as organizers work with legislators to create a state-wide network of Freedom Schools and affect impact for kids' literacy and civic education in Illinois.
With I Fundraising Goal Met, Exceeded
The College's massive goal of raising $25M, set in 2017, is achieved! But we're not slowing down now. With the generosity of friends and alumni, we'll continue to raise support for more scholarships and fellowships to help as many future students as possible get a world-class education from the University of Illinois.