Q&A: Introducing New CS Endorsement for In-service Teachers
by Tom Hanlon / Apr 22, 2021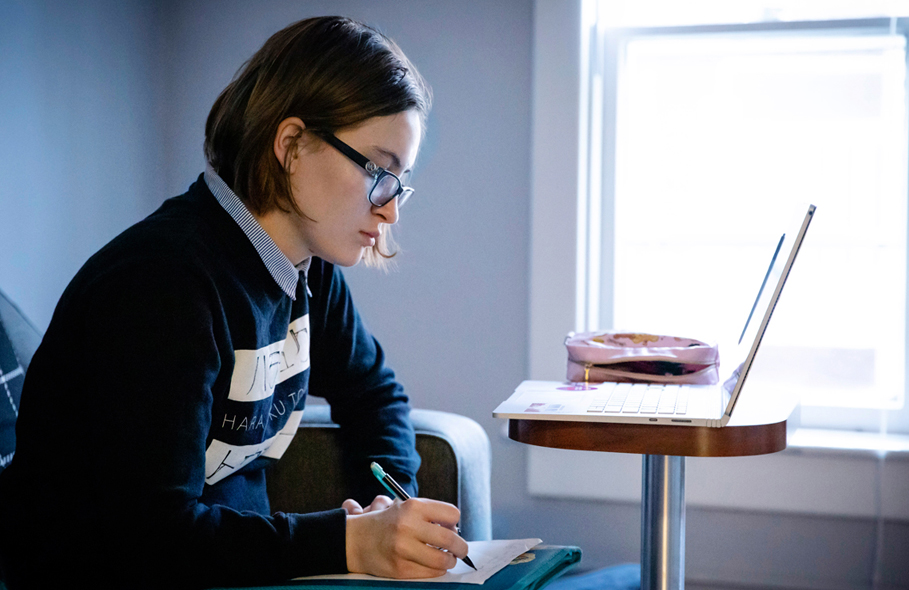 This summer, the College of Education, in partnership with Illinois Computer Science, launches a program that will equip high school teachers to effectively teach computer science courses to their students—helping to provide a more equitable high school experience in computer science.
Assistant Professor Luc Paquette and School University Research Coordinator Raya Hegeman-Davis have been intricately involved in the development of the Computer Science Teaching Endorsement, designed for Illinois high school teachers. Here, Paquette offers his thoughts on the program and its impact on teachers and learners across the state of Illinois.
I understand this Teaching Endorsement in Computer Science has been two years in the making. Tell us about the idea for the program, how it got started.
Luc Paquette (LP): The College of Education and the Curriculum & Instruction department have been extending its expertise in the field of digital learning environments, which has contributed to the recruitment of more faculty with expertise at the intersection of computer science and education. This has contributed to the College's interest in exploring the current state of CS education in Illinois and how the College can contribute to CS education efforts in the state. This, combined with the Investment for Growth Program in the Office of the Provost, has provided opportunities for faculty in the College of Education to develop a proposal for the development of CS education programs.
Why is this computer science teaching endorsement so important right now? Talk about the timing—particularly with the education bill that Gov. Pritzker recently signed that requires Illinois high schools, starting in 2022-23, to provide the opportunity for all students to take at least one Computer Science course.
LP: Access to CS is becoming increasingly important, both in terms of providing students with opportunities to pursue careers related to computing and because of the problem-solving skills that can be learned through computing. Computing-related jobs make up roughly half of all STEM jobs in Illinois and represent the top source of new wages in the economy. However, there are inequities in access to CS in high school. The new education bill that Gov. Pritzker signed in March is an important step in providing more equitable access to CS education; however, there will be a need for an increase in the numbers of high school teachers who are certified to teach high-quality CS courses throughout the state of Illinois. Our pathway towards the CS teaching endorsement comes at the right time to increase the number of endorsed teachers who will be able to develop CS courses for their school districts.
Raya Hegeman-Davis (RHD): A study completed at Oxford University estimated that by 2033, 47 percent of jobs will be automated. That means that students who entered kindergarten this year will graduate high school into a workforce dominated by technology. It is critical that our current K-12 students have access to high-quality CS courses throughout their educational careers to ensure they are able to succeed and excel in our modern workforce. Further, tech jobs proved to be resilient during the COVID-19 crisis, which is yet another reason why it is so important that we see greater equity and inclusion in CS classes and in the CS and tech workforce.
What is the goal with this endorsement?
LP: The goal is to provide teachers with a strong foundational knowledge of computer science, which will allow them to not only teach existing courses, but also develop their own courses and integrate new technologies in their teaching. The core computer science content of the endorsement is designed to mirror the core courses of a CS undergraduate degree.
We want to create an environment that encourages an exchange of ideas between the teachers as they are learning about CS. We also designed in-class projects that will provide them with opportunities to be creative while engaging in computing activities. Our goal is to make computing as fun and accessible as possible. We want teachers completing the endorsement to be able to engage diverse students in computing activities in the context of formal text-based programming languages, and also by using more accessible block-based programming environments and "unplugged" activities.
RHD: Since this endorsement is offered online, we also have intentionally included a lot of group discussion and peer feedback in the courses. We know it is really important for teachers to develop a network of peer support and collaboration, so we included that as a focus of our course design.
I know part of the program's intention is to encourage more equitable and in-depth learning of CS for students prior to enrolling in college. How is this program addressing those intentions?
LP: One issue that limits access to CS is the low number of teachers certified to teach CS. Certified teachers may not be evenly distributed through the state. There are few existing programs providing opportunities for in-service teachers to get such a certification, and this can be especially difficult for teachers who do not live near a university offering a CS endorsement program. Our program will be offered entirely online to facilitate access to an endorsement program for teachers living anywhere in the state of Illinois. We also designed the program to be housed within the College of Education, which allowed us to develop an innovative curriculum connecting instruction about core CS concepts with reflections about the experience of CS learners. We think that will be instrumental in supporting high school teachers in bringing CS to their classroom.
RHD: Research by code.org, CSTA, and others has shown that under-resourced schools and rural schools are significantly less likely to have a trained CS teacher or to offer CS courses. One of the main reasons we designed on online endorsement was to ensure that teachers anywhere in the state could access the courses and content. We have also been working to secure tuition support for at least the first cohort of teachers to go through the endorsement with the aim of supporting teachers and districts for whom adding a secondary endorsement may be cost prohibitive.
Talk a bit about the collaborative effort between the College and CS. How did the two units work together to build the program?
LP: The two units have been closely involved in the development of the program from the start. Dr. Craig Zilles from Computer Science has been actively involved in initial discussions identifying what kind of knowledge and experience would be useful for future CS teachers. More recently, we have been working with three PhD students—Morgan Fong, Tanvi Bajpai, and Max Fowler—from the Computer Science Department to develop weekly activities, assignments, and projects for the endorsement courses.
RHD: The CS Department has been supportive of this effort from the very beginning, and we are thrilled to have been able to work with them to develop this endorsement. We have really enjoyed developing relationships with Craig, Morgan, Tanvi, Max, as well as other advocates and colleagues in the CS department, and look forward to continuing to collaborate on this and other efforts moving forward.
Explain the thought behind the program structure—I believe there are seven courses spread over five semesters, is that correct?
LP: We structured the program to consider the constraints that practicing teachers might have for enrolling in courses. Students enrolled in the program will be taking four credit hours of coursework per semester, meeting once a week for 16 weeks during the fall and spring semesters, while summer courses will have meetings twice a week over eight weeks. The course sequence will start in the summer semester with an introductory course called "Computer Programming in the Classroom," which provides a first experience with computer programming, computational thinking, and issues around computer science education, before continuing with the core computer science courses. All courses will be offered in an online, synchronous format to allow people from across the state to attend our classes. The program offers a total of seven courses, including an optional capstone course. Students can complete the program in five or six semesters depending on whether they enroll in the optional capstone course.
RHD: Yes, exactly. We wanted to be respectful of work constraints, family obligations, etc., of teachers that are currently working as well as taking the endorsement courses. Thus, we developed the course pathway to best support teachers in growing their CS content knowledge and capabilities while also respecting time limitations and their personal bandwidth.
How many students do you hope or expect to attract this summer?
LP: We are aiming to enroll around 25 to 30 students, up to a maximum of 40 students, for our first cohort of the program.
How can teachers enroll?
RHD: Enrollment begins on Monday, April 26. Interested teachers can go online to enroll. Just click the "Apply" button to start the process.
What types of teachers do you expect to enroll, in terms of subject matters taught?
LP: The program has been designed to be accessible to people with no prior experience with computer programming. As such, we welcome teachers of any subject matters that would be interested in learning more about programming and teaching CS in the future.
What are your hopes for this program? What do you see as the best outcome?
LP: Our overall goal is to broaden participation in CS across the state of Illinois and provide opportunities for everyone to be engaged in CS. Through the program we hope to progressively increase the number of teachers across the states who are certified to teach CS. They, in turn, can lead the way in offering a range of CS courses in high schools all across the states, which would provide new opportunities for their students.
RHD: We would love to be able to support enough teachers and districts for there to be at least one endorsed teacher in every high school in Illinois.
Anything else you'd like to add?
LP: We believe this will be a rigorous and engaging program that will prepare our teachers to develop innovative CS curricula to meet the needs of students throughout the state. The courses will provide practicing teachers with opportunities to learn the content of CS, and importantly, provide them with strategies to promote student learning.