Download Full Alumni Award Recipient List
2021 Distinguished Alumni Award Recipients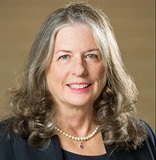 Mary Lynn Boscardin
Ph.D. '84 Education Policy, Organization & Leadership
Professor, College of Education
University of Massachusetts Amherst
Mary Lynn Boscardin, Ph.D., CCC-SLP, has served as past Department Chair and as a Coordinator of Special Education at the University of Massachusetts Amherst. Dr. Boscardin received her Ph.D. in Education Policy, Organization & Leadership with a focus on Special Education Leadership and Policy, and today is widely respected for her work in this arena. With regard to professional service, most notably Boscardin is a past president of the International Council of Exceptional Children (CEC) and a past president of the International Council of Administrators for Special Education (CASE). Currently, she serves as editor of the CASE Journal of Special Education Leadership and chair of the CEC/CASE committee developing the national Administrator of Special Education Leadership Professional Standards. Boscardin has co-written three books, the most recent being the second edition of the Handbook of Leadership and Administration for Special Education (2019), and several refereed publications. She has given keynote addresses and presentations, internationally and nationally. Boscardin has been awarded five Leadership Preparation Personnel (325D) grants as project director and four Personnel Preparation (325D and 325K) grants in the area of Communication Disorders as project co-director from the U.S. Department of Education, Office of Special Education Programs. Her scholarly interests include special education policy, law, and finance; program and systems evaluation; strategic approaches to leadership; and professional network mapping. Boscardin's service to the profession has been dedicated to developing policy and practice that supports the inclusion of all students with exceptionalities in public education. Her commitment to diversity has been demonstrated through a focus on cultural responsiveness, equity, access, and opportunity in her publications.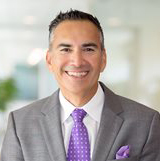 Edward Buendía
M.A. '96, Ph.D. '97 Education Policy, Organization & Leadership
Dean, School of Educational Studies
University of Washington, Bothell
Dr. Edward Buendía serves as the dean of the School of Educational Studies at the University of Washington, Bothell, where he is also the first Latino dean on the Bothell campus. He received both his M.A. and Ph.D. in Educational Policy Studies from the College of Education at the University of Illinois in 1996 and 1997, respectively. His colleagues at the University of Washington praise Buendía for his "strong vision for transforming teacher education through three interconnected pillars: community engagement, mutually reciprocal partnership development, and teacher diversity through pipeline programs." Buendía recognized the need for a strong network between the University of Washington's campuses and has shown how to be a leader and mentor. Through an educational sociologist lens, Buendía has researched racial and socioeconomic demographic change in suburban school districts. He is also a nationally recognized expert in many fields, including critical media studies, critical curriculum theory, school desegregation, and the sociocultural contexts of urban education. Buendía's expertise is demonstrated through multiple conference presentations, publications, and grant-funded projects.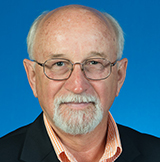 Walter Tad Foster
B.S. '77, Ed.M. '79, Ph.D. '89 Vocational Technology Education
Professor Emeritus; Industry Consultant
Indiana State University
Dr. W. Tad Foster is currently a professor emeritus in the Department of Human Resource Development and Performance Technology at Indiana State University. From 1998 to 2009, he served as ISU's Dean of the College of Technology. He has been an educator for over forty years and has taught at the secondary, technical institute, community college, and university levels. Foster earned his doctorate from the University of Illinois Urbana-Champaign in Technology Education with secondary emphasis in Counseling Psychology. His research and writing are in the areas of organizational and personal change; educational technology from a cognitive psychology perspective; instructional design; and total quality management. Foster has numerous publications and is a regular presenter at state, national, and international conferences. In addition, he is a reviewer for the Human Resource Development Review, the Human Resource Development Quarterly, the Journal for Technology Education, and is an assistant editor for the Journal of Industrial Teacher Education. In addition to his academic pursuits, Foster consults regularly for business and industry clients.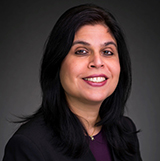 Shireen Pavri
Ph.D. '99, Special Education
Dean, College of Education
California State University, Long Beach
Prior to assuming the role of dean at CSULB, from 2008-2015 Dr. Shireen Pavri served as associate dean for graduate studies and research in the College of Education. She has coordinated the Education Specialist Preliminary and Intern Credential programs and the Master of Science program in Special Education at CSULB. As the CSULB lead to the CEEDAR Center at the University of Florida, she guided a faculty team in the development of the Urban Dual Credential Program that prepares teachers to work in a multi-tiered system of support framework with all learners in K-8 schools. She recently led the development of an interdisciplinary graduate certificate program in Applied Disability Studies. Pavri's expertise and research interests are in the areas of preparing teachers to facilitate the social and emotional functioning of all students including students with disabilities, and the effective assessment of students from culturally and linguistically diverse backgrounds. She is interested in promoting clinical models for educator preparation and has assisted several local school districts in implementing a response to intervention model. Pavri has published and presented widely on these topics, with over 50 scholarly presentations and 30 scholarly publications. She has also served as Principal Investigator on 10 federal, state, and foundation grants.
2021 Young Alumni Achievement Award Recipients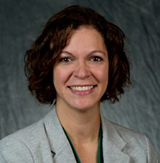 Natasha Jankowski
Ph.D. '12 Education Policy, Organization & Leadership
Former Executive Director of NILOA
Lecturer, New England College
Dr. Natasha Jankowski is a higher education and assessment expert and the former Executive Director of the National Institute for Learning Outcomes Assessment (NILOA). Jankowski currently serves as a lecturer with New England College. She previously served as research associate professor at the University of Illinois Urbana-Champaign. She is co-author of the book Using Evidence of Student Learning to Improve Higher Education; the book Degrees that Matter: Moving Higher Education to a Learning Systems Paradigm; and the edited volume Student-Focused Learning and Assessment: Involving Students in the Learning Process in Higher Education. A forthcoming book with Stylus focuses on equity and assessment. Her areas of research include assignment design, transparency, evidence-based storytelling, equity, mapping, and alignment of learning. Jankowski is a recipient of Kent State University's Alumni Award and is also a board member for the Council for the Advancement of Standards in Higher Education (CAS). Under her leadership, NILOA was the proud recipient of the ACPA Contribution to Higher Education award. She also holds an M.A. in Higher Education Administration from Kent State University and a B.A. in Philosophy from Illinois State University.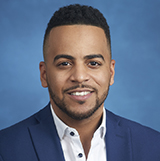 Royel Johnson
Ed.M. '11 Education Policy, Organization & Leadership
Assistant Professor of Education and African American Studies,
Pennsylvania State University
Dr. Royel Johnson is assistant professor of Higher Education and African American Studies at The Pennsylvania State University (PSU), where he is also associate director of the Center of the Study of Higher Education. Beginning January 1, 2022, he will join the Rossier School of Education faculty at the University of Southern California as an associate professor of Higher Education and director of Student Engagement in the USC Race and Equity Center. Johnson is a nationally recognized scholar whose interdisciplinary research addresses issues of educational access, racial equity, and student success. His work has an unapologetic focus on Black and multiply marginalized populations like those impacted by the criminal punishment, child welfare, and inequitable educational systems. Johnson is author of more than 40 academic publications. His scholarship appears in the Journal of Higher Education, Journal of College Student Development, Urban Education, Professional School Counseling Journal, and several other respected, peer-reviewed journals. In addition, Johnson has been awarded more than $5.1 million in grants and contracts from the U.S. Department of Education Institute of Education Sciences, Spencer Foundation, U.S. Department of Health Resources and Services Administration, Pennsylvania Department of Health, and several other funders. Johnson is deeply committed to translational research that informs policy and practice. For example, in 2020 Pennsylvania legislators sought his consultation on the development of H.B. 2952, which aims to ban the use of criminal record screening on college applications. For his early-career accomplishments, Johnson received the ACPA—College Student Educators International's Emerging Scholar Award in 2020; and the 2021 Cotterill Leadership Enhancement Award, recognizing "exemplary leadership" in PSU's College of Education. Johnson holds a B.A. in Political Science and Ed.M. in Educational Policy Studies from the University of Illinois Urbana-Champaign; and a Ph.D. in Higher Education and Student Affairs, with a cognate in Race and Social Policy from The Ohio State University.
Previous Award Recipients