UI Students Applying to the Major and Minor
Application to College of Education programs
Students who are currently enrolled at the University of Illinois at Urbana-Champaign can apply to the College of Education programs. The College of Education offers five majors and a minor in secondary education.
Students interested in applying to the programs are highly encouraged to:
OR
Attend an Informational Meeting for the Secondary Education minor.
Volunteer in your area of interest
Remain in good academic standing
Consult with the College of Education's advising staff (after you have attended an informational meeting).
Due to concerns about COVID-19 we have suspended face-to-face ICT meetings for College of Education majors and the Secondary Education Minor. If you are interested in attending a virtual ICT Meeting for a College of Education Major (Early Childhood, Elementary, Middle Grades, Special Education or Learning & Education Studies), please review the details below.
If you are interested in information about our Secondary Education Minor, please contact Amanda Heinsman at heinsman@illinois.edu

Virtual ICT Meetings will be held on Wednesdays at 4pm for the remainder of the semester.
To access the meeting, please login to https://queue.illinois.edu/q/queue/554 at the time of the meeting to receive the Zoom link.

Interested in applying to a College of Education Major?
Please refer to the table below to find out when you should apply.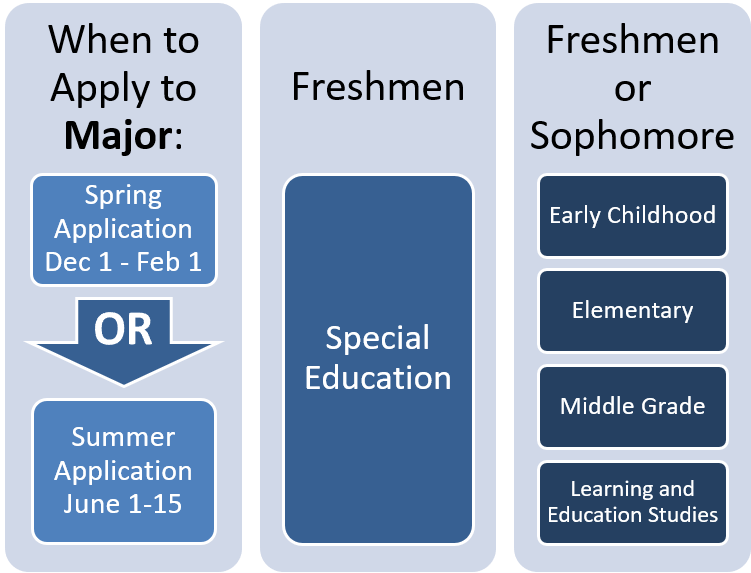 Application to All Majors will open December 1, 2020 for fall 2021 admission.

Interested in applying for the Minor in Secondary Education?
Please refer to the table below to find out when you should apply!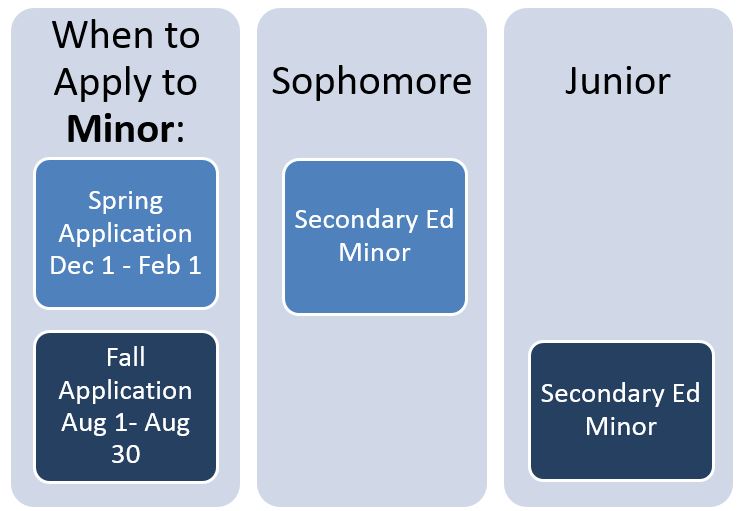 Application to the Minor opens August 1, 2020 for spring 2021 admission.
Please refer to the specific programs for admission requirements:

Early Childhood Education
The Early Childhood Education degree program prepares students for Illinois Early Childhood licensure (birth through grade two). The Early Childhood Education program incorporates course work leading to an Early Childhood Special Education approval.
Elementary Education
The Elementary Education program will prepare students for Illinois Elementary licensure (grades one through six in self-contained classrooms).
Learning and Education Studies (non-licensure major)
The Learning and Education Studies (LES) degree program is a non-licensure major with concentrations in Digital Environments for Learning, Teaching & Agency, Applied Learning Science, Educational Equality and Cultural Understanding, and Workplace Training and Development. This curriculum prepares students for a broad range of positions requiring expertise of informal and non-formal learning and education. Examples include training and program development, international schools, and other education-related positions in agencies, business, and government.
Middle Grades Education
The Middle Grades program will prepare students for Illinois licensure (grades five through eight) with concentrations in Social Science, Science, Mathematics, and Literacy.
Special Education
The Department of Special Education offers an undergraduate field-based professional licensure preparation program designed to prepare teacher candidates to work with individuals with varying disabilities including: learning disabilities, social or emotional disorders, cognitive disabilities, physical disabilities and other health impairments, autism and traumatic brain injury.
Secondary Education (minor)
This minor is a component of the teaching option within the following College of Liberal Arts majors: Biology, Chemistry, English, Geology, History, Mathematics, and Physics. Enrollment is limited to candidates in these options. For admission to the teaching option within those majors, see the College of Liberal Arts and Sciences. The program prepares graduates to teach Secondary Education (grades 9-12) in designated content areas.