Former Dean Mildred Griggs: A Powerful Advocate for Social Justice
by Tom Hanlon / Feb 24, 2023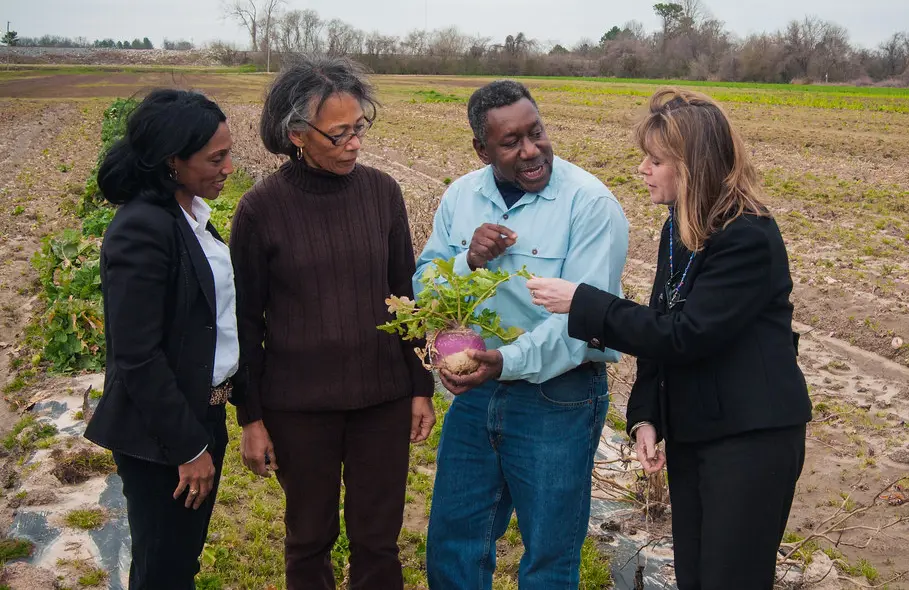 Mildred Barnes Griggs, dean emeritus of the College of Education, has spent a lifetime of advocating for others. That mission didn't stop when she retired. Instead, it was refueled by attaining her law degree from the University of Illinois.
Recently, Mildred Barnes Griggs strode purposefully into the USDA office in Marianna, Arkansas, a handful of Black farmers in tow.
The clerk behind the counter looked up and chuckled ruefully. "Oh, you again," he said.
Griggs laughed. "You better be glad I'm not easily insulted!" she said.
She then went about her business of helping the farmers receive the government resources that were available to them. The farmers weren't sure how to navigate the system, so Griggs helped navigate it for them. It's something the former dean of the College of Education has been doing ever since she retired. Instead of sailing off into the sunset, Griggs got her law degree from the University of Illinois so she could fight battles for the consumers and underdogs of the world.
As she left the USDA office, after successfully helping the farmers, Griggs stopped at the door and faced the clerk.
"I'll be back!" she said.
"I'm sure you will," the clerk muttered.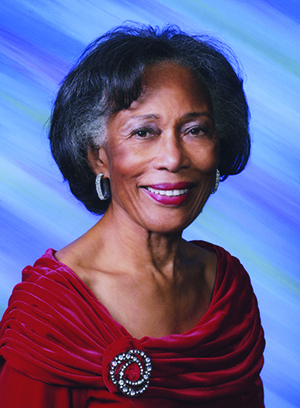 A Fighter and Advocate
Griggs is a fighter. A champion for justice. A relentless advocate.
"For years, the USDA has discriminated against Black farmers," she says. "They were not given the assets or made aware of them. These resources would enable them to grow more and become a lot more successful—but they weren't able to get crop insurance or loans. We're fighting for those rights now."
That spirit of fighting for people's civil rights and for social justice was planted in Mildred Barnes Griggs's heart at a young age.
David vs. Goliath
Griggs grew up on a cotton farm in eastern Arkansas, one of 10 children. Her parents didn't go to school beyond fifth grade. "We were deprived, we were poor, but our parents made sure we all went to school, we all had opportunities," she says. "They never set limits for us. Our teachers were supportive of us as well."
Her parents worked hard and produced most of their food. "My father had his own laborers," Griggs says. "I grew up with an appreciation for farming and a knowledge of the value of land ownership."
Land ownership is one of the issues that Griggs is involved in. "When I grew up, a lot of African American farmers had a lot of farmland," she explains. "But it was hard farming in the fifties. Many of their children left home, not wanting to farm. When their parents died, they pretty much abandoned the land."
In Arkansas, if a person pays taxes for seven years on someone's abandoned property, they can claim it as their own. The Heir Property Act in Arkansas balances the rights of family members who want to retain their land with the rights of family members who want to sell.
"I've been helping people affected by heir property," Griggs says. "When you talk about generational wealth, land is the one nonrenewable resource, and right now corporations are coming in and buying up the land."
She names TIAA (Teachers Insurance and Annuity Association of America) and the Bill & Melinda Gates Foundation as two major entities that are scooping up large swaths of farmland in the Arkansas Delta, brimming with rich cotton fields.
In other words, it's another case of David versus Goliath. And Griggs, of course, is squarely on the side of David.
The Little Rock Nine
Griggs was 15 years old when, in 1957, the Little Rock Nine made national headlines and led to what became known as the Little Rock Crisis, where the governor of Arkansas initially prevented nine African American students from enrolling in the racially segregated Little Rock Central High School.
"I was trying to understand what was going on," she says. "Not just the social unrest, but what the NAACP was doing." After the landmark Brown v. Board of Education case in which the US Supreme Court ruled that public school segregation was unconstitutional, the NAACP attempted to register Black students in previously all-white schools throughout the South. Little Rock's superintendent of schools agreed to comply with the ruling, the school board unanimously approved the compliance—but Gov. Orval Faubus ordered the National Guard in to prevent the students from entering the school. However, Faubus's intent was squashed by President Dwight D. Eisenhower, who ordered the Guard to preserve the peace for those nine students as they courageously attempted to enter the school.
It is against this backdrop that Griggs developed an interest in constitutional law. "I was trying to comprehend the arguments that were made about the constitutional rights of individuals," she says.
Inspired by Martin Luther King, Jr.
In 1958, Dr. Martin Luther King, Jr., gave the commencement speech at the historically Black Arkansas Agricultural, Mechanical, and Normal College (now the University of Arkansas at Pine Bluff). One of Griggs's older sisters, Ora, still in high school at the time, was invited to attend the commencement.
"Gov. Faubus forbade King to enter the state," Griggs notes. Indeed, it was the only public institution that King ever spoke at in Arkansas, and the school had its proper appropriations withheld for 10 years after hosting King on campus.
"Can you imagine hearing this man deliver the commencement address?" Griggs says. "Ora came home and told me about it."
She also told Mildred that her high school principal encouraged her to go to college. That idea sparked in Mildred as well.
It was that kind of experience, Griggs says, that made her think, "I'm going to try it."
On to Illinois
Griggs earned her undergraduate degree at Arkansas Agricultural, Mechanical, and Normal College. In the spring of 1963, in 1965 she enrolled in a master's program in the College of Education at the University of Illinois. "I had a graduate assistantship to work on the psychomotor domain that was a companion to the cognitive and affective domains," she says. "I was looking at the domains of knowledge."
A fellow classmate and transplant from the South was Jim Anderson, the College's recently-retired dean.
"We had some classes together and we became friends because we came from the South and we were coming into a Midwestern university that was a different culture than we'd encountered," she recalls.
Griggs earned both her master's (1967) and doctoral (1970) degrees from Illinois. She started as an instructor in what was then the Department of Vocational & Technical Education (the department has since been rolled into the Department of Education Policy, Organization & Leadership). From there, she began making history.
History Maker
"I was the first African American at the University of Illinois who was promoted through all the ranks—assistant, associate, and full professor," she says. "A few were brought to the university as full professors, but I was the first to go through the ranks. Of course, I didn't realize I was making history at the time. When you start out as an assistant professor, you're kind of uncertain about what direction you'll take in subsequent years."
Griggs's direction was always upward and onward. In 1995, she became 12th dean of the College of Education—and the first Black dean and second female dean (Nancy Cole was the first). Between Cole's and Griggs's tenures as dean, P. David Pearson headed the College.
"David and I were friends," Griggs says. "I remember asking him if he thought it would be a good idea for me to apply for his position when he announced he was going to Stanford. He said I ought to try it because then I could see if I could accomplish all the things I'd kept telling him he should try to accomplish! That was my challenge."
One challenge Griggs took on was to make sure that younger faculty and female faculty were not overlooked. Two of her three associate deans were women: Susan Fowler and Lizanne DeStefano. The third associate was James Leach.
"I knew their abilities, their strengths, and I gave them opportunities to excel in their areas of strength," Griggs says. "Susan was an excellent administrator, James was an advocate for students, and Lizanne stepped into a newly-created position to advocate for research dollars for beginning faculty."
Griggs says the four of them clicked well as a team. "I was really pleased with how we were able to work with the department heads and the rest of the College to try to achieve the things they wanted to achieve, to improve instruction, to improve research, to improve our focus on education, how you educate a diverse student population in preparing to go out to focus on social justice and the kinds of things we were doing," she says. "Those were some of the things that were important to us and that we were able to go out and achieve."
That team environment, Griggs recalls, extended throughout the entire College. "I'm really proud of how well our faculty tended to work together," she says. "We managed to create an environment where there was a willingness to at least try to comprehend what was going on in another unit."
Other Leadership Roles and Honors
Griggs served in other leadership roles too. She was the university's faculty athletics representative to the Big Ten and the NCAA for 10 years. In 1982-83, she was national president of the American Home Economics Association (now the American Association of Family and Consumer Sciences, from whom she received a Distinguished Service Award). She edited the Illinois Teacher of Home Economics journal. In 1999, she was appointed by Gov. George H. Ryan to the Governor's Advisory Council on Literacy. From 2004-06 and 2008-09, she served as president of the Champaign-Urbana Alumnae Chapter of the Delta Sigma Theta Sorority. In 2016, she was inducted into the Arkansas Black Hall of Fame.
On to Law School
Griggs served as dean from 1995 to 2000. But as she neared retirement, instead of the proverbial rocking chair, she chose law school.
Admittedly, she long harbored the idea of law school, from the days of the Little Rock Nine, if not before. When she heard that an engineering professor was enrolling in law school at the University of Illinois, that was all the inspiration she needed.
"I started law school just before my retirement date," she recalls. But it wasn't without a few qualms first.
"The day I took the law exam, I saw all these young faces in the hall, and I thought, 'I'm going to walk in the restroom and walk right back home!' But I heard someone call my name, and turned around to see Judith Rowan, who had been an associate chancellor at the university before retiring at the same time I did. She said, 'You're here too!' So we became the oldest students. We were older than our instructors," Griggs laughs. "It was an interesting experience."
A constant refrain in law school was that judges are not biased in case law; they simply follow the law. Griggs thought otherwise.
"As a social scientist, I'm thinking everybody has a bias," she says. "I had to tell myself, 'Mildred, you're here to understand this. You're not going to change it, but when you get in a position, you'll know how to fight.' My ability to put forth a sound fact-based legal argument became my mantra."
Upon graduating in 2003 from law school, Griggs did some pro bono work in Champaign-Urbana. "I would help senior citizens at the Champaign Park District Recreation Center with contract issues, insurance, health, advanced planning, that sort of thing," she says. She recalls one woman telling her that she and her husband had paid for over 30 years into a life insurance plan, only to find out when her husband died that they hadn't signed some critical forms, which threw the entire settlement into question.
"The group's response was, 'Well, we don't want to upset the insurance agent.' And I thought, 'No, people! We're old but we have to fight! You can do it legally.' It was a real eye-opener," Griggs says. "People have to learn to advocate for themselves. So, we organized and started to advocate."
Back to Arkansas
In 2008, the University of Illinois provost selected Griggs as one of the university's outstanding alumni. A banner in honor of her was hung on campus.
That same year, she and her husband, Alvin Griggs, a retired Champaign School District teacher and coach, bought land near where she grew up, and they moved back to Arkansas. "I like the environment," she says. "I feel useful. It's home."
She feels useful, in part, because she works as a consultant for the East Arkansas Enterprise Community and is director of the Arkansas Delta Seeds of Change (ADSOC). The community works with an economic council to revitalize the economy in eastern Arkansas, with a focus on outreach and advocacy for socially-disadvantaged farmers in the Arkansas Delta.
"ADSOC is an organization that was formed by farmers and representatives from various federal, state, and not-for-profit agencies to help establish a sustainable food system in the East Arkansas Delta region," she says. "It's been very rewarding to take a community that was once thriving and help it to redevelop. We're looking at what kind of work can you create for people to improve their quality of life, their education and health, those kinds of things."
"It's Been a Wonderful Life"
Griggs returned to Champaign in October to attend the retirement celebration of her old friend, Jim Anderson. They had each come up from the South, entered a very different culture, and become dean. "I was like an older sister to him," she says. "It was so good to see him, to see the recognition he was getting, and to think 'I knew him when.'"
Griggs thoroughly enjoyed seeing so many familiar faces upon her return to campus.
"It was so refreshing," Griggs says. "You see the students you had worked with who are now out and doing well. As Jim said, it was a life he could never have imagined.
"Well, I look back at where I started and where I am now, and it's a life I never imagined. It's been a wonderful life."