'My Friend on Death Row Taught Me a Valuable Life Lesson'
by Rachel McMillian, Ph.D., for Newsweek / Nov 17, 2022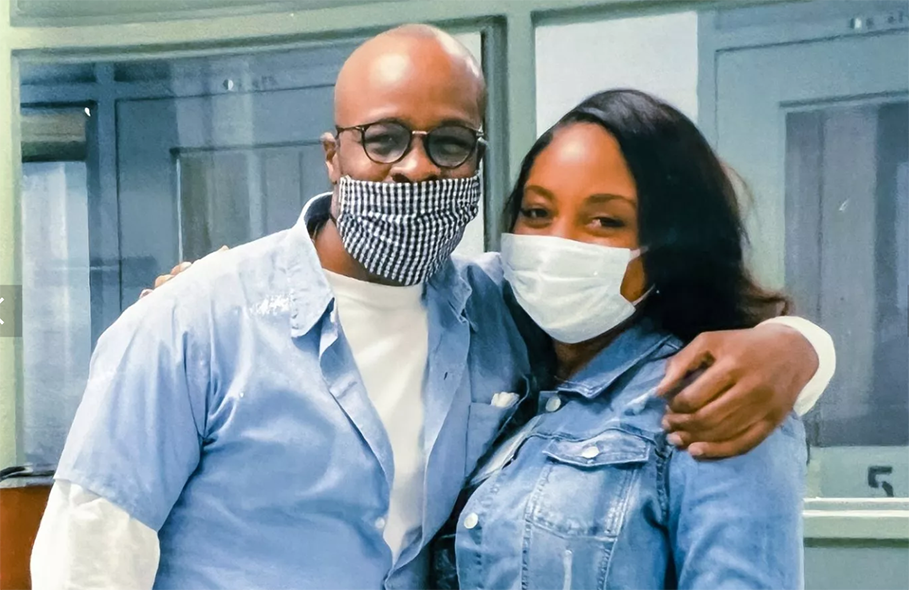 In this "My Turn" piece for Newsweek, Rachel McMillian, assistant professor of Curriculum and Instruction, shares her classroom's unique experience at the intersection of social justice, education, and life lessons reflected in storytelling.
"What's gonna happen to Mr. Keith, Ms. Rachel? I mean, what's really gonna happen?" My student's eyes were serious, almost pleading.
I paused for a moment, considering how best to answer her question because, to be honest, I didn't know at the time.
And I still don't know. For, in less than a year, Keith LaMar is scheduled to be executed.

Mr. Keith, as my high school students refer to him, is a Black man who has been sentenced to death in the state of Ohio, having spent nearly 30 years in solitary confinement.

At the age of 19, Keith entered prison after fatally shooting a former friend who was trying to rob him during a drug deal gone wrong. Keith, who was also shot twice in the legs during the shoot-out, pleaded guilty and was sentenced to 18 years to life in prison.

"Yes, I had taken someone's life, but I was not a 'killer,'" Keith writes in his memoir Condemned. "I did not kill in cold blood, without remorse or without the requisite sorrow of someone who understands he has done something irrevocable."
The Lucasville Prison Uprising
Keith was sent to Southern Ohio Correctional Facility in Lucasville, Ohio—a notoriously violent prison in an almost entirely white rural city. And, on April 11, 1993, the Lucasville Prison uprising—the State's largest prison uprising—occurred, forever changing Keith's life. This 11-day uprising resulted in the deaths of nine prisoners and one prison guard.

Keith was accused of five of the killings based almost entirely on the testimony of jailhouse informants and he was then offered a deal to plead guilty for a lesser sentence than life.
Unlike in the killing of his former friend, however, Keith refused to plead guilty, stating in his memoir: "If I was guilty of taking the lives of five people, I would have once again thrown myself on the mercy of the court. But I did not do this, and a deal is not a deal when you are being asked to forfeit the rest of your life for something you did not do."
Keith decided to go to trial in the hopes that the jury and the judge would hear his story. However, Keith was soon convicted by the all-white jury of aggravated murder in the deaths of five of the prisoners, and sentenced to death.
Now, at 53 years old, Keith faces his ever-approaching scheduled day of execution—November 16, 2023—all while maintaining his innocence.
Meeting Keith LaMar on Death Row
I first learned about Keith's story when I read an article written by him which described his life within solitary confinement and his journey of self-education. "I taught myself how to read and write when I came to death row," he stated in the article. "An older prisoner gave me the understanding that that's what I really needed to do if I was gonna fight for my life." His fight for his life through education is what drew me.
Throughout my career as a high school social studies teacher in Ohio, I have often sought out voices that were missing in standardized curriculum so that my students could not only learn more about themselves in relation to others, but also begin to work to fight against social injustices. In particular, I have often invited those who have experienced incarceration into my classroom.
So, after reading the article, I wrote a letter to Keith, hoping that he would be willing to share his educational journey and his perspectives on life with my students. He responded to my letter within days, asking if we would like to start a book club with him. Soon after, we began to read together, with Keith selecting each book and calling into our classroom once a week to engage in conversation with the students.
Each 30-minute call always centered on the texts. However, they often veered into other issues, including his experiences in prison within the last three decades, as well as Black history, literature, music, and culture. Following the extrajudicial murders of George Floyd, Breonna Taylor, Ahmaud Arbery, and countless others, our conversations also centered on anti-Blackness and what it means to be Black in America. These lessons and stories resonated with my students, the majority of whom are Black.
"Please read my story," Keith urged us, "Because this is happening to somebody that's alive right now! Unfortunately, George Floyd isn't alive. Michael Brown isn't alive. And all the other Black people who have been killed over the past several weeks, months, and years are no longer here.
"So, one of the things that I've been trying to do—since I'm still alive—is to do what they can no longer do. That's to stand up for myself—to stand up and fight for myself. And as you grow, and read, and learn, you'll understand that this is not just my story. This is our story."
Lessons We Learned from Keith LaMar
Recently, I revisited these recorded conversations. Those moments—such incredibly beautiful exchanges through Black literature—will forever remain with me.
There were times as I listened that I laughed incredibly loud and hard at Keith's sense of humor. And then there were instances in which I cried—wanting so badly to reach back in time and hold on to those moments, while also trying to desperately figure out what might be ahead.

I paused when I arrived at a part in the recordings when one of my students told the entire class that a main character died at the end of the novel. I feigned shock at first, but then quickly switched to laughter as my students—loudly yelling over one another—all exclaimed that they no longer wanted to read the book because the ending was spoiled for them.
"We have to finish it though," Keith laughingly interjected over the students' voices. "That's one rule of the book club—if we started it, we finish it. Yeah, he might've told us the end of this book, but I'm using all of this stuff as teachable moments."
The students' voices quieted as Keith, in a much more serious tone, continued, "People are gonna try to tell you what your story is...They're gonna try to tell you the end of it. But it ain't just about the end of the story. And life ain't just about the end—it's the getting there... We're here to figure out what it means to be alive."
He added: "You're the only one who can define your reality. Nobody can do that for you. So that's why I'm suggesting that we keep reading because at the end of the day, you have the final say in what becomes of your life."
My student, now in her first year of college, texted me a few days ago: "Tell Mr. Keith that I said 'hello' next time that you talk to him. He has been on my mind lately." While it was such a simple text, a flood of emotions rushed in as the enormity of Keith's situation sprawled out before me. How will this story end?
Yet, I recognize that I have an increasingly urgent responsibility—as Keith demonstrated—to teach my students that we must continue to critically read. For our lives are stories, and Keith's is an incredibly important one—one that demands our full attention.
It is a story that transcends anti-Black boundaries and borders; displaying our deep connectedness to each other even across prison walls.

For, this is the story of how one Black man—facing death by execution—decided to turn towards me and my students and teach us how to live. This is our story.
Rachel McMillian's work broadly explores the intersections of Black education and critical prison studies, and particularly the experiences of incarcerated youth. Rachel is also a Public Voices Fellow with the OpEd Project.