Hooray, Lou Liay
by Bob Asmussen, News-Gazette / Nov 15, 2022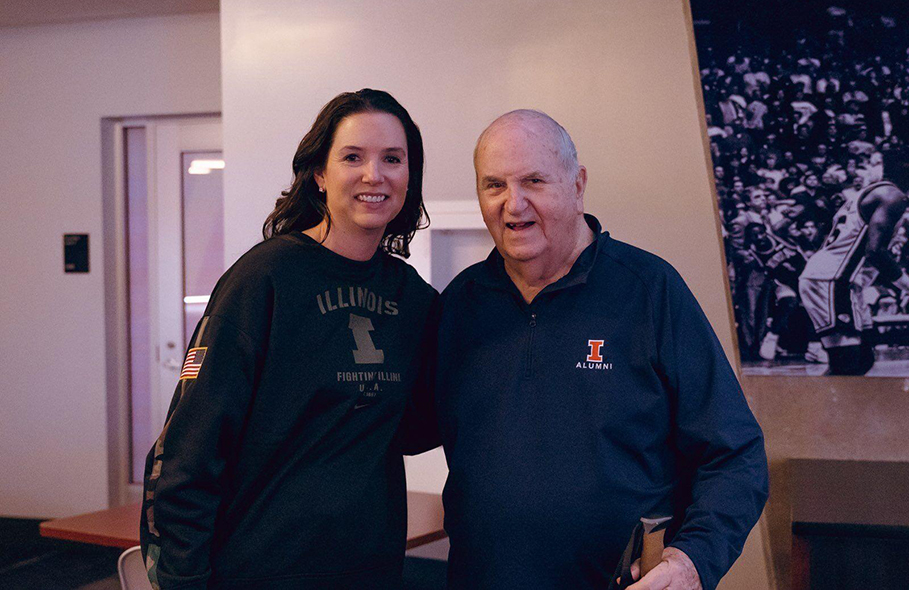 Former University of Illinois Alumni Association boss Lou Liay, right, spent time with first-year Illinois women's basketball coach Shauna Green before a game at State Farm Center. Photo by Madison Dabrowski, UI Athletics
Last week, Education alum and Champaign-Urbana icon Lou Liay, Ed.M. '62 ED, found out he will receive an honorary degree from his beloved University of Illinois.
So how did the almost-90-year-old celebrate? By supporting the UI. Naturally. On Sunday, the retired longtime head of the school's Alumni Association gathered with about 75 friends at the Illinois women's basketball game against Alcorn State. Liay, who seems to know everybody, took pictures with first-year Illini coach Shauna Green.They met for brunch in the Traditions Club at State Farm Center. The coach stopped by. It was the kind of event where Liay has always thrived.
At first, Liay didn't believe it when he heard about the honorary degree — doctor of humane letters — which will be awarded during May 2023 commencement.
"I'm just stunned and honored and overwhelmed," Liay said. "I've sent it to some of my family, and they say 'Do I have to call you Dr. now?'"
Well, do they?
"Are you kidding? I'm no doctor," Liay said.
Being on stage at commencement won't be a first for Liay, who was there at times when he was head of the Alumni Association (1983-98). He was also recognized when he "retired," a term that really doesn't fit him. Liay earned his undergraduate degree a while back from Blackburn College in Carlinville, his hometown. It had about 300 students during his days there. He then came to the UI to get a master's in education.
"I was going to teach," Liay said.
Plans changed. Liay was hired by the UI Alumni Association, where he worked for almost 35 years. He met his wife of 57 years, Mary, and the rest, as they say, is history.
"She's been my strength and has helped me so much," Liay said. "I've had the most incredible career that anybody could ever have. I'm blessed so many times over."
Liay said he was nominated for the honorary degree by UI Alumni Association President Jennifer Dillavou, his boss.
"I'm very humbled," Liay said. "I love my university."
Liay continues to work as a special assistant to Dillavou. He is also president emeritus.
About Liay, the nomination read:
"Lou exemplifies what it means to be an Illini, as he has been an ambassador for the University of Illinois from his days as a student until today. He is known by countless graduates for being the face of the Alumni Association. Lou continues to work with multiple constituent groups, building the Illinois brand and engaging with alumni both near and far. He exercises his passion for connecting with people and continues enriching Alumni Association programs with his unique brand of engagement."
Liay is on Facebook. He frequently shares stories about UI sports and other UI topics.
"Because that's my job," Liay said. "I love sharing your column, and people respond to it."
Coming from Liay, who knows everybody, that is high praise. Liay acts much younger than his age. He turns 90 on January 1. He has not been cheated out of life experiences. Oh, the places he's gone and the people he's seen. Liay has pictures with Illini legends Dick Butkus and Lou Boudreau.
"I've been around some of the greatest people in the world, the alumni," Liay said.
Many of the meetings have been pinch-yourself moments for Liay. Like when he spends time with Illini who have become astronauts. Why did the job work so well for Liay?
"They tell me I like people," he said. "I have an ability to remember names."
The Liays have traveled all over the world. They have ridden elephants and camels. On a trip to Antarctica, Liay saw 26 whales at one time. He counted them.
"They were all wonderful experiences," he said. "You certainly get to know alumni when you travel with them." So where hasn't be been?
"Greenland and Iceland," Liay said. "That would be interesting."
Despite all those great trips and continents visited, the highlights of Liay's life were stateside. And UI-related.
"The Rose Bowl (in 1984) and the Final Four (in 1989)," he said. "The alumni really came out."