Doctoral Student Launches Website to Grow Non-profit Professional Networking in Egypt
by Office of Communications / Sep 21, 2022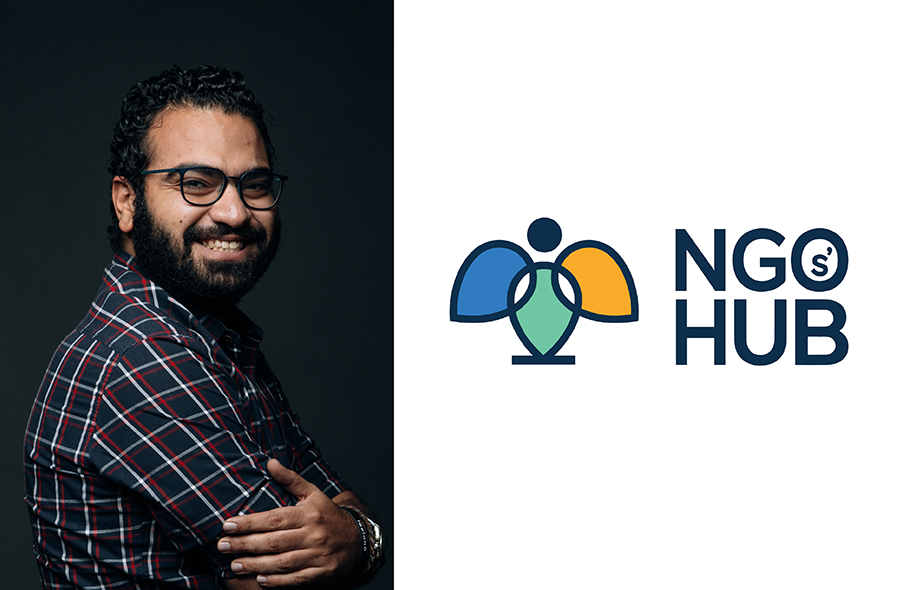 Mostafa Adel Hanafy
, originally from Egypt, is a second year Ph.D. student in the Department of Education Policy, Organization and Leadership's
Learning Design and Leadership (LDL) program
. He holds two master's degrees: an M.A.in Public Administration from the American University in Cairo, Egypt, and an MSc in Project Management, from Robert Gordon University in Aberdeen, Scotland, which he earned in 2016.
In addition to his academic achievements, Mostafa has more than a decade of experience working with leading international organizations including Save the Children, GIZ, United Nations Volunteers, UNICEF, and more. Combining his pursuit of accessible learning opportunities for all with his experience working in non-profits, Mostafa recently led the development and launch of a website called
NGOs' Hub
that is serving thousands of users and highlights non-profit sector opportunities based in Egypt.
What exactly is NGOs' Hub?
Mostafa Adel Hanafy (MAH): NGOs' Hub began about 12 years ago as a Facebook Group in Egypt. NGOs' Hub originally started with the aim of providing a space for development professionals or those who aspire to join the non-profit field to post job openings, internships, or scholarships. The group has been evolving from that to the first online community of practice for the non-profit field in Egypt. The group is now a space to post non-profit related opportunities (i.e., jobs, internships, etc.), share advice, exchange experiences, request help, ask for training materials, inquire about job opportunities and more.
And now NGO's Hub is a fully-operational website—launched earlier this summer—along with a complementary, the very active Facebook Group of more than 107,000 members and counting.
Tell us about the background and evolution of NGOs' Hub.
MAH: Despite the fact that the non-profit sector in Egypt is very big, there wasn't a singular Egyptian website or tool that gathered and organized all opportunities (internships, jobs, scholarships) in one place.
Facebook selected NGOs' Hub, as one of its most active communities in Egypt and MENA, to participate in the Facebook Community Accelerator. It helps admins of the awarded groups develop ideas and projects, and in our case, it led to the development of our new website.
We wanted to improve the NGOs' Hub user experience and make it more accessible to people, so transitioning to a freestanding website made sense. This way, there was no requirement to have a Facebook account. Facebook is now complementing the website. The Group continues to function, but as a conversation platform and mentoring space. The website is now an employment and professional development opportunity sharing place.
Have you drawn any connections from your doctoral work to this project?
MAH: I am pursuing my Ph.D. in EPOL, studying digital learning, digital equity, and educational policy, and I've discovered how it's become a vital tool for professional development. Especially after COVID-19. It's for this reason that the new NGOs' Hub website has a dedicated section for virtual professional development and capacity building.
I am impressed by how Illinois is a global hub for online learning. While here on campus, most of my doctoral classes are online and it hasn't compromised my learning experience—whether in Canvas or CG Scholar—whatsoever. My professors have been great with support and engagement of students through online formats.
What are your future professional goals? What about future goals for NGOs' Hub?
MAH: I used to work in Egypt for international non-profit organizations, and I'd like to resume my professional journey by working on regional and global levels. I want to focus on online learning and work on closing the digital divide to learning. My goal would be to design customized learning solutions for low- and middle-income countries (LMICs) to meet their needs and overcome the challenges that underprivileged students face.
Being the first non-profit professional platform in Egypt, I would aspire that NGOs' Hub expands to cover the entire MENA region as the leading platform for non-profit opportunities in the Middle East and North Africa.