Impacting a Nation
by Tom Hanlon / Jan 11, 2022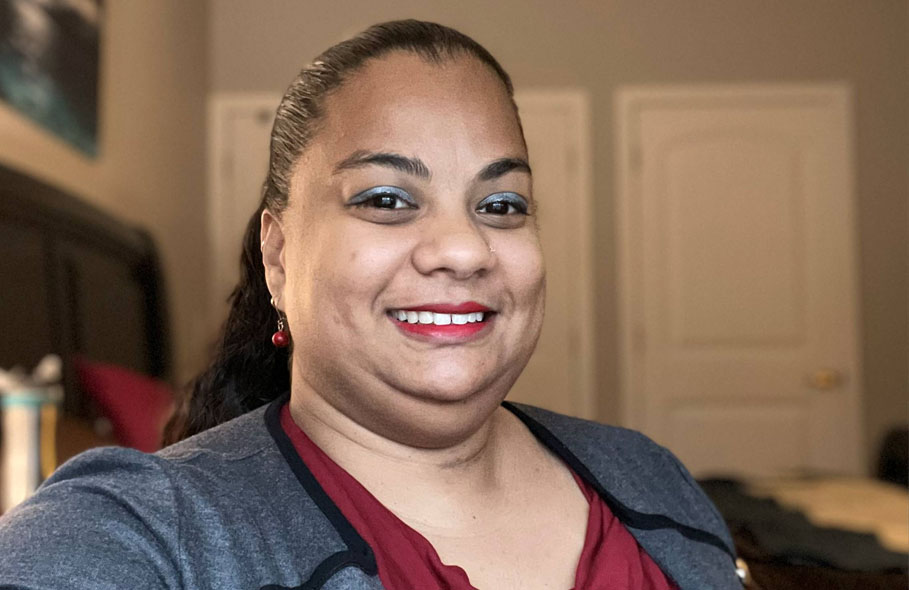 Former world-class athlete and Paralympian Anjali Forber-Pratt, who earned her Ph.D. from the College of Education in 2012, shapes the country's disability research agenda after being appointed by the Biden-Harris administration as director of the National Institute on Disability, Independent Living, and Rehabilitation Research.
As Inauguration Day for President Joe Biden approached this past January, count Anjali Forber-Pratt surprised.
But not with the election results.
With the phone call she'd received from an official with the incoming administration, asking her to become the new director of the National Institute on Disability, Independent Living, and Rehabilitation Research (NIDILRR).
"It came completely out of the blue," says Forber-Pratt, who earned three degrees from the University of Illinois Urbana-Champaign: a B.S. in Speech and Hearing Sciences; an M.A. in Speech-Language Pathology; and, in 2012, a Ph.D. in Human Resource Education from the College of Education. "I had been fairly active under both the Obama and Trump administrations in providing input based on various needs of the disability community, so I figured I would be doing some work on the side, but I never thought it would be this."
Forber-Pratt was on faculty at Vanderbilt University when she was tabbed for the position.
"Dream Come True"
"It's a tremendous honor to serve our country in this capacity," she says. "To be able to have influence on disability research at a national level is a dream come true. To shape the disability research agenda for our country and to work at improving accessibility and representation of people with disabilities within the research process is something I'm really humbled by."
Forber-Pratt, 37 years old, began wheelchair racing at the national level when she was nine. Paralyzed from the waist down, she won three medals at the Para Pan American Games, including two golds, three medals at Para Athletics World Championships including 1 gold and 2 silver, and previously held the world record in the 200 meters. She won two bronze medals at the 2008 Beijing Paralympics, and while working on her doctoral dissertation at Illinois she also competed in the 100m, 200m, and 400m events at the 2012 Summer Paralympics in London.
"I was actively competing on the international stage, representing our country as part of Team USA, while on the side getting this little thing called a PhD," she laughs. "I did a lot of dissertation writing on the airplane and in the back of the team SUV and in hotels."
Learning Curves and Hard Decisions
Forber-Pratt officially began in her new role in May 2021. She noted there have been many challenges in transitioning from working in academia to navigating the work day world in Washington, D.C. But Forber-Pratt is well-versed in rising to, and overcoming, challenges.
She jokes about the plethora of acronyms in the federal government ("far worse than in academia!"), and speaks of the steep learning curve at the federal level. "What you think might be a two-step process to bring about change turns into a 90-step process," she says. "You have to learn to play the long game here." She credits her staff—she oversees 27 employees at NIDILRR—with helping her learn the ropes.
Additional challenges, Forber-Pratt says, include starting her work during a pandemic ("the uncertainty of it and how to best build and foster collaboration and relationships virtually") and funding. "We receive proposed research that is extremely promising and that would make huge contributions, but we don't have enough dollars to support it," she says. "That makes for hard decisions. My hope is that our funding allocation is expanded to be responsive to the 61.4 million Americans with disabilities who are calling for further research."
From Athlete to Coach
Forber-Pratt likens her transition from professor to director as one from athlete to coach. "In some ways, I'm moving from the athlete on the front lines to coaching the country towards disability research and priority areas," she says. Her experience as an elite athlete prepared her in other ways as well.
"I learned a lot about public speaking," she says. "As an athlete, I was carrying that message forward and working to develop sport programs in other countries." That carries over, she says, to her duties today in communicating the message and goals of NIDILRR.
One of her primary goals, she says, is to ensure that NIDILRR remains the "go-to" for high quality disability research. "NIDILRR has a long history of that, and I want to be able to carry forward that legacy," she says.
Advocating for People With Disabilities
Other goals encompass increasing the representation of disabled researchers, including those of color and from other underrepresented backgrounds. "I want to bolster the way we involve people with disabilities across the entire research process and the research enterprise," she says. "We are advocating for greater involvement in the peer group process for people with disabilities. We believe the lived experience of disability as well as the professional experiences of these people has the potential to inform the work that we fund in terms of its relevancy to the disability community."
Similarly, she and her staff are pushing for greater equity for—and within—the disability community. "People with disabilities covers such a vast array of people," she says. "We want to make sure we're not privileging one group over another. We want to be relevant to and responsive to the people of the entire disability community."
Grateful for Support From Her Illinois "Family"
Forber-Pratt's time at the University of Illinois helped prepare her for this weighty role. In the College of Education, her time in research methods classes, statistics classes, and qualitative methods classes showed her the importance of both the lived experience and stories and the data, and how to bring those two sides together. Writing her dissertation readied her for future research grants and projects.
She credits professors emeriti Robert Stake and Norman Denzin (both retired), along with Dr. Jennifer Greene, as having special impacts on her. "When I moved on to teach various classes, my students couldn't believe I took evaluation methods with Dr. Greene and with Dr. Denzin," she says. "That's a testament to Illinois legacy."
Dr. Dorothy Espelage (now at the University of North Carolina) also had a profound influence on Forber-Pratt. "She taught me how to run a research team and research lab, how to juggle multiple projects, how to write and publish, and how to engage with communities and influence policy," she says. "I'm grateful for her mentorship and guidance."
Anjali Forber-Pratt is nine years removed from the University of Illinois campus, but she retains strong bonds with the university. In 2021, she received the Harold Scharper Award, which recognizes alumni who have received services from Disability Resources & Educational Services (DRES) and who have attained outstanding success and national or international distinction in their chosen business, profession, or life's work.
Upon accepting her appointment, she shared her excitement with Dean Jim Anderson soon after her appointment as director of NIDILRR. "He immediately was so congratulatory," she says. "My heart will always bleed orange and blue. I'm so grateful to the College of Education for constantly being a supporter and for being as excited as I was about this news. I am so grateful for my Illinois family."