Jeanne White: Practicing Engaged Learning and Leadership
by Ashley Lawrence / Nov 10, 2021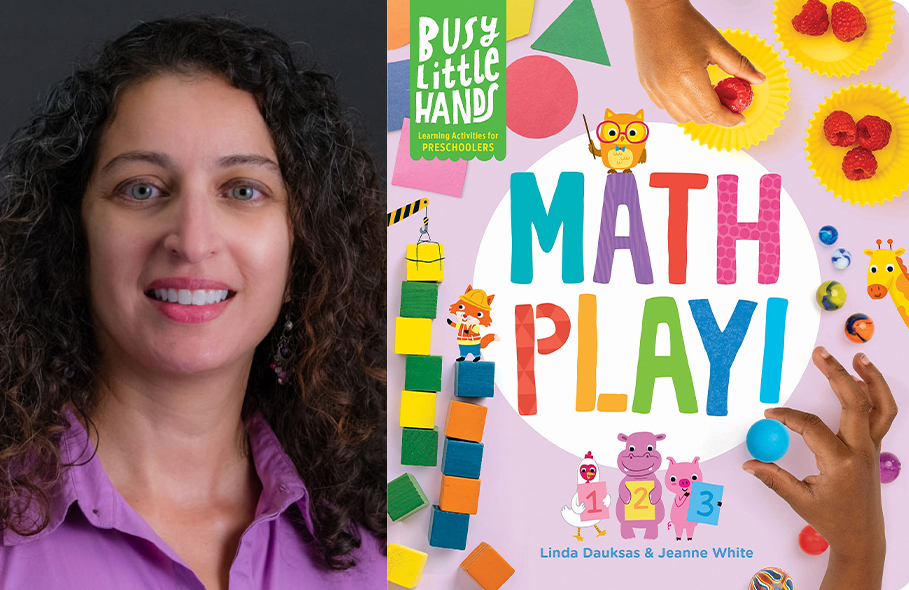 Jeanne White, BS '92 ElEd, EdM '98 C&I, was going to be a writer—a journalist.
The high school senior from the Chicago suburbs, part of the statewide Principal's Scholars Program, had been accepted early to the University of Illinois Urbana-Champaign and already awarded a scholarship. She was a goal-oriented, high-achieving student—to say the least.
"When I applied to Illinois, my intent was to be a journalism major. I was always going to be a writer, an author," says White emphatically. But during her senior year at Thornwood High School she participated in a National Honor Society volunteer project, tutoring underclassmen in math. That was all it took.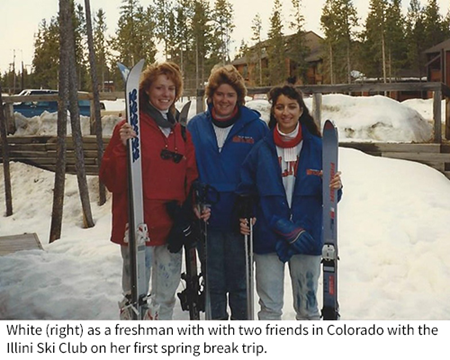 "After the very first tutoring session, I said to myself, 'This is it; this is what I love doing!'" says White. "I can still remember running home and telling my mom, 'okay, when we go down to U of I and register for classes I'm going to tell them I want to be a teacher—not a journalist,'" she says.
Seemingly always one with a plan, White's next step was completing Psychology 101 at the local community college before she headed to Urbana-Champaign, allowing her to directly enroll into an Educational Psychology class as a freshman at U of I.
"And that's when I realized I wanted to be a professor," she says. "From the first day of my undergrad Ed Psych class I knew: I'm going to be a teacher, then I'm going to get my Master's degree, then my doctorate, and then I'll be a professor of education and the person standing up there. I held my professors at Illinois to such high regard."
Now a Professor of Education at Elmhurst University, Dr. Jeanne White isn't clairvoyant. But she has achieved all these dreams in step-by-step fashion.
Lessons in Everyday Life: Introducing Math Play!
On a visit to campus with her mother for a new student reception, White recalls words of wisdom from a faculty member who had politely asked what she'd be studying. When her mother explained her daughter at first wanted to be writer, but was now pursuing teaching, the professor replied matter-of-factly, "Well, it doesn't matter your profession; you can always write."
White's fourth published book, Math Play! (Storey Publishing) completely validates this truth. Co-authored with an Elmhurst University colleague, it's geared for an audience of pre-school age kids and families. (With loads of expertise in early childhood and elementary math education and math methods training for pre-service teachers, White's first three books are written for teachers and academia.) The 48-page book uses natural routines and tasks around the home to engage kids in early math concepts.
The timing of Math Play! could not be better, when parents are acting as de facto teachers and tutors amid the COVID-19 pandemic's challenges, delays, and setbacks to learning. The book guides caregivers to use everyday scenarios as math "games" for their kids to play and provides question prompts that reinforce mathematical concepts. Modifications to the activities are offered throughout the book, making it work for kids in a wide range of ages and developmental stages.
"A really great aspect of Math Play! is that none of it requires technology or anything extra to buy, you don't even need the internet. It sounds simple, but it's engaging your child in everyday activities in your environment—wherever that is," she says. "Have them count everything! Classifying and sorting things is math: cups go with cups, forks go together, these two socks are a pair.
"As we know, there's a lot of math anxiety out there," says White. "With this book we don't have to tell the 4-year old 'this is math!' but you're doing things with shapes and measuring and it's fun. It's another way to expose kids to doing these practices informally and build their confidence."
Math Play! Is now available online from Amazon, as well as in stores and online from Barnes & Noble, Walmart, Target, and many independent booksellers.
Lessons in Teacher Leadership
In addition to heading up math education coursework for pre-service teachers, White serves as Elmhurst University's Director of Teacher Leadership Graduate Programs. It's a focus she's passionate about that was sparked, again, in a classroom during her time as an Education undergraduate.
"Steve Tozer was one of my professors for Educational Policy Studies in my program, and he was my favorite instructor. This was around 1990. He was a dynamic and interesting speaker—you hung on his every word in lectures," says White. "The idea of teacher leadership didn't formally exist when I was a student. But Dr. Tozer was involved with its development and now it's a teaching endorsement in the state of Illinois."
After being named Director of Teacher Leadership at Elmhurst, years after being a student in his class, White reached out to Tozer (who had since moved to the University of Illinois Chicago) and invited him to speak to her graduate students on the topic of teacher leadership.
"Reconnecting with Dr. Tozer as a peer was an amazing experience," she says. "And U of I prepared me really well—both in my bachelor's and master's programs—for this idea of being an advocate for my students no matter what their home life, language, culture or experience," says White.
"In the late 1980s and early 1990s this wasn't always something at the forefront of teacher training. Now, being an advocate and a change agent as teacher leaders in the classroom is primarily what I teach the future workforce," she adds.
Lessons in Teaching and Serving Abroad
Thankfully, White's aspirations didn't stop once she'd achieved her goal of standing in front of her own classroom of co-eds.

As a doctoral student at Loyola University Chicago in 1999, she decided to do a three-week study abroad trip to Loyola's campus in Rome, Italy. She took a short class called "A Thematic Approach to Multiculturalism" that sealed the deal—as a full professor, one day she would take groups of students on international study abroad trips, too.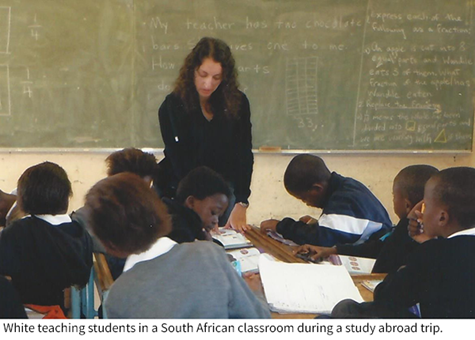 Check, check. Since 2008, White has led Elmhurst University study abroad trips to Australia, New Zealand, South Africa, Germany, Austria, the Czech Republic, England, France, Thailand, Vietnam, and Cambodia. All short-term trips include a service-learning component within schools or local community organizations. Travel restrictions due to the pandemic have put study abroad trips on hold, but White looks forward to resuming them when it's safe to do so. She's even expressed interest in being a Global Education Mentor someday with Education at Illinois. Stay tuned on that!
For now, White's committed to staying connected to her alma mater by attending at least one Illini football game a season with former roommates and college friends, along with visiting the Urbana campus for professional conferences. She says she loves reading stories about other College of Education alumni who are doing inspiring work all over the world.
When Jeanne White came to the University of Illinois, she thought she would have to choose between becoming a writer or a teacher. Turns out, she accomplished both and so much more.