Principal Jaime Roundtree's Principles
by Mary Timmins, for Illinois Alumni Magazine / Jun 14, 2021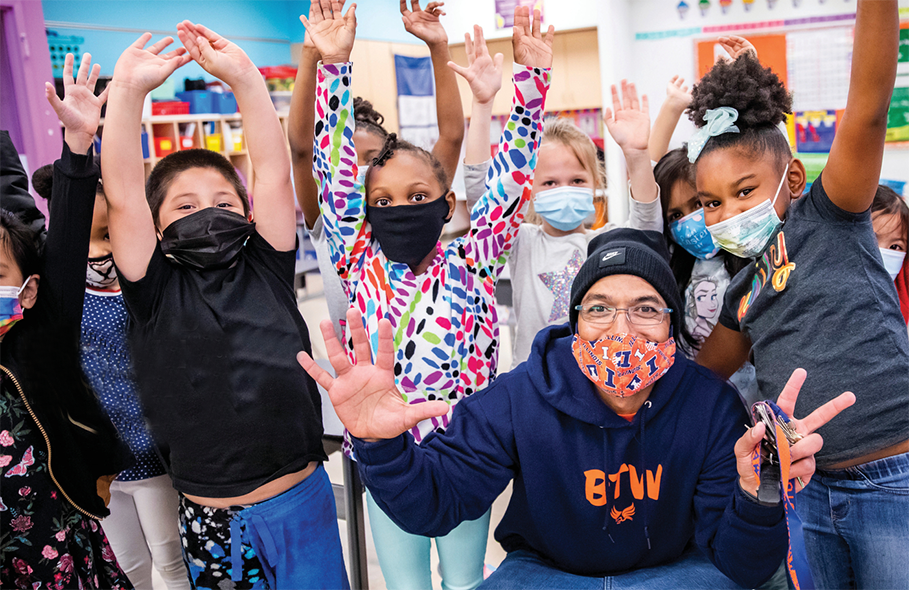 When it comes to the urban schools of America, the name Booker T. Washington is, to be frank, a profile trigger, provoking thoughts of ambitious but crumbling architecture, ancient brick, wavy windows and restrooms that smell of generations of use.
Such an elementary school once stood at the corner of Grove and Wright streets in north Champaign, a neighborhood with strong community ties but also gun violence and crime problems. After the building was demolished in 2011, a very different school went up--Booker T. Washington STEM Academy, the district's showcase for science, technology, engineering, and math education. Housed in 60,000 square feet of functional, pleasing areas that flow together to promote learning and community, it's a singular elementary school, headed by a singular principal, whose name is Jaime Roundtree, '98 LAS, Ed.M. '05, Ed.M. '10.

Roundtree grew up on Chicago's West Side. He'll be the first to say that bad things were going on there, and he's also the first to defend the "beauty in the slums that I was from." Perhaps this sense of perspective helped power him past the many pitfalls of Chicago's mean streets to the University of Illinois, where he took his time earning a history degree--years of study and hustle comprising, in his words, "the very longest undergraduate tour you could ever do."

Meanwhile, tours of another kind began to happen for him. He and a couple of musicians met up and started rapping. They called themselves the primemeridian; they played on campus, they went on the road. They stayed in that groove for years, doing gigs around the country--Jaime Roundtree, aka, "tree," the lyrics man, a short skinny guy in a big shirt, syncing out the words to the beat as spotlights down the stage in wild light and the crowd chats back.

Read the full story in Illinois Alumni Magazine...