AERA Recognizes Illinois Faculty for Superior Contributions
AERA Recognizes Illinois Faculty for Superior Contributions
by Ashley Lawrence / Apr 16, 2021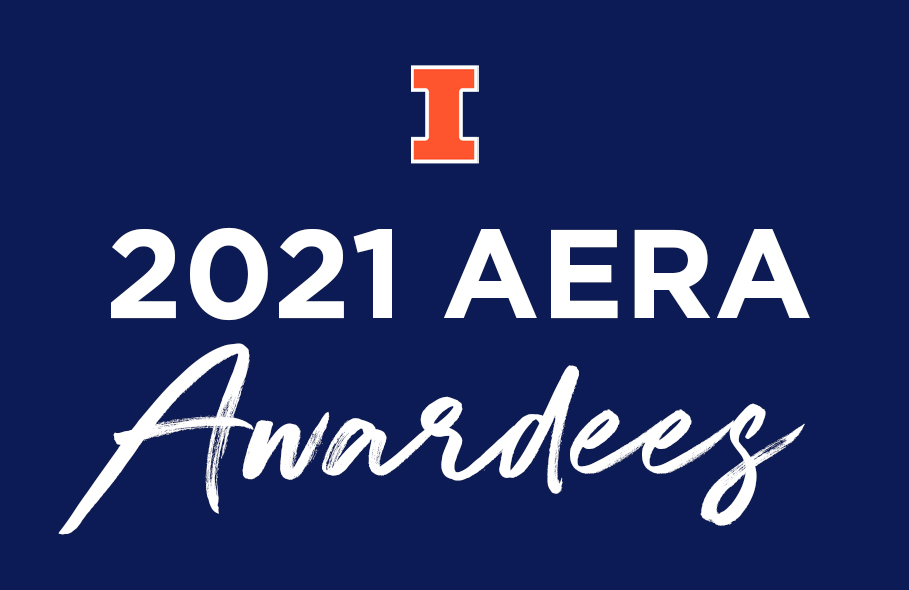 In a wrap up of the world's largest gathering of education researchers—the American Educational Research Association's Annual Meeting, held virtually for 2021—we are pleased to highlight our Education at Illinois scholars' accomplishments.
Please join us in congratulating these exceptional faculty for their well-deserved 2021 AERA awards:
Liora Bresler, Professor Emerita, C&I
Outstanding Achievement in Arts and Learning Award (Arts & Learning SIG)

Dr. Bresler's interdisciplinary work focuses on visual arts, music, dance, and drama curricula in K-12 schools. A related area of scholarship is qualitative research methodology and what the arts can teach researchers in terms of engagement, perception, conceptualization, and communication. This award—relevant at any career stage—is awarded to a scholar whose collected body of work has made a substantive contribution to the field of Arts and Learning, as evidenced through publication, presentation of scholarly work at academic and professional conferences, and, when appropriate, supplementary creative work related to the scholar's research.
Anne Haas Dyson, Professor, EPOL
John J. Gumperz Memorial Award for Distinguished Lifetime Scholarship (Language and Social Processes SIG)
Dr. Dyson's research interests are related to the social and cultural processes of schooling and literacy. This SIG's award recognizes the work and contributions of senior scholars, but also, like the late Dr. Gumperz, their capacity to serve as role models for commitment to learning and to exploration and development of ideas. More than 40 colleagues signed Dyson's award nomination letter, an outstanding affirmation of the quality, depth, and impact of her research. Dyson is a fellow of AERA.
Erica Mason, Assistant Professor, SPED
Outstanding Dissertation Award (Special and Inclusive Education Research SIG)

Congratulations to Dr. Mason, first-year faculty in Special Education, whose work is aimed at understanding teachers' views of their students as mathematically capable, and especially how those views get translated into opportunities for students with disabilities to engage in rigorous mathematical activity. Her dissertation was also honored by the Division for Research of the Council for Exceptional Children (CEC).
Justin Kern, Assistant Professor, EPSY
Journal of Educational and Behavioral Statistics Outstanding Reviewer Award

Each year, AERA journal editors recognize the invaluable contribution of reviewers who have provided exemplary, thorough, and timely reviews of manuscripts received by their respective journals. Dr. Kern is among these outstanding reviewers for 2021 awarded in recognition of the quality of his professional service—done as a volunteer, in addition to his teaching and research.
Additionally, several members of Education at Illinois faculty were named or elected as Division Officers and Committee Members for 2021. They include:
Cynthia D'Angelo
Program Chair, Advanced Technologies for Learning SIG
Adrienne Dixson
Program Chair of the Sociology of Education SIG
Catherine Dornfeld Tissenbaum
Chair of Learning Sciences SIG
Gloriana Gonzalez
Member, Division K: Exemplary Research Award Committee
Rochelle Gutiérrez
Co-chair Sociopolitical Issues in Mathematics and Science Education SIG
Stephanie Sanders-Smith
Member, Maureen Hallinan Graduate Student Paper Award Committee
Rebecca Taylor
Program Chair, Philosophical Studies in Education SIG
Liv Thorstensson Davila
Program Chair/Chair Elect, Second Language Research SIG