A Heart for Children—and for Social Justice
by Tom Hanlon / Mar 31, 2021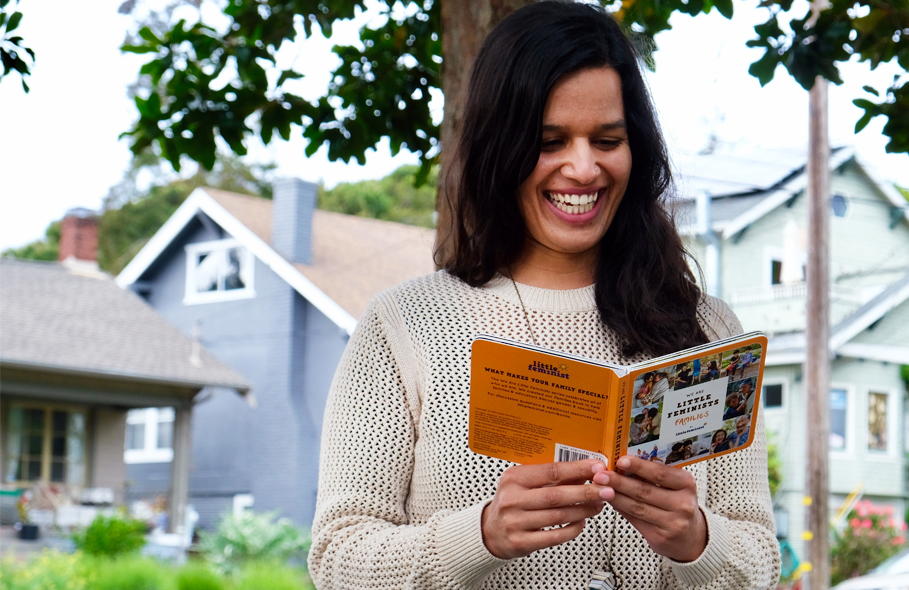 Alumna Archaa Shrivastav has been a champion of social justice both in the classroom and in the world of children's literature—where she recently won a major award.
Archaa Shrivastav has always had a heart for children.

That's what led her to earning, from the University of Illinois at Urbana-Champaign, a bachelor's degree in Elementary Education in 2011 and a master's degree in Curriculum and Instruction, with a focus on language and literacy, in 2012.

It also led her to earning a prestigious award in children's literature: the 2021 Stonewall Book Award—Mike Morgan and Larry Romans Children's and Young Adult Literature Award, presented by the American Library Association (ALA).

The award, given annually to English-language works of exceptional merit for children or teens relating to the gay, lesbian, bisexual, or transgender experience, will be presented during the ALA's annual conference in June.

Shrivastav's book—We Are Little Feminists: Families—is aimed at children from birth through age four. It's a board book, filled with full-page photos of various types of joyful families, with rhyming text written by Shrivastav.

"Family structure is such an underrepresented topic for children," Shrivastav says. "But it's so important to explore, because it's one of the first places where children explore gender expression. To be able to see gender in this rich way that doesn't make children feel boxed into 'either/or' is important. Families does this in a beautiful way without really labeling, without saying this family has two moms or this family has a single parent. It just lets children connect to the visual experience."

Shrivastav achieved many firsts in the children's category when her book earned the Stonewall Book Award. We Are Little Feminists: Families was the first independently published children's book to win the award—a feat that's hard to accomplish in an industry monopolized by a handful of large publishers. Shrivastav is the first picture book author of color to win the award. And her book is the first board book to win. "It's a book genre and format that's sidelined a lot," she says. "And the age range is undervalued in our society as a whole. But it's such an important age range, because those are the most formative years of children's lives."

Shrivastav, who taught elementary school for seven years, first in Illinois and then in California, became content director for the company Little Feminist in 2018. As she curated diverse content for families, she noticed a gap in early childhood literature in a range of diverse topics, including gender and sexuality. So she decided to fill that gap herself.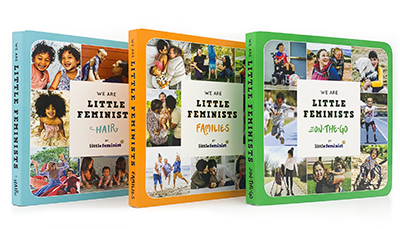 She has written three books for Little Feminist in its "We Are Little Feminists" series. The other two books, coauthored with Brook Sitgraves Turner, are Hair (with a focus on race and ethnicity) and On-the-Go (centered on disability). In January 2021, she branched off to become a freelance education consultant and to further her writing career.

"I have two other books I've been slowly nurturing," she says. "Both will speak to my experiences growing up in this country as a child of Indian immigrants, and living at the intersection of so many identities, which is a complicated but rich experience. Even though I've always loved reading, I never had the experience of reading a picture book by an Indian author featuring Indian characters until a professor in a methods class at the College of Education brought in Monsoon Afternoon by Kashmira Sheth. It was a powerful and heartbreaking experience to finally feel seen as a 20-year-old in the type of books I read voraciously as a child."

Shrivastav mentions two professors in particular at the College who influenced her. "Dr. Eury Bauer, who is no longer at Illinois, deeply shaped a lot of what I learned," she says. "She introduced me to concepts of social justice in a linguistics and language course that she taught, and she was the first person I had conversations with around how language is not an absolute, how race and culture and other factors play into it, and how that impacts how children learn."

From Dr. Ali Lewis, director of University Primary School, Shivastav learned "how to think about so many topics—history, civics, geography—with an intersectional lens. Her class just blew my mind."

Those and similar experiences in the College fed the desire to bring children's cultural identities into the classroom, Shrivastav says. "I learned so much about the injustices of the world we live in and what people have been doing to change those injustices."

So, while Shrivastav has moved out of the classroom, she remains passionate about social justice in her work. "Whether I'm in the classroom or in children's publishing, I hope to bring stories to life that help us all radically transform the world we live in," she says.

Many people are nervous to talk with children about differences across race, gender, and sexuality, Shrivastav notes. "Shying away from noticing differences gives children the impression there's something wrong about being different. Giving children this rich visual input of how diverse we all are at the youngest ages is so important," she says. "The issues around lack of representation in children's literature need to be talked about in higher education, and I aim to spark those conversations with my books."