Another Alma's Heartwarming Homecoming
by Ashley Lawrence / Nov 30, 2020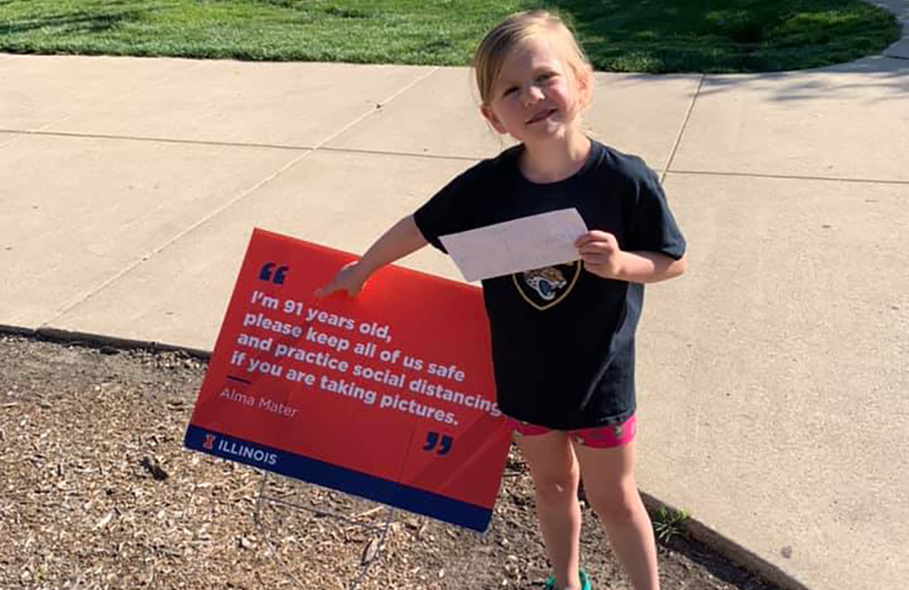 Home has held much deeper significance during 2020 than usual, being the place many of us now work, learn, teach, play, create, belong—and ideally, where we stay healthy and safe. But with Alma Mater's open arms beckoning, Champaign-Urbana is always home to our alumni and friends.
For Illinois native and three-time College of Education alumna Emily Dorsey and her family, home became a different—yet familiar—place just weeks before the pandemic hit the U.S. in earnest. In January 2020 the Dorsey family moved back to Champaign-Urbana from Lincoln, Nebraska, where Emily had been a faculty member for nearly five years. Emily, B.S. '01 Early Childhood Education, Ed.M. '03 C&I, met her husband Bob while completing her Ph.D. work in Early Childhood Special Education on campus. They married in 2011 and son Ozzie arrived in 2012. The Dorsey's daughter Alma (not specifically named after the Alma Mater statue) was born in April 2014—coincidentally, the same month that the statue's restoration was completed and she was returned to Wright & Green.
"I remember there being lots of 'Welcome Home, Alma' messaging and promotion at the time, surrounding her arrival," says Emily. This would be the first of several meaningful Alma connections to come.
Learning and Labor
After earning her Ph.D. in 2015, Emily accepted a faculty position at the University of Nebraska-Lincoln and the Dorsey family said goodbye to C-U and headed west. Then-toddlers Ozzie and Alma settled into life in Lincoln with schedules full of school, friends, and activities.
"My kids are extroverted and adaptable people," says Emily. "My son had a few memories of Champaign, but Alma was 15 months old when we left, so she really thought of Nebraska as her home."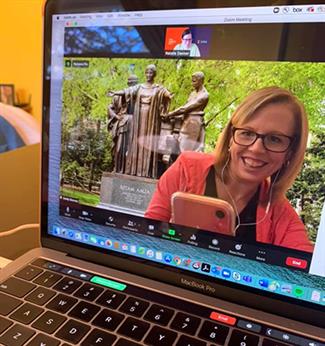 Fast forward to late 2019, when a "once in a lifetime" job opportunity as director of the Illinois Early Learning Project presented itself to Emily, and she accepted. Illinois Early Learning, funded by the Illinois State Board of Education and managed by the College's Special Education department, is a source of evidence-based, reliable information on early care and education for families, caregivers, and teachers of young children in Illinois.
A mid-school year move wasn't ideal, but with long-time friends to reunite with, favorite places to visit, and any luck, the Dorseys were thrilled to come home. Except Alma, says Emily, who was sad to leave her Nebraska friends and the only community she really knew.
"To Thy Happy Children of the Future, Those of the Past Send Greetings."
Thankfully, both Ozzie and Alma were able to participate in six weeks of in-person classes at Bottenfield Elementary and could meet teachers and start to make friends before the Champaign Unit 4 school district shifted to remote learning in March. To further ease the transition and create connection to her daughter's new-to-her hometown, Emily says she and her husband played up idea that Alma had a special statue right on campus.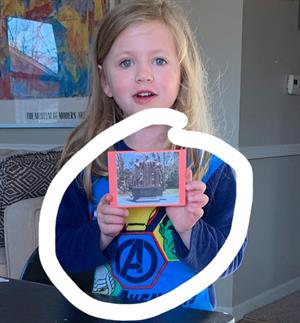 They began going to visit the Alma Mater—taking regular walks and bike rides to the spot just to say hello. And when Alma turned six in April, Emily's mother mailed Alma a birthday card "from" the Alma Mater.
"My Alma was very excited about this," says Emily. "She kept saying, 'Can you believe it? The Alma Mater sent me a birthday card!'"
A few weeks later, Emily showed Alma the university's Facebook post announcing the Alma Mater's 91st birthday. Alma insisted on making the statue a birthday card and delivering it to her. The six-year old wrote it, included a photograph of herself inside the envelope, and brought it to the statue the next trip over to campus. Emily explained that later that day, they looked on the Alma Cam and saw that the card was gone—proving that the Alma Mater must have read it.
"We could not have been welcomed back more warmly or felt so comfortable returning to Champaign," says Emily. "My family has eased right back into life here. I consider it a great honor to have gotten my education and training at Illinois, and I am so proud to now be working at IEL for my Alma Mater."