Enhancing Knowledge and Skills in Higher Education and the Workplace
by Tom Hanlon / Oct 27, 2020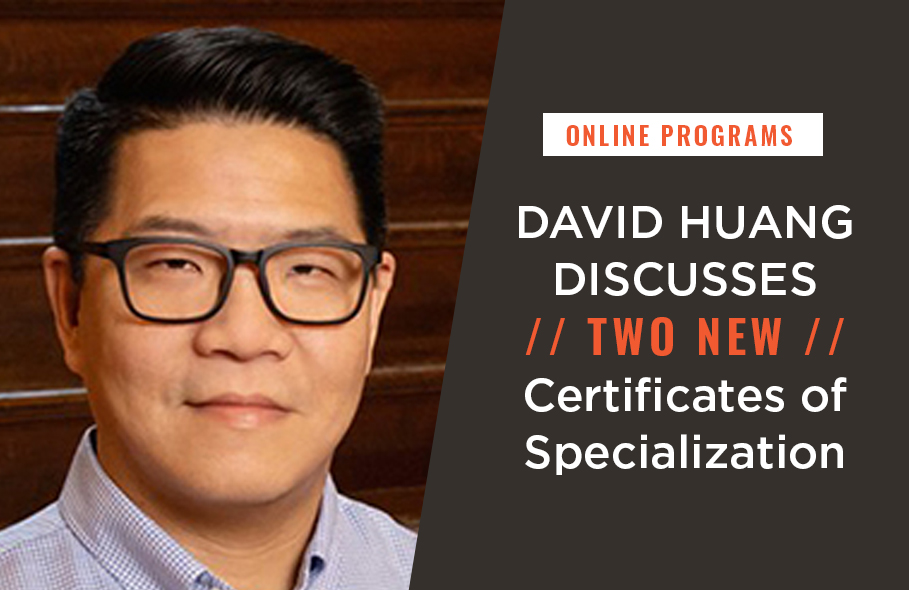 Two new certificates of specialization—available to both degree-seeking and non-degree-seeking graduate students—enhance understanding and skills, develop academic and professional versatility, and strengthen credentials and marketability.
The first certificate, Online Teaching in Higher Education Environment (OTHEE), is for current and future professionals in higher education who want to increase their understanding and competency in online teaching. It is open to all graduate students on the University of Illinois Urbana-Champaign campus across disciplines, whether they are seeking a degree or not.

"We strongly encourage individuals who are interested in developing competencies in online teaching in higher education contexts to apply for the specialization," says David Huang, associate professor and co-director of graduate studies in EPOL. "The OTHEE specialization also meets an increasing need of higher education communities around the world in delivering instructional content through online modalities during scaled interruptions, such as COVID-19, of on-campus instructional activities."
The second certificate, Designing Learning Systems in the Workplace (DLSW), is a practice-oriented program in instructional system design and learning technologies. "DLSW is addressing many needs of workplaces to expand their learning and development modalities, in response to changing organizational needs as well as major systemic changes, such as a pandemic," Huang says. "It covers foundational knowledge and competencies in instructional system design and learning technology integration for practical application purposes in workplace settings. In addition, the coursework develops learners' competencies in facilitating and managing intended processes of change for sustainable impact—for example, organization development, project management, and program evaluation."
Either certificate can be earned as part of a degree or simply to develop competencies in targeted areas. "You can think of them as 'badges' that students can acquire through our certificate offerings," Huang says. "We design the certificates of specialization with the intention to help students become versatile in various academic and professional contexts, to improve their competitiveness when it comes to career advancement."
If a non-degree-seeking student completes a certificate and then decides to pursue a degree, that student can transfer the credits to the pertinent degree program upon admission, Huang adds.
"Both of these specializations are designed to meet a rapidly emerging need, around the world, to shift teaching and learning to online environments during COVID-19," he says. "I believe these certificates of specialization set us apart from other colleges of education around the world by meeting timely academic, societal, social, and professional needs through our faculty's world-class teaching and research expertise."
Degree-seeking students can learn more about these two certificates by contacting the Department of EPOL, the Graduate Student Services Office (GSSO), or Huang himself (wdhuang@illinois.edu) to get lists of required courses for the certificates. Each specialization has four courses to complete. "The next step would be planning the course schedule with their advisors, based on course availability and the overall degree progress," Huang says. "For non-degree-seeking students, they can contact the GSSO to inquire about the application process for certificates they are interested in."

View all online programs.