Keys to Academic & Athletic Success for Black Male High School Students
by Tom Hanlon / May 19, 2020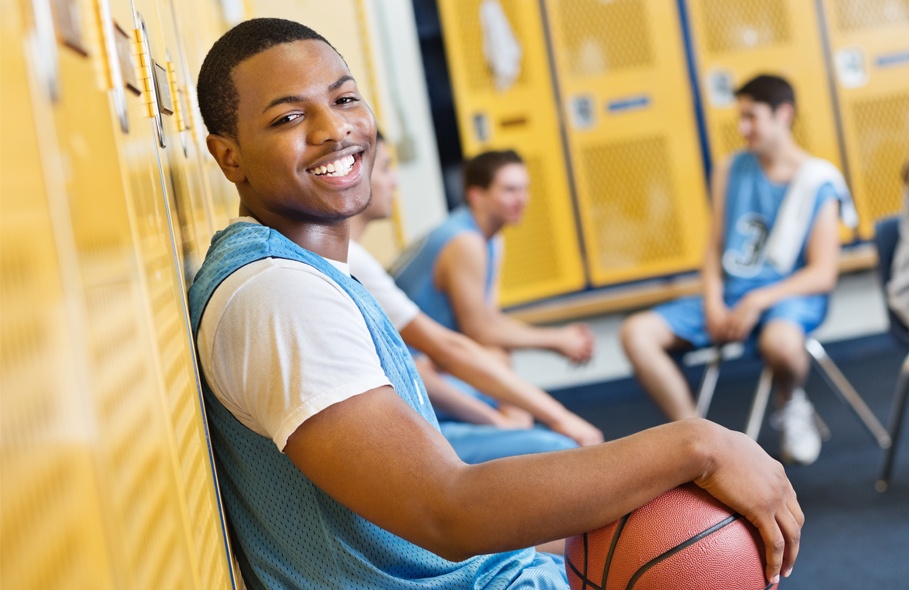 Alumnus Adeoye Adeyemo has experienced significant success in sports, in the classroom, and now in his professional life. The research he conducts is helping shed light on how other black males can experience the same kind of success.
Adeoye Adeyemo focuses much of his research on examining the factors behind the academic and athletic success of black high school students.

It's a journey that Adeyemo, now a visiting assistant professor in the College of Education at the University of Illinois at Urbana-Champaign, knows well.
He was an all-state receiver at Chicago's St. Rita High School, earning him a scholarship to play football for Illinois. He did so, in the early 2000s, but his career was hampered by a series of injuries.
For many athletes, the injuries could have marked the end of the road, in terms of life achievements and success. For Adeyemo, it marked the beginning of a new journey—one that eventually brought him back to his alma mater to continue his research.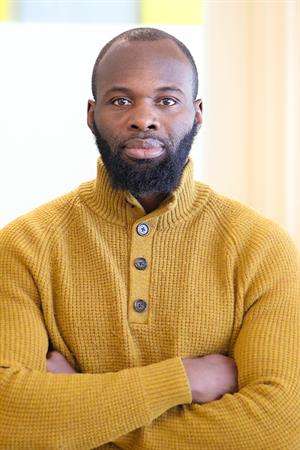 Adeyemo earned two degrees from the University of Illinois: a bachelor's degree in Finance in 2004 and a master's in Educational Policy in 2007. In 2016, he earned his PhD in Social Foundations of Education at the University of Georgia. He began his postdoctoral work at Illinois in the fall of 2017, through the Illinois Distinguished Postdoctoral and Visiting Scholar Program, which is sponsored by DRIVE (Diversity Realized at Illinois by Visioning Excellence).
Adeyemo's own vision for excellence was fostered by his parents, natives of Nigeria and holders of MBAs from Alabama A&M University. In his research, he finds the same pattern of familial support he experienced to be critical in the success of black student-athletes in high school.
Keys to academic and athletic success
"For students who were successful both academically and athletically, we found that parental guidance and support was important," he says. "These students also often had mentors, participated in sports at an earlier age, and had a more rigorous curriculum. They were nurtured both athletically and academically."
Adeyemo conducted his research in Chicago's south and west sides, highlighting the experiences of black students who made all-state in their sport, took AP classes, had high GPAs, and were offered scholarships. He published an article on his research in Urban Education, examining the notion of Place and Critical Race Theory that framed the successful experiences of these student-athletes.
Countering stereotypes
"Critical Race Theory identifies how systemic and structural racism impacts the experiences and life resources and opportunities of black people in general, and in the case of my work, of black males who play sports," he says. "It has multiple tenets, one of them being counter storytelling. It's a way to provide a voice for the voiceless and counter mainstream stereotypes."
Part of that counter storytelling was evidenced by students who lived in under-resourced and violent neighborhoods, yet who achieved academic and athletic success.
"That's one way that Critical Race Theory exposes racist notions or notions that perpetuate stereotypes," Adeyemo says.
Using capital to overcome racist structures
His paper, "Place, Race, and Sports: Examining the Beliefs and Aspirations of Motivated Black Male Students Who Play High School Sports," also examines how successful black students use social, aspirational, and navigational capital to overcome racist structures.
"These black males are resourceful in how they navigate their environment to achieve athletic and academic success," Adeyemo explains. "Using social capital, they can gain guidance from peer groups or individuals in their network. With familial capital, they can take knowledge learned in their homes and bring it into the classroom, and use that knowledge to achieve success and to cope with some of the experiences they may have in their neighborhoods."
In another paper published in The Urban Review, Adeyemo details how a black male high school student used such resourcefulness to escape from difficult circumstances. His lower middle-class neighborhood had many instances of crime; the student witnessed shootings and other criminal activity near his home. Many students in his class were gang members, but he stayed away from them, relying on his faith and his strong family system to focus on academic and athletic achievements. He ended up with a 4.1 GPA and an athletic scholarship to play football in college.
"His mother had him enroll in the 7th and 8th grade program of his high school to better acclimate to high school classes," Adeyemo says. "That was a strategic decision on her part to help him navigate that school space." This student has aspirations to eventually earn a PhD, he adds.
Creating a roadmap for success
"My work provides a roadmap for achieving both athletic and academic success," Adeyemo says. "It's highlighting a roadmap for people who are charged with educating young black males who are playing sports—how to support them in both academic and athletic pursuits."
From his studies, he says, policies can be enacted and programs developed to create such a roadmap.
As for his own road, he was happy to return to the University of Illinois to do his postdoctoral work. "I wanted to be close to home," he says, "and Illinois is a very strong university in terms of resources for research. I have an excellent support system here, including Drs. Span, Hood, Trent, Pak, Dixson, Dean Anderson and others. I've found the College of Education to be a continuously nurturing place."