OCCRL Helps Local Students Acclimate to Education Options
by Anthony Zilis, News-Gazette Media / Oct 31, 2019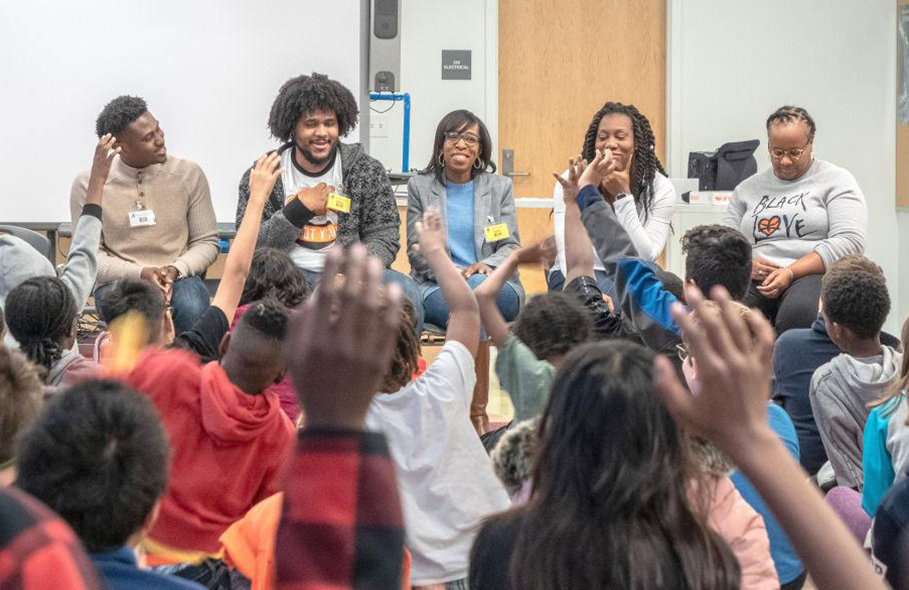 Chaddrick James-Gallaway sat in front of a large room full of fifth-graders at Booker T. Washington STEM Academy in Champaign, next to four fellow representatives from the College of Education at the University of Illinois, and asked a question that received an enthusiastic response.
"How many of you play 'Fortnite'?" the doctoral candidate asked, to which the other members of the panel laughed as hands shot up across the room.
In college, he explained, students have the freedom to do whatever they want — like playing "Fortnite" for days on end—but also the responsibility to stay productive.
Over the course of two hours on October 30, members of the College of Education's Office of Community College Research and Leadership talked about all things college, including classes, student loans, income opportunities, roommates, and plenty of other topics.
The short panel discussion, which was followed by more targeted mentoring, was meant to expose kids to college. Over the next several months, Eboni Zamani-Gallaher and others from the College of Education will come back to talk to the students two more times before taking them on a tour of the Illinois campus.
Read the
full story
from News-Gazette Media...