'Uncertain times' in education
by the College of Education at Illinois / Apr 5, 2018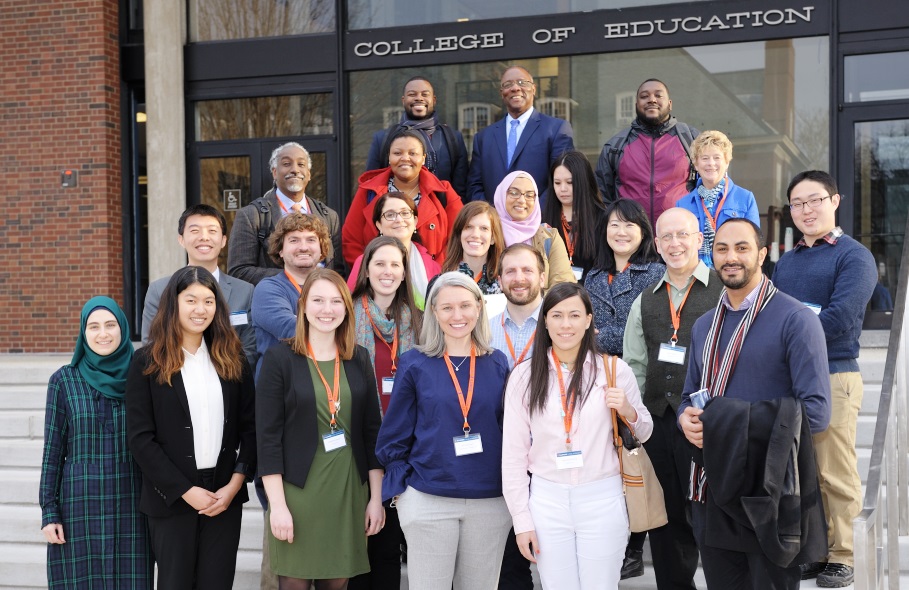 College of Education students, faculty, and alumni who made this year's
Graduate Student Conference possible
Ninth annual Graduate Student Conference draws participants from around the world as well as notable alumni to address challenges and opportunities in education.
Graduate students in the College of Education are industrious, passionate, curious, and innovative.
Those characteristics were on full display at the College's ninth annual Graduate Student Conference (GSC), which this year highlighted some of the more turbulent issues in the field of education.
With a theme of "Education in Uncertain Times," the 2018 conference focused on students' submitted abstracts that covered subjects such as climate change, the unprecedented scale of migration in the 21st century, citizenship status debates, and rapid advancements in technology.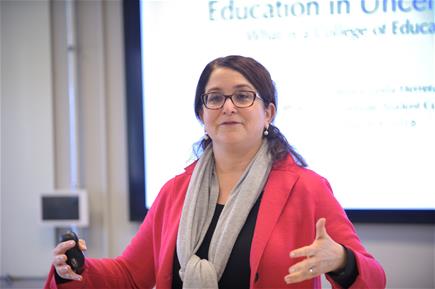 According to Professor Linda Herrera, who served as faculty adviser for the conference, these "uncertain" areas in education allowed conference attendees to reflect on both the challenges and opportunities for educators and citizens.
"People worldwide are constantly restructuring how information is processed and knowledge is produced," said Herrera, who teaches in the Department of Education Policy, Organization & Leadership. "For instance, there are classroom lessons taking place in virtual spaces through platforms such as Blackboard Collaborate and Second Life®, while communities in flood zones in Bangladesh innovate by creating floating classrooms."
The call for conference abstracts drew submissions from graduate students on campus as well as from across the nation and from the U.K., Saudi Arabia, and India. Roughly one-third of the conference presenters came from off-campus locales, and eight lecturers joined the peer-reviewed event through online conferencing.
Times of uncertainty lead to heightened levels of insecurity but also provide openings."

Linda Herrera
During her keynote address, Herrera said education is at a crossroads worldwide and identified both crises and opportunities for today's educators and learners. Despite the challenges posed by issues such as human security and waning legal protections for children and youth worldwide, fake news and artificial intelligence, and growing student debt, Herrera said there are chances for educators to turn things around.
"Times of uncertainty lead to heightened levels of insecurity but also provide openings," Herrera said following the talk. "Educators are needed more than ever to facilitate consensus building about the kind of society, citizens, and institutions we need and want. We have this historic opportunity to get in front of difficult issues, to apply the art of pedagogy, use our tools of inquiry, and reinforce the social contract and notions of the public good as we work to confront these challenges of our time."
An international focus and alumni presence
Graduate students Sarah Wang and Sallie Xie attended the conference as part of the Graduate Student Conference Exchange Program. During their stay, the University of Hong Kong students attended a class at the College of Education, toured campus, visited local schools, met with researchers, and participated in a tour of Springfield.
As a partner with the University of Hong Kong on the GSC Exchange Program, the College will be giving graduate students Karie Brown-Tess and Robert C. Wallon the opportunity to visit Hong Kong for a reciprocal learning experience. While overseas, Brown-Tess and Wallon will present their research on mentoring preservice teachers and interpreting and using hand gestures, respectively.
The conference coincides every year with the honoring of the College's distinguished alumni. This year's honored alumni conversed during lunch with the graduate student participants of the conference, providing them with career advice.
"The GSC committee highly valued and appreciated the participation, support, and enthusiasm of our alumni to engage with current students," said Noor Doukmak, a GSC committee member.
The conference concluded with the GSC committee members evaluating all presentations and announcing the two best, which were given by Fauzia Rahman ("Researching with Pashtun Children in Uncertain Times: Learning to Listen, Read, and Write with Spivak") and Rachel Lauren Storm ("Restorative and Transformative Justice in Addressing Campus Sexual Assault: The Views of Victim's Advocates").
Herrera said the conference could not have happened without the hard work of the GSC committee members: Ademola Akinrinola, Carrie Allen, Karie Brown-Tess, Noor Doukmak, Jari Minnett, Mike Yu-Chuan Shen, and Sherry Yi, who chaired the group. Additionally, she is excited to see how the event will evolve.
"We hope next year's conference presents even more opportunities for collaboration and exchange across geographic and intellectual borders, and challenges us to think about the roles that education plays in our increasingly complex world," Herrera said.

The Graduate Student Conference is made possible by Dr. K. Patricia Cross, a distinguished alumna of the University of Illinois and professor emerita of the Graduate School of Education at the University of California, Berkeley. She credits her time as a graduate student at the University of Illinois for laying the foundation for her career, and in that spirit has continued to make the conference possible through her generous donation.