Education alumna creating a buzz in Chicago Public School
by Sal Nudo / Feb 26, 2018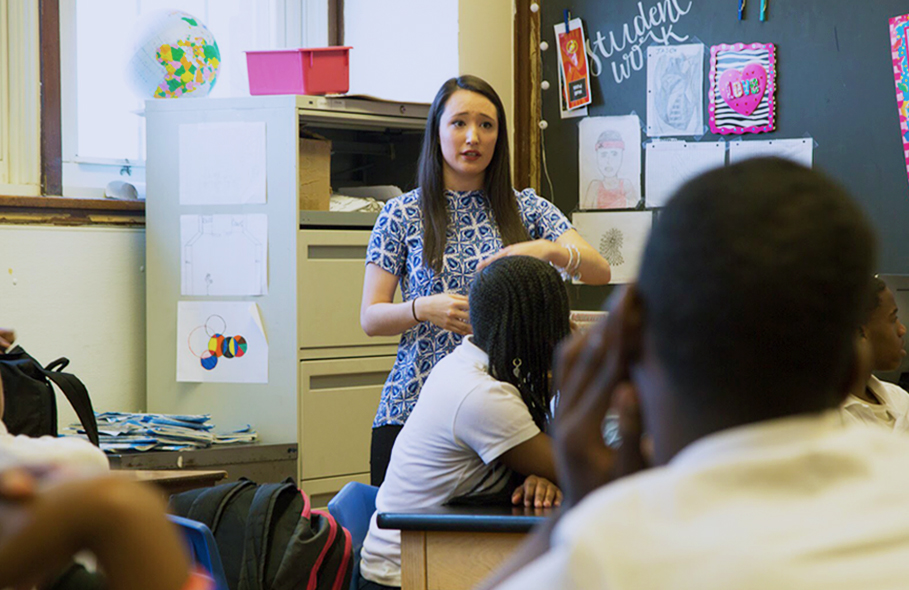 First-year teacher Amanda Fagenson is drawing an audience and admiration for her teaching skills
Twenty-three-year-old Amanda Fagenson is no different than many other first-year teachers.
At the start of the 2017-18 schoolyear at Avalon Park Elementary School in the south side of Chicago, she had the typical concerns: What will it be like to officially manage her own classroom? How will the communication with the students' families go? Will she make a positive and effective first impression on the students? And how will she balance her work and personal life?
But the College of Education at Illinois prepared Fagenson well as a secondary education minor, and she is creating quite the buzz in Chicago Public Schools (CPS). Earlier this year the social studies teacher was selected as one of four CPS educators to be observed in her classroom by peers and colleagues.
Peer observation wasn't a big deal to Fagenson, since she was formally observed six times as a student teacher, and because the Danielson Framework used for the College's supervision and evaluation helps teacher candidates feel comfortable being observed. What came next, however, was a surprise.
Fagenson was told by Avalon Principal Takeshi M. James that none other than the chief executive officer of CPS, Janice K. Jackson, wanted to observe her teaching.
The first-year teacher said having the CPS CEO watch her teach was "really flattering" and "really cool." Fagenson is still surprised she began a typical day in her eighth-grade classroom with Jackson in attendance.
"I've had a lot of people observe me already, like principals from other schools at least once every other week will come and observe me," she said. "But it's absurd that somebody so important, arguably the most important person in my school district, came to see my classroom."
But the news wasn't a huge surprise to Jay Mann, who directs the School and Community Experiences office in the College and teaches secondary social studies methods courses.
I knew great things were in store for Amanda from my first interactions with her."

- Jay Mann
"I knew great things were in store for Amanda from my first interactions with her," he said. "I'm not surprised that others have already taken notice of her classroom performance. While it is rare for a first-year teacher to receive this kind of attention and recognition, Amanda is not your typical first-year teacher. She regularly performed at levels seen more frequently in veteran educators. She is truly one-of-a-kind."
Fagenson grew up in a suburb of San Francisco. Her mom and dad attended Big Ten schools, Minnesota and Rutgers, respectively, and she was partly attracted to Illinois because of its Big Ten affiliation.
She was drawn to teach because of her mom, who taught kindergarten. Before coming to Illinois, Fagenson had opportunities to assist in her mother's classroom and even substitute. As cute as the kindergarteners were, she knew she was destined to educate middle-school children.
Looking back at her time at Illinois, Fagenson said the College did an exceptional job of providing a good mix of research-based learning, professional development, and implementing in-the-classroom experience. One of her courses was taught by Meghan Kessler, a doctoral student in the Department of Curriculum & Instruction and co-director of the Illinois New Teacher Collaborative. The teaching methods class that Kessler runs stresses the importance of developing strong relationships with students.
"There is real power in knowing and appreciating our students as 'whole people,'" Kessler said. "When students feel known, cared for, and empowered in a classroom, we are better able to construct a learning environment that is engaging, supportive, productive, and equitable.
Kessler went on to say that this style of teaching utilizes student-driven methods and centers on important topics of exploration, which is important for social studies teachers such as Fagenson, who teach content and foster the necessary skills and mindset for future engaged citizens.
According to James, Avalon's principal, Fagenson is helping develop youth through "rigorous tasks" and by giving them a voice in the classroom. She said it's been wonderful to have Fagenson as a teacher on the staff.
"She works very hard and supports the vision of the school. I am eager to watch her grow on a daily basis," James said.
Someday, Fagenson may pursue the same career path that Kessler did by going back to school and teaching future teachers. While studying in the College, Kessler has taught the entire social studies methods sequence for secondary preservice teachers and has seen three cohorts go through the program. She loves what she does and believes Fagenson could flourish in a similar role.
"I think Amanda would make an excellent teacher educator because of her passion for the profession, her warmth and capacity to truly care for her students, and her desire to keep learning more," Kessler said.
Learn more about our secondary education program and other degree options at the College of Education.