Inaugural LES graduates enter a competitive workforce prepared to succeed
by the College of Education at Illinois / Aug 14, 2017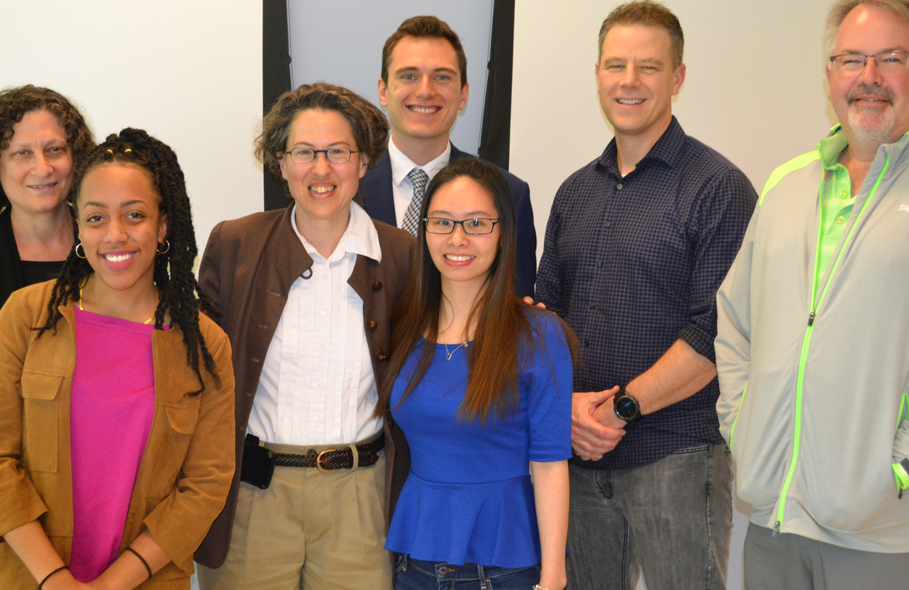 Applied Learning Science students and faculty at the May capstone project presentations
In-depth research, classroom experiences preparing grads and students for new career avenues
A meaningful achievement during this year's convocation was the graduation of the College's inaugural Learning & Education Studies (LES) student cohort. With their LES degrees, these students are prepared to use educational theory and practice to address issues across the spectrum in both private and public organizations.
The LES degree program offers four areas of concentration: Applied Learning Science; Digital Environments for Learning, Teaching & Agency; Educational Equality & Cultural Understanding; and Workplace Training & Development.
Students can choose the kind of career they'd like to prepare for such as educators, knowledge managers, policymakers, analysts, and professionals in education, government, health care, business, and nonprofit organizations.
Elizabeth Shultz is among the new LES alumni. She studied in Workplace Training & Development and successfully secured employment prior to graduation. Dr. Ron Jacobs and Dr. David Huang taught Shultz and assisted her in the job search.
"The specific background and academic coursework helped me get a job because I was able to speak about concepts and methods I'd learned within the LES program," Shultz said. "I would recommend this program to other students interested in the training and development field because there are a lot of opportunities and paths you can take. Whether going on to graduate school or finding a job, the program is applicable in a lot of ways to the real world."
While some of the inaugural LES graduates are planning on furthering their education, several have already notched jobs in a range of fields that include early childhood education, insurance, child development, and training.
LES students such as Jeremy Davis and Shelana Martin have had the opportunity to work closely with scholars in the College on projects that expanded their research knowledge and prepared them for meaningful careers. And the LES students who haven't delved into research have experienced impactful learning in the classroom.
Applied Learning Science Major Jeremy Davis and Associate Professor Jennifer Cromley (Educational Psychology)
Jeremy Davis focused his research project on the motivation for learning a second language between different college departments. He said he used his studies as a selling point to employers.
"It's very rare to have an undergraduate program offer real research that's being conducted on campus. So I've used this to market myself to companies for analytical positions," Davis said.
As a collaborator with Davis, Dr. Jennifer Cromley said the connections made with students as they worked toward the final Applied Learning Science capstone projects were an appreciated "luxury" for faculty members because they were able to help learners develop ideas and think through important projects.
"Even if it's not the project that you end up doing," Cromley said, "just having that practice and articulating what your questions are in a researchable way, sort of discerning whether you have enough excitement about it to get through that hard slag of getting the participants, I think it's a unique part of Applied Learning Science, and I think it's a really, really solid part about studying here."
Workplace Training & Development Major Lexi Gardocki (Education Policy, Organization & Leadership)
An active volunteer on and off campus, junior Lexi Gardocki is inspired by diversity in the workplace, which was the theme of a course she took with Dr. Yoon Pak.
"I love being an LES student," she said. "The professors are knowledgeable and are pioneers in their fields. All of them make an effort to form relationships with students, which is so unique at a big school. Plus, our curriculum is so involved that I know I'll be prepared for the workforce."
Gardocki said the Diversity in the Workplace class with Pak was her favorite.
"It hit every aspect of 'typical' diversity and so much more," she said. "The discussions really got in-depth. We talked about all dimensions of diversity and had some amazing, enlightening conversations. The course gave me great insights for my future career and life."
Education Equality & Cultural Understanding Major Georgina Lozano (Curriculum & Instruction)
As a proponent of diversity and inclusion, Georgina Lozano said one of her favorite courses in the College was Social Justice School & Society, taught by Dr. Rochelle Gutiérrez. Students in the class examined social justice in society and schools, and they were encouraged to analyze concepts and relate them to society and their own experiences.
At the end of the semester, Lozano and her classmates put what they'd learned into practice by choosing social justice issues and presenting them to others on the Main Quad.
"Most importantly, this experience created a brave and safe environment to have dialogues surrounding these complex topics," Lozano said.
Digital Environments for Learning, Teaching & Agency major Shelana Martin and Assistant Professor Robb Lindgren (Curriculum & Instruction)
Dr. Robb Lindgren is working with Shelana Martin on a project called GRASP (GestuRE Augmented Simulations for Supporting exPlanations), which focuses on the relationship between the gestures of middle school students and their understanding of science concepts.
Martin is conducting interviews with students and analyzing data from the conversations to determine whether the gesture-based simulations built by the GRASP scholars have helped students learn. Thus far, Martin and Lindgren have discovered that encouraging students to use gestures seems to help them construct more sophisticated explanations. Consequently, the investigators are continuing to improve the design of the computer simulations, with the goal of helping students better convey the causal mechanisms for topics such as gas pressure and the Earth's seasons.
"Students like Shelana have a lot of important insights to offer research projects, especially on topics such as learning technologies, because they frequently use these tools themselves for their own education," Lindgren said.