New technology-enhanced classroom provides collaborative space for students and faculty
by Sal Nudo / Nov 18, 2014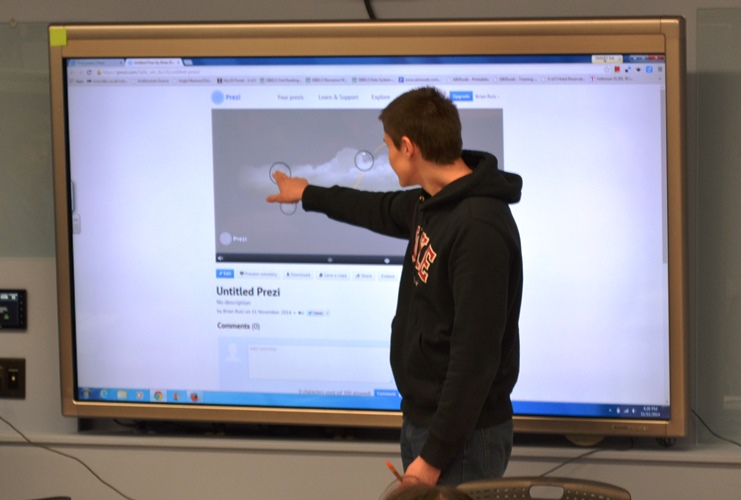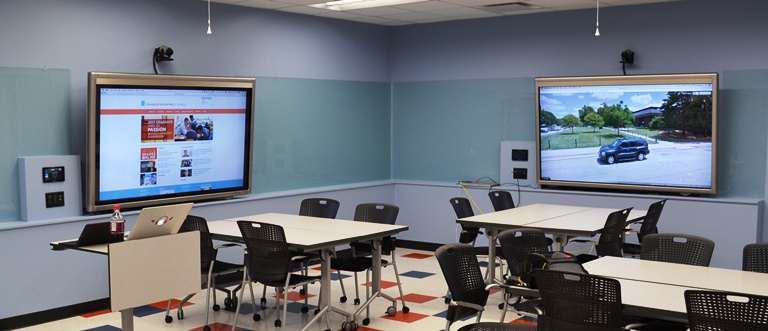 The College of Education at Illinois strives to be the place where cutting-edge research labs and classrooms put theory and pedagogy into practice.

As part of a joint campus-College $2 million investment in classroom technology to enrich the teaching and education of 21st-century learners, a newly designed classroom in the Education Building is making those aspirations a reality.

Lecturing by the instructor is minimal in this collaborative learning environment, and no "front" of the room with a single point of control exists.

"The idea is that it's not really a teacher-led classroom or class," said Jeremy Jones, the manager of the College's User Services department who provides tours of Room 42A on a regular basis. "It's an activity type of room where students sit at tables in groups and collaboratively work, accessing the room's technology with their own personal devices."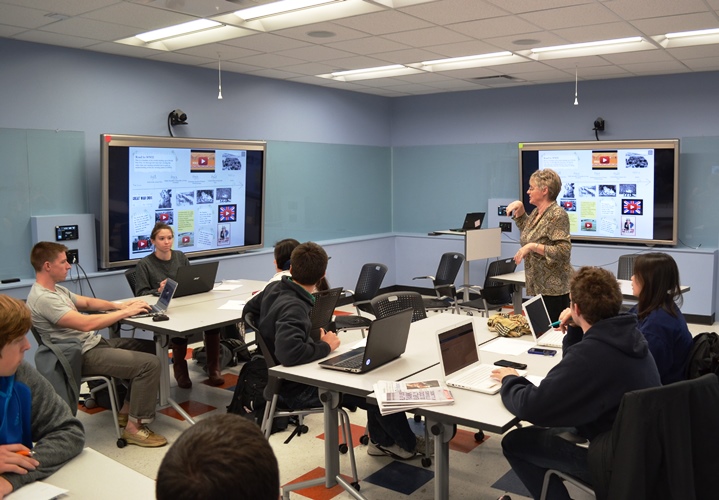 Lynn Burdick, a technology integration specialist who teaches Content Area Applications of Educational Technology in Room 42A, said the idea of the space is to engage in total collaboration.

During Burdick's recent class with secondary education students, several designated groups used the room's large touch screens to present technology-based tools that could potentially be used by teachers to deliver content, as well as for students to express their knowledge of content. Software such as Prezi, Glogster, Photo Peach, and AudioPal were demonstrated.

Burdick said she learns something new every single class.

"It's because of the conversations that go on among the students," she said. "You give them the guidelines, you give them what they need to get out of it, and then you make them responsible for their learning."

Burdick said the movement in teaching is to develop a facilitative instructor who is a "guide on the side" rather than the historically typical "sage on the stage" role.

Interestingly, because of the room's intimate setting and collaborative makeup, Burdick said Room 42A need not be used solely for technological purposes. Technological learning or not, she said, the space was built for pure collaboration—a crucial manner of educating that tomorrow's teachers must understand.

"Collaboration is a 21st-century skill for these students who are going to be teaching," Burdick said. "They need to know how to collaborate, and it doesn't make any difference if they're learning technology tools or if they're learning how to teach reading. Everybody should be collaborating in all of their classes."
High-tech touch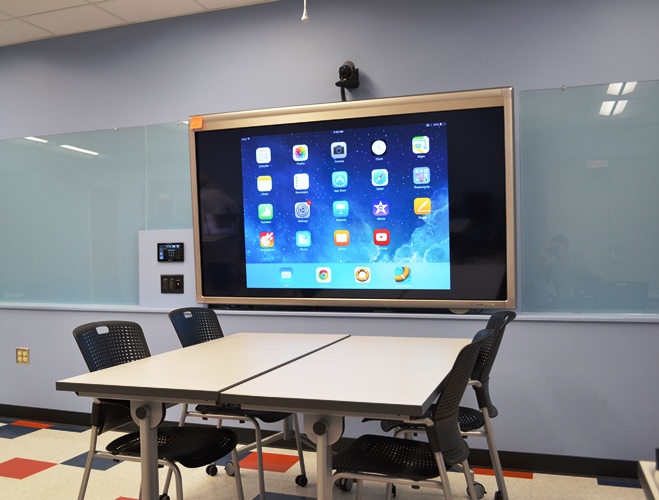 Room 42A is loaded with all sorts of technological goodies, but perhaps the most impressive items are the four 80-inch touchscreens that hang elegantly around the room—essentially large iPads. Powered by Apple TV, the screens can display content provided by whatever device students have plugged into them, such as an iPad, an iPhone, or a laptop.

The tables and accompanying screens next to them provide students the opportunity to learn in a group setting, as separate learning takes place at other stations.

"We could be doing Google Earth discovery here," Jones said during a recent tour of the room, "and have another group doing something on any of the screens. We can do four separate things at one time."

The speakers above the screens and tables are isolated, so if one group is watching a video, the sound won't infiltrate another group's space.

In addition, high-definition cameras and microphones allow students to work remotely or record what they're doing. All it takes is a USB plug to take full advantage of the screens.

Though the room contains a moveable whiteboard, students will likely write more often on the clear glass that surrounds the room, another refined feature. They can also use the screens to write material digitally.

Jones said the space, which can hold 40 people, was essentially designed for groups to be able to utilize state-of-the-art technology and then share their work with the class, while the instructor easily moves around to interact with students.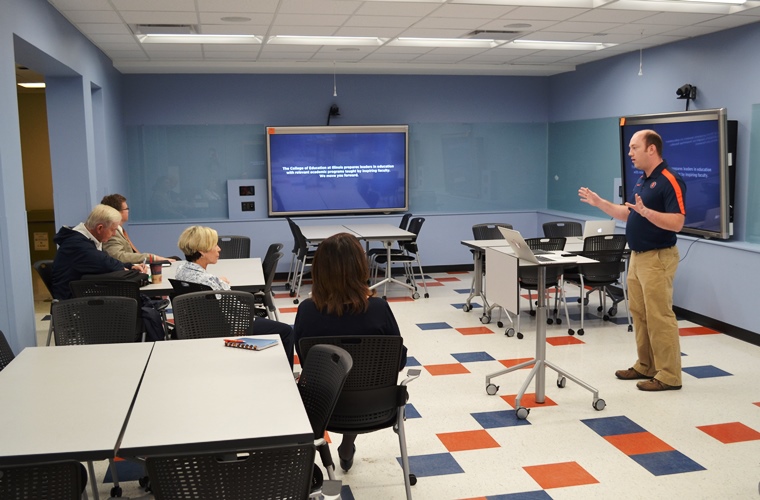 Robin Whates '69 Elem.Ed., a California resident who received a tour of the lab room by Jones during Illinois Homecoming, said the College's investment in technological innovations is money well spent.

"I think these things offer a great opportunity for kids to learn collaboratively, which is good because they're going to have to do that when they go out in the working world," said Whates, a donor of the College who was an elementary education teacher for 33 years. "I was very impressed. It's a nice-looking room that I think can be used effectively in a lot of areas."

The College will continue to break new ground in education spaces. Jones said the upgrades that have taken place in the lab room and in Room 22 are just the beginning. Next up is a hybrid room in which faculty members and students collaborate on research-infused teaching and learning.

"Every classroom in this building will get redone," he said. "People love the idea of having touchscreens, having cameras and microphones, and bringing in remote participants. Those are the features we want to include in every single classroom in this building."


For a tour of Room 42A, contact Jeremy Jones at jonesjw@illinois.edu or 217-244-6053
217-244-6053.