Instructional Design MasterTrack Certificate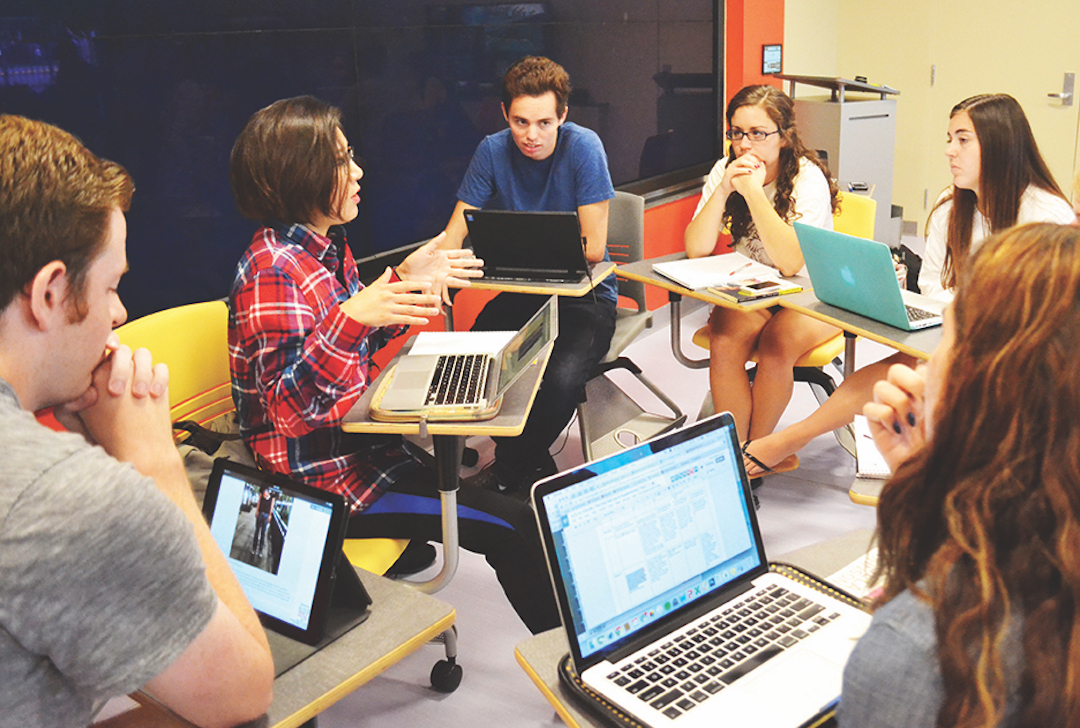 MasterTrack™ Certificate in Instructional Design
Learn MoreLaunch your instructional design career in four months with a two-course training program. In partnership with Coursera, we are offering an MasterTrack™ Certificate in Instructional Design that will provide you with the sought-after skills needed in the growing field of instructional design.
How to Enroll
To enroll in the Instructional Design MasterTrack™ Certificate, please follow the steps below.
Complete the Academic Credit Registration Form for non-degree seeking students
Review registration policies for non-degree students
Create a login and password
Select the Semester: (Example Spring Online Courses)
Scroll to Human Resource Development
Choose the correct section (MTC) and select add course
Program Costs and Requirements
The program costs a total of $2,384.00. This represents a special rate being offered to new students for these two courses only. **Note that all tuition and fee rates are subject to change without notice. Effective July 15, 2019 for Fall 2019 registrants, the tuition for the program is $2384.00.
A Bachelor's degree is required to enroll in the Instructional Design MasterTrack Certificate program.
Our live synchronous sessions and group work rely on the use of Zoom Video Conferencing Software. Please view the following link to make sure you can access Zoom.

Solve real-world educational challenges and integrate technology with today's learning environments.
Learn to identify and apply the elements of a systematic design process
Understand the language and terminology pertinent to the design of learning systems
Identify major elements of instructional and learning system design models
Analyze design models and theories against intended learning objectives
Select design models and theories based on intended learning objectives
Apply design models and theories to improve existing learning systems
Course Information
HRD 411 MTC (Instructional and Training System Design)
Provides instruction and practice in the selection, organization, and preparation of content for instructional programs in business and technical settings. Provides students with a theoretical orientation to instructional design as well as the opportunity to experience the instructional design process as it applies to business and technical settings through the development of instructional materials.
HRD 472 MTC (Learning Technologies)
The course addresses two important needs of educators. First, educators should be aware of recent developments in the area of instructional technology. Second, educators must be able to select, develop, and effectively use appropriate instructional technologies to enhance learning and communication. To meet these needs, this course covers a wide range of instructional technologies that are used for instructional and administrative purposes. Traditional instructional media are considered in the course although significant emphasis is placed on more recent developments that involve the use of the computer and its applications in education. Instructional technologies such as computer-based instruction, computer-based testing, distance learning, interactive video, and intelligent instructional technologies are covered. Through course readings, discussions, and projects, students in the course are expected to gain skills in choosing appropriate instructional technologies, designing effective presentations that rely on those technologies, and properly using instructional technologies to enhance communication with an audience.
Informational Webinar
View our informational webinar.
Weekly Live Video Sessions Requirement
The Instructional Design MasterTrack Certificate program includes weekly live video sessions from 6:00 - 8:00 pm CST. The first two live video sessions are required and are designed for you to interact with your course instructors and peers synchronously for enriched learning experiences. Live video sessions will be recorded and archived.


Current Students
Current students enrolled in online or off-campus programs offered by the College of Education may take a MasterTrack course but will be assessed at your current degree program tuition rate.
Payment Due Dates
Once you enroll in the MasterTrack Certificate Program a student account will be created and you will be billed, $1192.00 per course, based on the payment due dates. After enrolling, if you decide not to take the course or complete the course you are required to formally withdraw per the enrollment confirmation email you receive.
Payment Process
The total cost of the program is $2,384.00. Once you enroll, you will pay the University of Illinois at Urbana-Champaign for each MOOC-based HRD course ($1192) per semester when registration is open.
Current Degree Seeking Students - If you are a current degree seeking student, you will need department approval and will be assessed at your current tuition rate.

Fall 2019 Courses
Fall 2019 MasterTrack Start Date
Course #1: HRD 411 MTC
First Week of Class: August 26, 2019
Last Week of Class: October 18, 2019
Instructor: Eunjung Oh
Registration opens: July 8 at 12 noon CST.
Registration closes: August 19th at 12 noon CST
Thursday Evenings - Weekly Live Video Session: 6:00 pm – 8:00 pm CST
CRN 70937 (Section MTC)

Course #2: HRD 472 MTC
First Week of Class: October 21, 2019
Last Week of Class: December 11, 2019
Instructor: Wen Hao David Huang
Registration opens: July 8 at 12 noon CST.
Registration closes: October 7th at 12 noon CST.
Thursday Evenings - Weekly Live Video Session: 6:00 pm – 8:00 pm CST
CRN 71865 (Section MTC)
Spring 2020 and Summer 2020 Courses
(Coming Soon)
From MasterTrack™ to Master's Degree
Upon completion of the MasterTrack™ Certificate you may apply to our Master of Education (EdD) or Doctor of Education (EdD) degree program. If admitted, you can transfer credits earned as part of the MasterTrack Certificate into the online EdM or EdD in Education Policy, Organization & Leadership with a concentration in one of the following areas: Diversity and Equity in Education, Global Studies in Education, Human Resource Development, and Learning Design and Leadership. For more information on these programs and the application process, please complete this short form and select the concentration of interest.


Frequently Asked Questions
Please visit the program page for the full list of FAQs.

What do I need to do if some or all of my tuition and fees will be paid by a sponsoring organization?
When some or all of a student's tuition and fees are paid by a sponsoring organization, the student and organization may qualify to participate in Sponsor Billing at the University of Illinois. Sponsor Billing is an arrangement whereby the University invoices the qualifying organization (Sponsor) for authorized charges on the student's behalf. Read More.

Questions
Dr. Mila Thomas Fuller
Assistant Director of Online Programs
217-300-2725
mtcinstructionaldesign@education.illinois.edu
Sign up to receive more information about this new program.