25 Years and Counting: HRD's Excellence in Online Education
by Tom Hanlon / Aug 2, 2023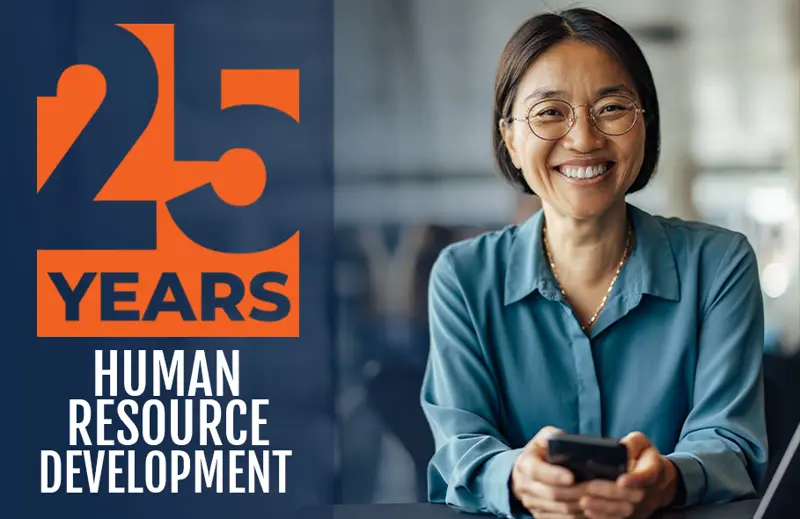 Human Resource Development celebrates 25 years of online education excellence and looks forward to evolving its online offerings.
Juliana Sandri completed her online Ed.D. in Human Resource Development while working in a high-level government position in her native Brazil. "The best thing about the online program was being able to study and work at the same time, applying in real time the knowledge I was acquiring. The combination of both allowed me to get the best of each perspective," she says. "Having experienced professors and colleagues from around the world enriched my experience as a student."
Brandon Brockhouse says the most enjoyable aspect of completing his Ed.D. in Human Resource Development was being able to do so at his "dream school," even though he lives in California. "The connections I have made and the lessons that I have come away with have helped me move into my dream role," he says. He now oversees the Workforce Planning and Analytics unit for the largest teachers' retirement system in the nation.
Sandri and Brockhouse are just two of many hundreds of students who have benefited over the years from the College of Education's Human Resource Development(HRD) online program, which celebrates its 25th anniversary this fall.
Top-rated Program
Currently, HRD online offerings include an Ed.M., an Ed.D., and four graduate certificates, including an innovative Instructional Design MasterTrack certificate, offered in partnership with Coursera. The HRD's online master's program contributed to the College's online master's degree programs being ranked by U.S. News & World Report in the top three nationwide for excellence and affordability in 2023.
"The connection between research and practice is essential, and our online program curricula are designed to achieve that important goal," says David Huang, associate head and professor in the Department of Education Policy, Organization and Leadership, a professor in the Department of Educational Psychology, and a professor in Biomedical and Translational Sciences at the Carle Illinois College of Medicine. "Our alumni are active in many fields of practice around the world in multicultural and multilingual spaces. Many have also become leading experts as well to advocate for HRD best practices in organizations."
HRD Online Strengths
Huang, who joined the faculty in 2007, says the evolution of the HRD online curriculum has been consistent throughout the years.
"Our online faculty and staff continue to invest in our online students' academic and professional success, grounded in our 25 years of experience to pioneer accessible and impactful professional education through synchronous online delivery," Huang says. "We offer competitive curricula to address current topics on workplace diversity, technology, talent development, change management, and career development. We also provide rigorous research methodology training for our online EdD students."
Huang says three other factors help HRD's online offerings stand out from competitors' offerings.
"First, we maintain weekly synchronous meetings as an essential part of our online experience and have done so ever since the beginning, while many other later online offerings are primarily asynchronous in nature," he says. "Second, our faculty are world-renowned scholars in HRD. And third, our alums reach wide and deep in the global workforce, allowing us to maintain a competitive advantage by developing HRD talent domestically and internationally."
Future Growth
Huang sees the first 25 years of HRD online offerings as a great success—one that paves the way for more growth.
"We have three interconnected goals to achieve in the next 25 years," he says. "First, we want to empower working adult learners with HRD expertise so they can be successful in their careers in the workplace. Second, we want to empower organizations with capacities and scaffolds grounded in research so they can be effective and versatile in the industries. Third, we want to empower decision-makers with policy-level insights so they can develop a more agile and diverse workforce in a global context.
"We are humbled by our role in leading the field for 25 years and continuously inspire similar programs at peer institutions around the world. We can hardly contain our excitement for the next 25 years of HRD Online."
Accelerate Your HR Career
To accelerate your career advancement in human resource development—while not having to leave your current setting and position—explore the College's online offerings in HRD today.