Fellows to Faculty: Grateful for Support and Space to Thrive
by Ashley Lawrence Pellegrini / Jul 12, 2023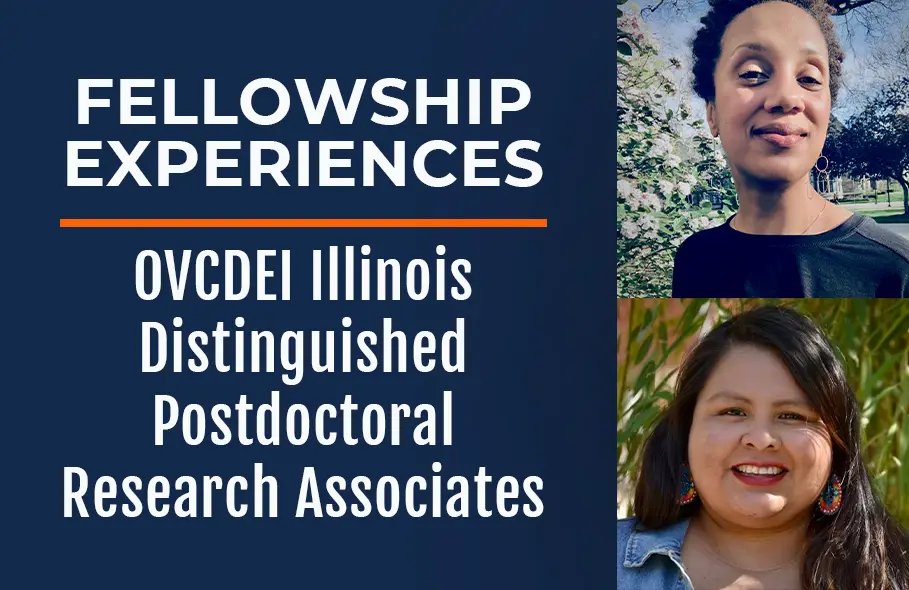 Kimberly Ransom and Jennifer Johnson, both postdoctoral research associates in the College's Department of Education Policy, Organization and Leadership, are part of the campus' distinguished DRIVE Fellowship Program cohort.
This initiative of the Provost's Office and the Office of the Vice Chancellor for Diversity, Equity and Inclusion seeks to enhance diversity through increasing underrepresented research and voices on campus: an example of the university's unshakable commitment to fostering an inclusive academic community. Individuals who are promising candidates for faculty positions at Illinois are those chosen for the fellowship program.
Here, two of campus' currently eight DRIVE scholars explain the significance of this fellowship and share about the unique scholarship and expertise they bring to the College.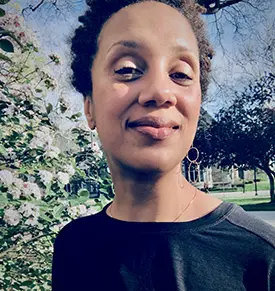 Kimberly Ransom
Ph.D. in Educational Studies, University of Michigan
Kimberly C. Ransom is an interdisciplinary historian who studies the History of African American Education and the History of Childhood. Her research examines the oral histories and material objects of Black children who once attended segregated schools in the Deep South during the Jim Crow Era (1940-1969). As a public scholar and artist, Kimberly also uses her historical research to create public exhibits related to African American childhood in and around schools. In her most recent project, she has worked in partnership with her dissertation respondents to create a local museum in the sole remaining Rosenwald Schoolhouse in Pickens County, Alabama. Ransom has received a number of fellowships and awards for her research and leadership including the 2019 NAEd Spencer Fellowship, the 2018 Rackham Public Scholarship Fellowship, and more.
What attracted you to Illinois after completing your doctorate?
KR: I had come in contact with many great historians from the College of Education at Illinois at different conferences around the country during my Ph.D. process. I was also meeting their work in my history of education classes at Michigan: Dr. Anderson, Dr. Span, Dr. Pak, Dr. Hale… it actually put me in the orbit of so many faculty around the nation who connected back to Illinois.
I feel like being immersed in the community of Illinois through conferences and reading research, I began to get a sense that this was a place I wanted to be. Bustling with intellectuality, a kind and curious community, and it sparked my interest. I felt like Illinois would be a great place to learn and grow.
You just completed year two of the fellowship. How do you feel you've grown during the DRIVE program?
KR: The relationships I've been able to cultivate with the individuals I mentioned earlier have been critical to my growth.
It has been wonderful to meet weekly with Dr. Span, who has been so gracious with his time, and be mentored as a budding scholar of the history of education. When I came on board at Illinois, Dr. Span was just starting a new and larger role at the university, so the value of his time and the attention he's paid to my development and my work is not lost on me.
Meetings with Drs. Pak and Hale have been key as well, in terms of staying on track and beginning to think like a professor: considering more deeply my research agenda, my career trajectory over the next few years, and how the University of Illinois can be a place that is an intellectual playground for me, if you will. I'm an artist too, so I think of this place like a studio where I can be creating and developing my scholarship as well as my community-based work.
My second year, I was blessed to have an academic DRIVE sister come on the scene—Jennifer Johnson—who does research on Native American history. We've been meeting weekly for most of the year.
The program itself has given me the space to take my time in developing some manuscripts, which I think for an early scholar can be nerve wracking. Having the mentorship, space, and time to focus on this has been invaluable.
This fellowship has also allowed me the space to evaluate what I believe I want my research agenda to be, what I am actually doing, and as a result how I'm developing my scholarly identity. The DRIVE program end-of-year presentations have been instrumental in this. You're working at things all year, but you know you have a benchmark where you'll have to present to faculty and your peers. It provided me a safe space to test out the things I've been thinking about doing.
I can't say enough how important it's been to have the space to explore these things, without the pressure of already being a full-time faculty member.
What else would you say about your experience as a DRIVE Fellow that has ramped you up to be a College of Education at Illinois faculty member?
KR: I can't forget to mention that in my first year I taught a class of master's and doctoral students--and although I taught while in my Ph.D. program at Michigan, this was the closest thing to me teaching as a professor. It gave me the chance to work with a Graduate Assistant and think about not only how he could help me, but how I could mentor him as a future instructor. It's more than just teaching the students who registered for the class. Teaching and instructing at the college level is a journey of mentorship as well and my own personal development.
This experience allowed me to meet with students who are using methodologies that are similar to those that I use. It's been great to be able to talk with them about their dissertations and provide some counsel, insight for their work. There may be opportunities to work with these students on public history exhibits in the future, which is really exciting.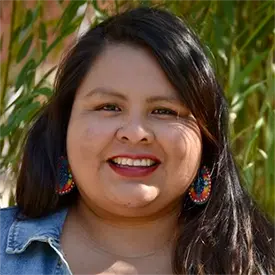 Jennifer Johnson
Ph.D. in Educational Studies, University of Oklahoma
Jennifer Johnson is a citizen of the Seminole Nation and a descendant of the Sac & Fox Nations. She was an elementary school teacher on Tribal reservations in Arizona and Florida. In 2010, she was honored by the Seminole Nation for her efforts in language revitalization as the first recipient of the Heritage Award. Johnson was a cofounder of Pumvhakv Immersion School, a language learning school for early childhood through college students within the Seminole Nation. In 2017, she provided Public Witness Testimony before the U.S. House of Representatives Interior, Environment and Related Agencies Subcommittee Committee on Appropriations in support of funding for the National Endowment for the Humanities. Her research interests include the history of education in Indigenous communities, Indigenous language revitalization and Indigenous knowledge systems. She was a 2020 National Academy of Education/Spencer Foundation Dissertation Fellow.
Tell us about when you arrived in Champaign-Urbana and how you've acclimated since.
JJ: Being originally from Oklahoma and new to town, I arrived in August 2022 and I was quickly supported by the EPOL department and faculty like Drs. Pak, Hale, and Lindgren who have provided wraparound support services for me: ensuring I have the mentorship in my writing and also in teaching classes and just checking in to make sure I'm feeling comfortable with my duties and the roles I'm expected to fill within the College and university.
It was my first time—outside of being in a Chicago airport—to visit Illinois, so getting to know the area and the land was really important to me. I'm Native American and of some Sauk and Fox descent, so this area is what my people once called home. During my first few weeks here, getting a sense of this place and the feeling of what this land was like meant a lot to me. I took a trip out to Blackhawk State Park to see where some of the homelands once were of the Sauk and Fox people. Dr. Jon Hale and I actually opened the trip to several graduate students who also wanted to visit Blackhawk State Park. We made it a history road trip and I got a sense of the ancestral ties that I have to this area.
How did this experience track with your heritage and background in the Seminole community?
JJ: There's some similarity in the land to that of Oklahoma, but I think when I first got here it was hard to adjust because there's such a small number of indigenous people here in this area—due to colonization and such. I've always lived and worked in predominately indigenous communities, so I knew that to be successful here I needed to build community around me. I was intentional about reaching out to people in different departments and units on campus, like the Native American House and the Department of Native American Studies. All the faculty, staff, and students I've connected with have been supportive and welcoming and I've been fostering my own community here at Illinois.
Can you tell us about the responsibilities within your DRIVE Fellowship?
JJ: Working on research and writing, along with teaching, are the big components of this fellowship. I just finished teaching a Research Methods class this spring. A big part of the transition for me was learning how to multitask—juggling the teaching with the writing and research aspects. I'm really grateful that the department has given me responsive mentors to provide guidance for me. Dr. Hale is my writing mentor; he, Kim Ransom and I have a Monday morning writing group that gets together on Zoom.
I have another writing group that I meet with on Fridays, too. Both groups allow me to protect my time for research and writing.
Getting to know the students here within EPOL has been valuable for me, to see some of the research projects that they are working on as well. Just a couple of years ago I was right where they were, so it's been great to get to share tools and knowledge that were helpful to me as I gathered research for my doctoral degree.
What would you add about your experience as a postdoctoral fellow at Illinois, so far?
JJ: The College has been very supportive by providing funding for conferences and my research this year. I study the history of education for the Seminole Nation. This was my dissertation project and I am now working on a book proposal to translate that work--and additional research--into a book.
What is interesting to me that as a researcher, you keep finding new leads and paths to go down and your story can keep developing. In my instance, I'm preparing an IRB right now to do an oral history of one of the schools that was in the Seminole Nation. Part of my excitement about this is that I haven't been able to find any archival evidence of this school, however, online I did find a video snippet of somebody who had attended an early school. He's very elderly now, and it turns out he is the father of one of my graduate school friends.
I think one of the reasons I'm excited about being at Illinois is the academic freedom that is supported here. In other states, we see these political movements to not teach history or to teach watered down history. But here, instead we are leading movements to uncover and teach history that has been suppressed.