Why the McCurdy Sisters Chose the University of Illinois to Become Educators
by Orion Buckingham / Apr 13, 2023
Kate (left) and Meghan (right) McCurdy in Italy on the Spring Break Study Abroad trip.
There was a school desk in the basement of Meghan and Kate McCurdy's house. It was something their dad used when he was teaching. And the two sisters used it to play "school".
Meghan and Kate would both play the teacher to an audience of stuffed animals. There was homework, papers to grade, and even detention for certain poorly behaved pupils. And when Christmas rolled around, Meghan was overjoyed to find teaching supplies under the tree. To say the McCurdy sisters were born to be teachers would be an understatement.
"Knowing I wanted to become a teacher was never a question for me," says Kate. To say that the sisters are close is also an understatement. Both are Middle Grades Education majors in the Department of Curriculum and Instruction, concentrating in Mathematics. They are both members of Kappa Kappa Gamma sorority. Both studied abroad in Italy this spring. And one day, they hope to teach and coach together.
'It Makes Campus Feel More Like Home'
Thanks to their aunt Susan, an Illinois alumna, the McCurdys were already familiar with Illinois after coming to campus to watch football and basketball games.
"I chose the University of Illinois because I was looking for a Big Ten campus experience," says junior Meghan. "I always enjoyed myself while visiting campus, and when I discovered all the university programs and offerings that would prepare me to be a great teacher, I knew this was the place for me."
When Kate started looking at colleges, it wasn't a sure thing that the sisters would attend the same university. But a visit to Illinois and the College of Education while in high school sealed the deal for Kate, now a U. of I. freshman.
"I really liked how they made a large campus feel smaller by having class sizes that still allowed for individual feedback and the ability to get to know the professors," says Kate. "I could also tell how invested the staff was in wanting their students to succeed, so I knew that if I needed help there were endless amounts of support and resources I could turn to."
Even before Kate arrived on campus, she had a support system in Meghan.
"[She] advised me before attending Illinois, which helped ease the transition," says Kate. "She also helped me prepare for time management in my classes."
Since Kate is living in the same dorm Meghan did as a freshman and is on the same degree track, it was easy to help. "You could say I'm the best resource she's got," says Meghan.
The two are also members of the same sorority, though there wasn't a hard recruiting pitch from Meghan when Kate thought of rushing. "I just wanted her to find her people. I did not involve any of my input in her recruitment process, and I couldn't be more grateful she also feels Kappa is where her people are."
"Just like college, she eased my transition because I was able to feel more comfortable in the sorority because I knew many of the girls," says Kate. Even though the sisters live two different lives on campus, coming together each week at the sorority house gives them a chance to reconnect.
All in the Family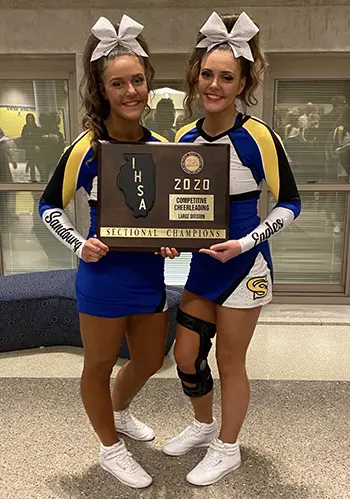 Both parents in the McCurdy household are educators. Joseph was a teacher and later an administrator in the Oak Lawn school district. The sister's mother, Heather, has been a high school social studies teacher for 29 years.
For Kate, watching her mom teach inspired her to do the same.
"Growing up, if we had a day off school, my mom would bring me to her classroom where I could watch her teach," says Kate. "All her students were so engaged in the class, and I could see how she conducted her classroom. This made me want to become a teacher because I could see how much of a difference she made in her student's lives, so I wanted to do the same."
But these aren't the only teachers in the family. The McCurdy sister's aunt Shannon has been a teacher for 25 years. "She is definitely one of my biggest role models in how I want to build my classroom environment," Meghan says. "Not only does she have a passion for middle grades math, but she has also coached high school golf for several years. You can tell how much passion she has as an educator and how much she has impacted the lives of her students and athletes, and I know I will be calling her for advice when I need help facilitating my classrooms and team practices."
More About Meghan and Kate
What other activities are you involved in?
Meghan: I am a Golden Apple scholar. I am grateful for this scholarship, but almost more importantly the additional hours of teaching and being in an actual classroom setting has built my confidence and preparedness for my first year of teaching. During the summer and when I'm home for the holidays, I enjoy working with my former high school cheer coaches in preparing for the team's season. I was a competitive cheerleader for ten years and planned on continuing to cheer in college until I tore my second ACL during my senior year of high school. I appreciate being able to come into practices to get experience coaching and learn from two coaches who have built an incredible program.
Kate: I am also a Golden Apple scholar. Over the summer, we partake in scholar seminars and get extensive classroom teaching experience. This program is excellent for future teachers as they help prepare for your future classroom. Next year, I will also be a group discussion leader for incoming first-year students in the EDUC 101 class. I am super excited to help guide these new students and grow in my leadership.
You recently went to Italy to study abroad. What were some of the best experiences you had there?
Kate: It was one of the most rewarding experiences in my life. One of my favorite parts was visiting the different schools throughout the country. When arriving at the schools, the students were always polite while greeting us, and you could tell how excited they were to see us. When talking with them, I was able to learn more about their culture and understand more about the education system. Another great experience of the trip was connecting with everyone in our group. With us all being involved in the education world, it was nice to converse with everyone about our plans for teaching. We also had multiple graduate students on the trip who shared advice and gave us more of their insights in the classroom.
Meghan: My parents have always valued traveling and exposing us to new experiences and places, so it initially felt weird that just us two would visit some of the most beautiful cities without them. We are so grateful we had the opportunity to have a travel abroad experience, especially since it's not always easy to fit an entire semester abroad into your schedule as an Education major. The sights, architecture, food, and group of educators accompanying the trip are all special memories I will forever cherish. I was excited about the school visits on the trip, but I didn't realize how much I would appreciate this aspect of the journey. The preparation each of the schools' students put into welcoming us and how unique each of the school visits is something I will forever be grateful I had the chance to experience. I'm so glad I got to make this trip with Kate, and we will certainly be traveling together in the future!
What's the best piece of advice you've received?
Kate: Take advantage of all opportunities provided to you. I have taken part in activities that I never thought I would, but in doing so, I was able to learn new things and advance my skills. Trying new things can be scary, but you will never know until you try.
Meghan: My parents have always encouraged me to gain experience that I utilize in my classroom. Directing and training all members of my sorority in preparation for recruitment, participating in a College of Education study abroad experience, facilitating cheerleading practices, and applying for Golden Apple are all experiences that will help prepare me as a future educator.
What's your dream position when you graduate?
Kate: My ultimate dream position would be as a math teacher at my former Carl Sandburg High School. I always joke with my sister that I hope we can both work in one of the connecting math classrooms so we can check in with each other throughout the day. Meghan and I also competed in cheerleading for ten years, so the dream would be to both teach and coach cheerleading.
Meghan: Although my major is Middle Grades Education, I also want to get a high school mathematics endorsement. I dream of teaching high school math and coaching a competitive cheerleading team with my sister Kate.
A great teacher is…
Meghan: passionate about the learning growth of every student and their own performance, and open to feedback on how they can continue adapting their teaching. Methods-based on the needs of their students and the school community.
Kate: committed and approachable.