Late Special Education Professor Bob Henderson Leaves Enduring Gift
by Jessica Penny, College of Education Office of Advancement / Mar 29, 2023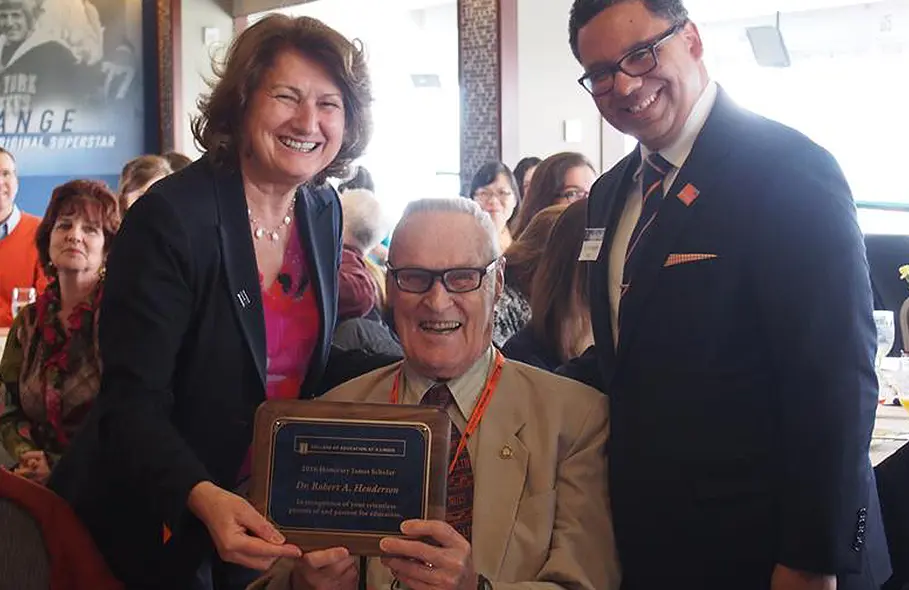 Former Dean Mary Kalantzis with Professors Robert Henderson and Christopher Span in 2016.
The College of Education is excited to announce the new Robert A. and June C. Henderson Professorship in Special Education, to be awarded for the first time this coming fall.
Compelled to Serve in Many Ways
Professor Robert "Bob" Henderson was a proud University of Illinois alum who became a highly regarded faculty member in the College of Education for over 40 years. He retired from his position as professor of Special Education in 1993, but retained emeritus status and stayed highly involved in the department until his passing on April 10, 2019, at 94 years old. Henderson's final gift to the College was endowing a named professorship—an incredibly generous gift showing just how dedicated he was to supporting the Illinois community and making a difference within the field of special education.
Henderson lived an accomplished life full of personal and professional highlights, one being his honorable military service to the country. He enlisted in the United States Marine Corps at age 17, serving for some 40 years while climbing the ranks from private to colonel. He was decorated twice for valor in the Korean War and awarded the Purple Heart medal for wounds he received in 1950.
In 1945, Henderson married his late wife, June, and the two had three children: Barbara, Kerrie, and Larry. The couple was dedicated to making a difference within their respective disciplines, June being highly active in social work at the Illinois Department of Children and Family Services (DCFS) and Henderson being a key contributor toward improving the educational experiences of students with disabilities. Outside of his remarkable professional life, Henderson enjoyed spending time with his family and in nature, baking his own bread, and lending a helping hand whenever he could.
As an academic, Henderson was passionate about making an impact within education. He earned his bachelor's degree from the University of California Berkeley and after entering the teaching workforce was promoted to elementary school principal within two years. He then earned one of the first master's degrees in special education ever awarded in the state of California and went on to earn his doctorate from the Department of Special Education at Illinois in 1954. After accepting an offer to join the leading voices in the burgeoning field of special education as faculty at Illinois, Henderson eventually served as Chair of the Department of Special Education for 20 years and was the Executive Officer for the Institute for Research on Exceptional Children from 1964-1971.
True Servant Leader
Throughout his time at Illinois, Henderson formed meaningful connections with students and colleagues. Goldstick Family Scholar and Teaching Assistant Professor of Special Education Cheryl Light Shriner, a close colleague and friend of Henderson, was happy to share some of her fondest memories from their time together. She and her husband, fellow faculty member Jim Shriner, had a special relationship with Henderson and his family, often going out to dinner and doing charity work together. Light Shriner says Henderson even sewed her a "baby bunting" blanket upon hearing about her first pregnancy.
"In fact, he would make one for every new baby that was born in our department," she said.
With Henderson's initiation, in the 1990s the College began participating in the Marine Corps Toys for Tots program. The College continues to hold the holiday toy drive each year.
Light Shriner briefly shared an office space with Henderson and later came to see him as a second father, describing him as a "proper, generous man" with "a great sense of humor."
"If he heard that anybody, whether one of his doctoral students or another faculty member, had something broken in their house he was the first person knocking on their door to help fix it," she said. Light Shriner also shared some qualities she admired most about Henderson, calling him a "true leader who was always willing to lead."
"He was also a collaborator," she said. "He was very aware of rules and policies, but it was always about the people first."
When asked what she thought this professorship meant to Henderson, Light Shriner provided words like "leadership, humility, and attention to detail."
"He would want it to go to someone with those kinds of characteristics. Someone who could carry on his legacy of humanity and integrity toward other people."
Legacy of Impact
A named professorship is one of the highest honors that can be awarded in higher education. Professorships provide the ability to recruit and retain world class faculty to grow their research and career at Illinois.
The Robert A. and June C. Henderson Professorship will be awarded to a faculty member in Special Education to help support scholarly research and supplement the work of the faculty who holds the professorship.
"He would want it to go to someone who is an outstanding mentor," said Light Shriner, recalling "outstanding" as being one of Henderson's favorite words.
Given his full life of giving back, hard work, and his commitment to making a difference, Professor Bob Henderson created a legacy that is certainly outstanding and will live on through his professorship in the College's Department of Special Education.