Online Ed.D. Student Briana Morales a Finalist for 2023 ISBE Teacher of the Year
by Jackie Matthews, ISBE / Feb 8, 2023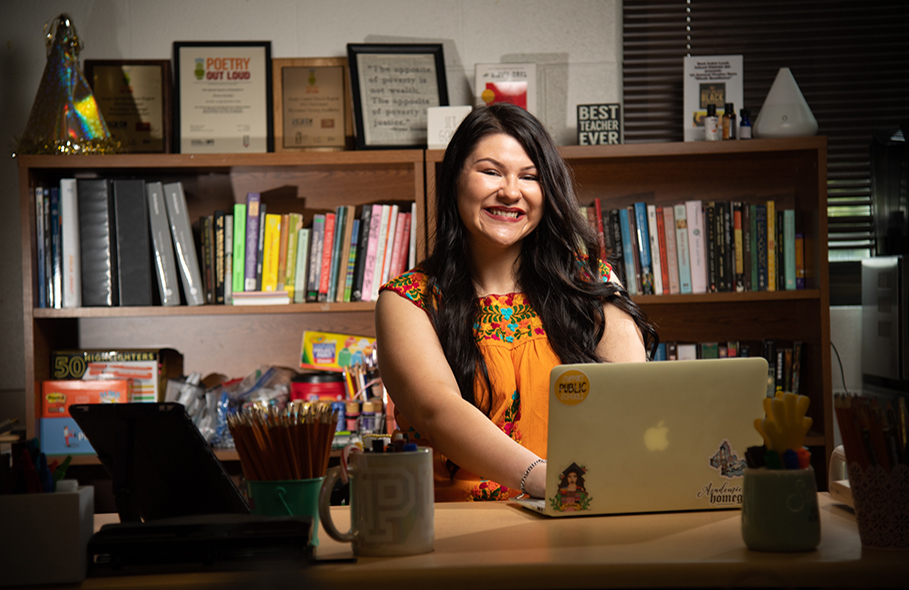 Photo credit: Michael Thomas for TheSTL.com; @miketphotog
The Illinois State Board of Education (ISBE) has honored nearly 500 Illinoisans for their extraordinary contributions to education across the state through its annual Those Who Excel & Teacher of the Year Awards. The awardees include 13 finalists for 2023 Illinois Teacher of the Year

—

the state's top honor for classroom teachers

—

one of whom is Briana Morales, who is working on her doctorate in EPOL's Diversity & Equity in Education online program.

"Illinois educators get up every day and perform one of the most difficult jobs in our state—and these excellent teachers, volunteers, and administrators honored by ISBE went above and beyond that already exceptional call to serve," said Governor JB Pritzker. "I'm thrilled to recognize teachers alongside librarians, custodians, volunteers, and other support personnel who all contribute to our students' wellbeing. Just like Illinois as a whole, it takes many skills and roles to keep a school running and to build the next generation of outstanding Illinoisans. Congratulations to our honorees and on behalf of the State of Illinois, thank you for your service."

ISBE annually selects Regional Teachers of the Year and Bilingual, Special Education, and Early Childhood Teachers of the Year. Those with five or more years of teaching experience (indicated with an asterisk below) qualify as 2023 Illinois Teacher of the Year finalists. Each of these educators were notified of their selection by (retiring) State Superintendent Dr. Carmen Ayala via surprise Zoom calls over the past week.

Briana Morales, English teacher at Gordon Bush Alternative School for Education in East St. Louis School District 189, was selected as the 2023 Southwest Region Illinois Teacher of the Year. Her district has lost a dozen students to gun violence in the past few years. Morales helps her students process trauma by sharing their own stories through poetry. It's a concept she says she learned from her own 7th grade English teacher, who supported her through psychiatric hospitalization and taught her to write poetry to cope with her pain.

Morales co-directed a student-led initiative to embed nonviolence principles with youth in the Orr-Weathers housing development, and has supported teen leaders in earning national certification as Peace Warriors.

Currently working toward her Ed.D. online, she has served several TeachPlus fellowships, now National Senior Research Fellow.

But to her own students, like Malani Salazar, Ms. Morales is simply the teacher who senses their pain, models how to express emotions, shows up at every candlelight vigil, wake, and funeral; stays in touch after graduation, helps find scholarships, choose classes, and will even move you into a dorm room. Because of Ms. Morales, Malani is completing her first year at a state university as a sociology major.

ISBE received a record number of nominations and applications for the 2023 Those Who Excel & Teacher of the Year Awards. A committee of administrators, teachers, educational service personnel, student support personnel, and past Illinois Teachers of the Year selected this year's awardees. The Illinois state superintendent of education will select the 2023 Illinois Teacher of the Year from the finalists later this spring. The Illinois Teacher of the Year will represent Illinois in the Council of Chief State School Officers' National Teacher of the Year Program.

Please visit the ISBE website for photos and bios of the 2023 Illinois Teacher of the Year finalists along with more information about the awards.