Freedom School: Bigger, Better, and Brighter Future
by Tom Hanlon / Sep 12, 2022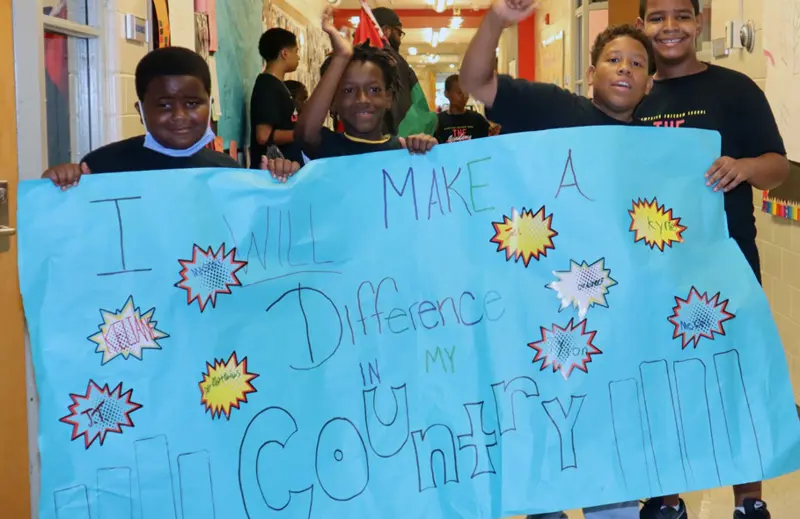 Freedom School in Champaign is already viewed as a smashing success. Having just completed its second summer, exciting growth is on the horizon—particularly if the school is chosen as one of the 45 programs across the state to receive part of a $17M grant from the Illinois State Board of Education.
Freedom School returned to Champaign this summer for a second year in a row—and proved to be bigger and better than the year before.
And a new $17M grant from the Illinois State Board of Education to create the nation's first state-funded Freedom Schools network promises to make it even more impactful in coming years.
Freedom Schools, born out of the Children's Defense Fund (CDF), an organization founded in 1973 by Marian Wright Edelman, the first Black woman to pass the bar exam in Mississippi, first surfaced in Champaign in 2003. The school, for students poised to enter grades one through six, is a multicultural enrichment program focused on literacy. Last summer, 35 children attended the school; this year, 52 students were enrolled, with 40 to 45 regularly attending, says Cessily Thomas, project director for the school. Freedom School was held at Westview Elementary School this summer.
One change from last year to this year—and what made the school arguably better than last year in both the minds of the students and the adults involved—was the addition of weekly field trips.
"We couldn't do that last year because of COVID," Thomas says. "This summer, we were able to implement swim days and field trips to Soccer Planet and Skateland and parks. We were all excited to get out of the building and be active."
University of Illinois Involvement
This is also the second year of involvement with the University of Illinois. That connection has been engineered by Jon Hale, associate professor in Education Policy, Organization and Leadership and in Curriculum and Instruction in the College of Education. Hale, author of The Freedom Schools: Student Activists in the Mississippi Civil Rights Movement, has worked with Dr. Kristal Clemons, the national director of CDF Freedom Schools, for more than a decade.
"We're nationally partnered with one of the strongest children's rights advocacy groups in the country," Hale says. "The university is providing critical support to a community program. We partner with committed, community-based advocates with the expertise, knowledge, willpower, and networks to run Freedom School successfully, but the university is providing resources in a way that's never been done before. And that's exciting."
Those community people include administrators at Champaign Unit 4 School District, Thomas, and Tracy Dace, founder and CEO of DREAAM (Driven to Reach Excellence & Academic Achievement for Males). Dace was executive director for the school.
Creating a Model Program
Hale notes that the Children's Defense Fund provides training, a curriculum, and support for Freedom Schools across the nation. "They want to create a program that can be modeled across Illinois and throughout the country," he says.
And they are looking to build that model in Champaign.
"With our resources here at the University of Illinois and with a good team that includes teachers and organizers like Cessily and Tracy, the sky's the limit in terms of what we can do to model and support a program," says Hale.
"Historically Significant" Funding
Developing a model program for the state is a timely matter because of the $17M grant allocated this spring to fund the creation of a Freedom Schools network in Illinois.
"It's historically significant," Hale says. "It's the first statewide funding ever committed to a Freedom Schools model. Right now, the Illinois State Board of Education, with support from the state legislature, wants to create or fund forty-five Freedom Schools. If this happens, that will be the largest publicly-funded Freedom School network in US history.
"It's really significant that the state of Illinois is committed to this Freedom Schools mode—an idea that originated with the Black Caucus. We haven't seen this since the height of the civil rights movement. It demonstrates what can happen when a large institution like the U of I partners with critical local organizers and a supportive state legislature led by the Black Caucus. The Illinois legislature is setting an example for other states to follow."
"Can't Be a One-time Fund"
One caveat regarding the $17M grant: It's appears to be a one-time fund from federal Coronavirus Urgent Remediation Emergency dollars. The funding is to be used to supplement students' education through a research-based, multicultural curriculum during the summer; it can also be used during the school year. Hale is pleased with the funding, but warns that it's not enough.
"Hopefully, people will see the light that this should not be limited to a one-time fund," he says. "The state of Illinois, the public school systems, and the University of Illinois owe it to the children that we serve to have this be a permanent part of public education."
Hopeful for Champaign
As for the future of Freedom School in Champaign, Champaign is one of the 45 programs selected by the Illinois State Board of Education (ISBE) for Freedom School funding.
"It will have a tremendous impact on Champaign," he says. "It would allow us to expand to up to 200 students, we could have more sites, we could create after-school programs, we could start to bring in new strategies and curriculum into the entire public school system, not just summer or after school programs."
Dace, Thomas, Hale, and others, including U of I alumnus Dr. Alicia Robinson, wrote the application for Champaign. "We're hopeful for the future," Hale says. "There's a lot of growth on the horizon with this funding."
Transforming Lives
Ultimately, though, Freedom Schools isn't about money or programs or numbers. It's about transforming lives.
"At Freedom School, we build each other up, we make each other better," Cessily Thomas says. "We affirm each other. We help students grow into who they were meant to be."
In 2021, low-income students in Illinois had rates of chronic absenteeism 50% higher than the state average. The number of students meeting or exceeding standards in math or language arts fell by twice as much as the state average.
Freedom Schools help students get back on track.
"Freedom School empowers students," Hale says. "It's bringing students who have been adversely affected by COVID up to speed. It empowers parents to advocate for their children.
"Freedom School is engaging, enriching, relevant, and critically important."