Online Doctoral Student Wins Educator Award from U.S. EPA
by Ashley Lawrence / Aug 24, 2022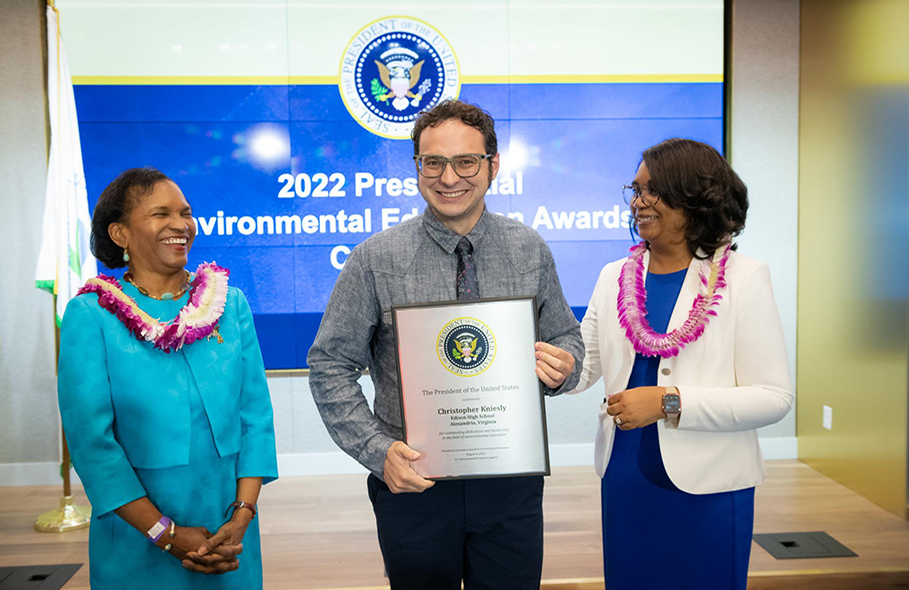 Photo provided.

Congratulations to Christopher Kniesly, current online Ed.D. student in Education Policy, Organization and Leadership, who is one of eleven educators nationwide to win a 2022 Presidential Innovation Award for Environmental Educators from the U.S. Environmental Protection Agency, in partnership with the White House Council on Environmental Quality.
Kniesly, already a University of Illinois Urbana-Champaign alum with an M.S. in Agricultural Education from the College of ACES, currently teaches high school science at Edison High School in Alexandria, Virginia.
"The tradition of excellence in environmental education continues with this year's winners and I am so proud of their efforts to tackle the most pressing environmental challenges we face," said EPA Administrator Michael S. Regan in a recent news release. "I'm happy to celebrate the climate action and environmental stewardship work of the dedicated youth and educators who are leaders in their classrooms and communities. Environmental education is one of the most important tools in our work to protect the environment and combat the climate crisis."
In addition to teaching—and his online Ed.D. work in Diversity and Equity—Kniesly serves as the lead teacher for the Global STEM Challenges Program (GSCP), a three-year, interdisciplinary, after-school academic program focusing on addressing modern challenges and sustainability. GSCP fosters an inclusive, hands-on, after-school curriculum that combines science, technology, engineering, and mathematics and is designed to encourage students to come up with solutions for the National Academy of Engineering's Grand Challenges for Engineering. Ninth grade students learn about food production and waste, 10th grade students focus on water quality and accessibility, and 11th grade students focus on energy.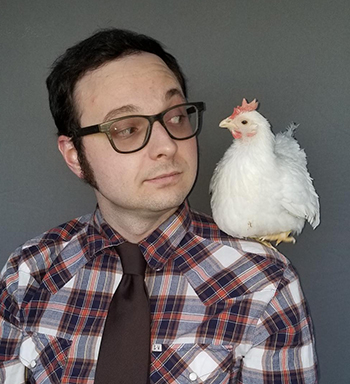 Drawing upon his background in agricultural and environmental education, Kniesly developed coursework and projects that inspire students to find creative and innovative solutions to problems with local and global relevance. For instance, his ninth grade class is tackling the concept that "waste" is a social construct and in many cases, an underutilized resource. Student projects focus on food deserts and how food production can be used to address food waste, food access, and sustainability. Other projects include how to quickly compost large amounts of school cafeteria food scraps; how composting affects the local watershed and greenhouse emissions; raising colonies of insect larvae that biodegrade plastic waste; raising oyster mushrooms to turn organic material into food and fertilizer; using wastewater streams as a nutrient source for food crops; and developing a zero-impact poultry feed.
Kniesly also leads the after-school San Clemens Farm 4-H Club, a community club that focuses on agriculture and sustainability. A core tenet of the 4-H Club is to serve their human and ecological communities. Students tend gardens, harvest vegetables and fruits, and collect and wash eggs from a chicken coop. Food they produce is shared with student families and with individuals in their community experiencing homelessness. Several of the student members are English language learners, recent migrants, students with disabilities, and/or LGBTQ+ youth. The San Clemens Farm 4-H Club continues to grow and has become an inclusive space for students where they can learn, collaborate, and share ideas in a judgement-free space.

"The PIAEE award is a tremendous personal honor, but more importantly it highlights the need for agricultural and environmental education in urban communities," said Kniesly. "The challenges our world faces cannot be met by one point of view from a narrow set of people. We need to highlight the knowledge within our historically marginalized communities to form and reform our practices for a better, more just future."

The Presidential Innovation Award for Environmental Educators recognizes outstanding kindergarten through grade 12 teachers who employ innovative approaches to environmental education and use the environment as a context for learning for their students. Awardees receive a Presidential award plaque, up to $2,500 to be used to further the recipient's professional development in environmental education, and a congratulatory certificate from a senior official from EPA and/or the White House. Additionally, each awardees' local education agency will also receive an award of up to $2,500 to fund environmental educational activities and programs.