Congratulations to These Outstanding 2022 College of Education Graduates
by Office of Communications / May 11, 2022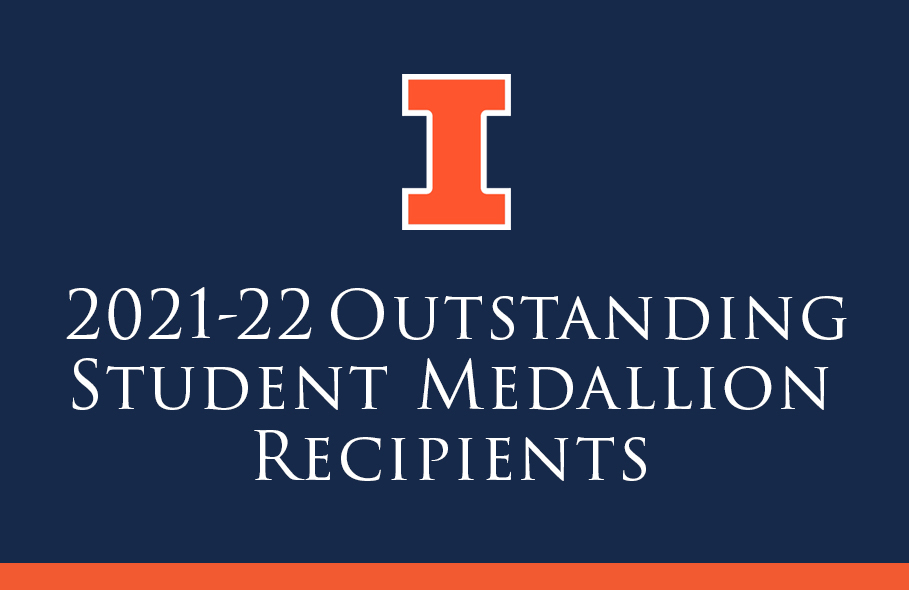 The Outstanding Student Medal award is presented every year to an undergraduate, graduate, and doctoral student completing their degree in the College of Education.
Faculty members of the College of Education nominate students whom they believe to display a superior level of scholarship within their departments and programs; offer their time and service to the college, campus, or community; and show promise as potential leaders in the education field. This award is given annually at the College of Education Convocation Ceremony, where each recipient delivers a speech to their peers.

Please join us in congratulating our 2022 Outstanding Student Medal winners: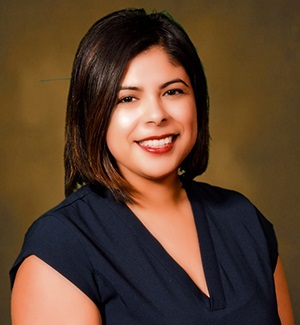 Janeth Aleman-Tovar is this year's Doctoral degree Outstanding Student Medal recipient. Earlier this spring, Dr. Aleman-Tovar successfully delivered her Ph.D. dissertation defense in Special Education. Prior to pursuing her doctoral degree at Illinois, Dr. Aleman-Tovar was a third grade and special education teacher for five years in Fresno, California. Alongside her adviser Dr. Meghan Burke, she has participated in many research efforts, working to "facilitate Latinx, Spanish-speaking family involvement in their children's education" and "to improve the school and post-school outcomes of Latinx youth with disabilities." This fall, Dr. Aleman-Tovar will continue this work with Latinx students as she joins the faculty at California State University at Chico, where she will surely represent Illinois as a proud alumna.

In her nomination letter, Dr. Rosa Milagros Santos, professor of Special Education, praised Dr. Aleman-Tovar for her research, scholarships, and impressive record of publications, saying that, "The scholarly work Dr. Aleman-Tovar is building is unique and much needed in the field and in our society. Her contributions are already making a mark in special education."


Colleen Finucane is one of two Master's degree / Advanced certificate level Outstanding Student Medal recipients for 2022. Colleen also earned her Bachelor of Science degree in Special Education from the College of Education at Illinois in 2019.
Today, Colleen says her Master of Education degree in Special Education, "has expanded my knowledge of special education, particularly focused on multiple and severe disabilities, which has improved my ability to provide the most effective, evidence-based interventions for my students." Colleen has completed her master's degree coursework and thesis while working full time as a special education teacher at Englewood STEM High School in Chicago.

This fall, Colleen looks forward to beginning a Ph.D. program at the University of Illinois Chicago to continue studying special education, specifically within the juvenile justice system.
Dr. Yvonne Carey commends Colleen as an incredibly reliable and thoughtful student who is committed to improving her skills as a teacher and acts as a strong advocate for her students. Impressed with Colleen's ability to successfully balance a full-time teaching position and a rigorous graduate program, Dr. Carey wrote, "Colleen's experience in the classroom coupled with her academic achievements and desire to learn make her a strong candidate for creating change in the field of special education. She is an exceptional student who has already made a difference in the lives of many."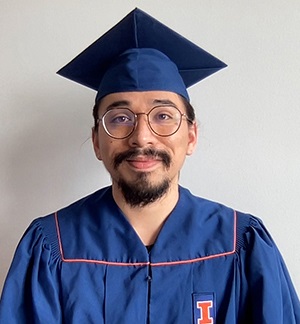 Taylor Masamitsu is our second Master's degree / Advanced certificate level Outstanding Student Medal recipient. Taylor completed his Master of Education in Diversity & Equity in Education, which is his third postsecondary degree. Through his time at the university, Taylor has sought "to learn how case law, legislation, and political discourse contribute to Americans' racialization and sexualization of LGBTQIA+ Asian American students." After graduating, Taylor will remain at the University of Illinois in Urbana-Champaign to pursue a Ph.D. in Social Sciences & Educational Policy.
Dr. Jon Hale, associate professor in Curriculum & Instruction, appreciates Taylor's scholarship and work ethic saying, "I have known Taylor as a very intelligent, insightful, and dedicated student with the genuine interest, passion, and talent in academic and extracurricular pursuits to be a successful scholar and effective teacher." Dr. Yoon Pak, professor and head of Education Policy, Organization & Leadership and Taylor's upcoming doctoral advisor, states that Taylor is "ready to contribute to research related to Asian American and Pacific Islander issues in education, and particularly where LGBTQ+ youth in schools have experienced great levels of trauma and discrimination."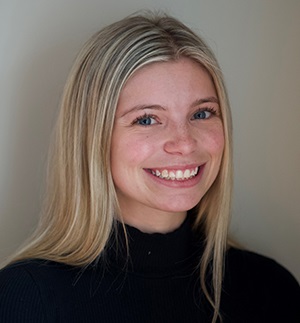 Hannah Borushek is the 2022 Bachelor's degree Outstanding Student Medal recipient. Hannah is graduating with her B.S. in Elementary Education. A graduate of New Trier High School in Chicagoland, Hannah is thankful for how instrumental her own educators have been to inspire her to succeed in ways she once thought unattainable. Hannah has a strong desire to support her future students using a leadership style rooted in understanding and equity.

Dr. Alisha Lewis, University Primary School director and adjunct lecturer for Curriculum & Instruction, wrote highly about Hannah's passion for the field of education, dedication to applying her coursework, and outstanding self-awareness. Dr. Lewis says that "Hannah seeks ways to be an advocate for children, especially those who are marginalized due to learning differences. She questions the status quo of oppressive systems and circumstances, and she is a leader both in word and deed."
Kudos again to Hannah, Colleen, Taylor, and Janeth on receiving the Outstanding Student Medal award and for their outstanding achievements. Congratulations to all of the 2022 College of Education graduates!