Zamani-Gallaher Honored by Diverse: Issues In Higher Education Magazine
by Ralph Newell, Diverse Issues in Higher Education / Feb 9, 2022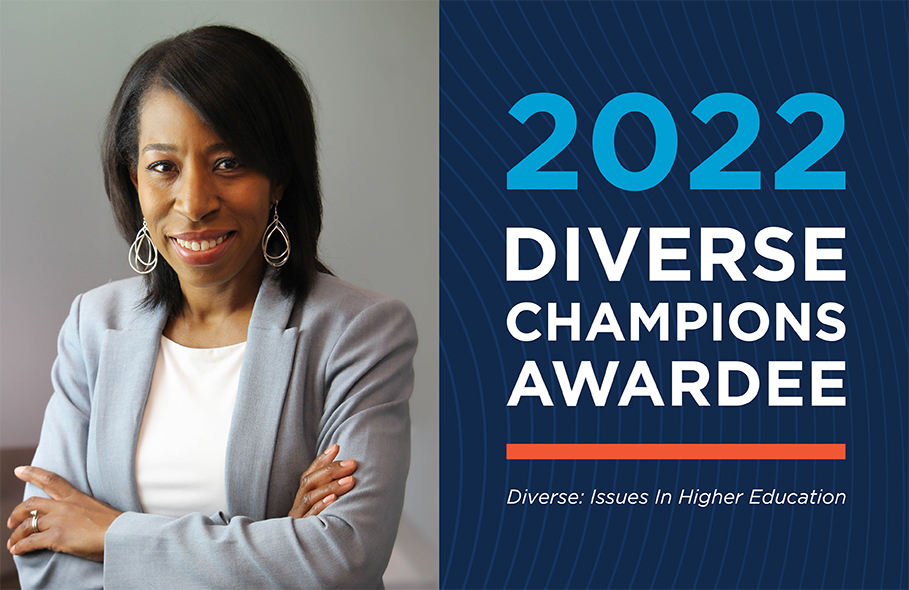 Diverse: Issues In Higher Education newsmagazine is pleased to announce that Dr. Eboni M. Zamani-Gallaher will be the recipient of its 2022 Diverse Champions Award.
Zamani-Gallaher is professor of Higher Education and Community College Leadership and the director of the Office for Community College Research and Leadership (OCCRL) at the University of Illinois Urbana-Champaign. She previously served as the university's associate head of the Department of Education Policy, Organization and Leadership and associate dean of the Graduate College. Currently, she also serves as the Executive Director of the Council for the Study of Community Colleges (CSCC).
During her extensive career in higher education, Zamani-Gallaher has conducted research on marginalized student populations in marginalized institutional contexts. Namely, her work has focused on access, participation, and equitable postsecondary educational trajectories for diverse collegians in two- and four-year institutions. Zamani-Gallaher's scholarship specifically concerns how underrepresented and underserved students navigate open systems of admissions to further education and/or gainful employment. Her studies span policy relevant inquiry on affirmative action in college admissions, postsecondary prison education, ADA compliance, and campus climate for racially minoritized students, students with disabilities, LGBTQIA collegians, and student veterans.
The March 31, 2022 edition of Diverse will include a tribute to Zamani-Gallaher. And the Diverse Champions Award will be presented to her during the annual meeting of the American Association of Community Colleges.

About this Award
The Diverse Champions Award recognizes community college leaders who have shown an unwavering commitment to equal opportunity and access for all, particularly at the community college level.
The first awardee, in 2012, was Dr. John E. Roueche, director of the Community College Leadership Program at the University of Texas at Austin. Other recipients have been:
2013 Dr. Walter Bumphus, executive director, American Association of Community Colleges
2014 Dr. Jerry Sue Thornton, president, Cuyahoga Community College
2015 Dr. Eduardo Padrón, president, Miami Dade Community College
2016 Dr. Terry O'Banion, former CEO & president, League for Innovation
2017 Dr. Kay McClenney, former executive director, Center for Community College Student Engagement
2018 Dr. Suanne Roueche, former executive director, NISOD
2018 Dr. Christine McPhail, founding director, Center for Community College Leadership at Morgan State University
2019 Dr. Ken Atwater, president, Hillsborough Community College
2020 Dr. Curtis Ivery, chancellor, Wayne County Community College District
2021 Eloy Ortiz Oakley, chancellor, California Community Colleges
For almost four decades, Diverse: Issues In Higher Education has been America's premier source of timely news, provocative commentary, insightful interviews and in-depth special reports on diversity in higher education. Savvy individuals who appreciate the crucial and ever-changing role that higher education plays in the lives of student and professionals, and their families and communities, make reading Diverse a regular habit.