Announcing the Inaugural Cohort of Public Engagement Faculty Fellows
by Tom Hanlon / Feb 1, 2022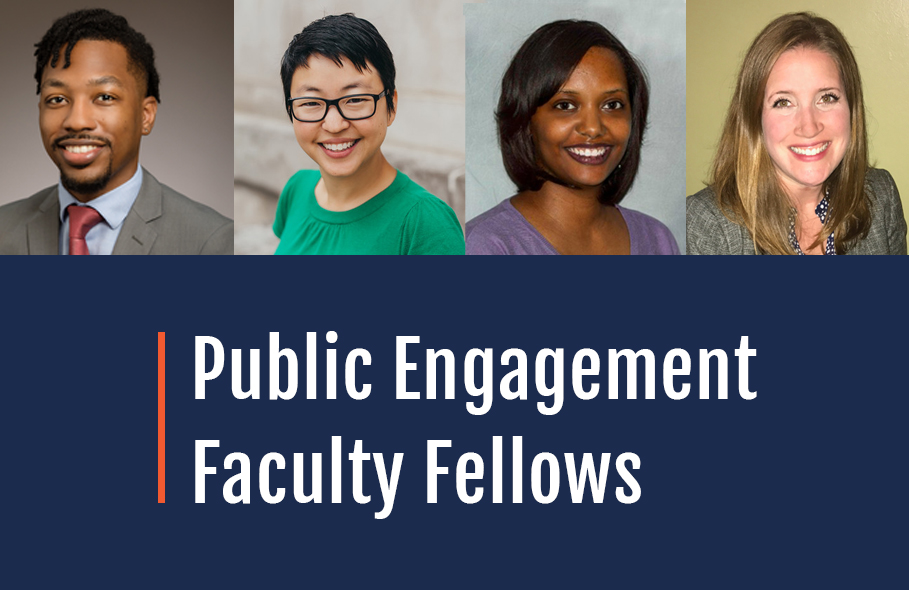 Four assistant professors in the College of Education will collaboratively define values and indicators for public engagement during the 2022-23 academic year.
One assistant professor is working with an environmental association. Another is engaging with local churches. A third is partnering with middle school math teachers. And a fourth is collaborating with a school district and two University of Illinois graduate training programs.
While these four assistant professors in the College of Education are working on different projects and with different groups of people, they do have one thing in common: They make up the College's first cohort of Public Engagement Faculty Fellows. As such, they will work collaboratively to help the College of Education delineate values and definitions for publicly-engaged research, outline indicators and metrics for publicly-engaged scholars in the tenure process, and engage their communities in ways consistent with the values framework defined by the Committee of Fellows and Office of Public Engagement staff. Each fellow receives a one-year, $6,500 grant for the 2022-2023 school year.
"The quality and quantity of the applications far exceeded our expectations," says Emily Stone, director of public engagement. So much so, she adds, that the College decided to select four, rather than three, fellows.
"Public engagement is very much at the center of the College's mission," Stone notes. "It creates a translational research cycle for the College in the sense that through our public engagement efforts, we learn more about what our partners need us to be researching, and through that research, we are able to provide feedback to those partners. It creates a very meaningful academic environment."
Public Engagement Projects
One such partnership is with middle school math teachers.
Erica Mason,
assistant professor in the
Department of Special Education,
is heading a partnership with teachers to improve math instruction for students with disabilities. "We hope to create and sustain an ongoing partnership through which instructional improvement and professional learning can occur over time," she says. "The goal of this work is to support mathematics teachers in adopting a more humanizing stance about who is mathematically capable and how mathematics instruction can reflect such a stance."
The focus for Cherie Avent, assistant professor in the Department of Educational Psychology, is on partnering with local African American churches to address challenges related to COVID-19. "More specifically, designing, implementing, and evaluating community-initiated COVID-19 interventions, such as vaccine clinics, messaging campaigns, town halls, etc., that are grounded in culturally sustaining research and culturally responsive evaluation," she says. "The overarching goal is to establish an authentic, sustainable community-academic partnership with local African American churches, bringing together research, outreach, education, and public engagement to address structural racism and health disparities in Champaign and Urbana."
Samantha Lindgren, assistant professor in the Department of Education Policy, Organization & Leadership, is working with the Environmental Education Association of Illinois to conduct a needs assessment of non-formal environmental education providers (such as forest preserves, nature centers, and botanical gardens) to help effectively reach diverse audiences. "While climate literacy is increasingly seen as vital to the long-term health of our planet, the pandemic has forced many environmental education providers to reduce programming, eliminate educator positions, and change the ways in which they engage the public," Lindgren says. "Our needs assessment will determine the current state of environmental education opportunities across the state and provide us with information about what the providers need in order to continue to offer high-quality and accessible programming."
Jarrett Lewis, assistant professor in the Department of Educational Psychology, is leading a collaboration between Champaign Unit 4 School District administrators and mental health practitioners, the College of Education's Counseling Psychology program, The Department of Psychology's Clinical-Community Psychology program, and the Master of Social Work program to address mental health disparities faced by Black middle school youth. "Specifically, our project aims to assess the mental health service needs of Unit 4 students, with a particular focus on Black/African American youth who have been disproportionately affected by the COVID-19 pandemic and the increased gun violence exposure in the Champaign-Urbana area," Lewis says. "We hope to identify and amend policies that may uphold systemic and structural racism that impacts the mental and emotional health of Black middle school students, and to collaboratively design and assess a culturally-sensitive, race-conscious, and trauma-informed school-based mental health intervention. I'm hopeful this will be a foundational project for many future collaborative efforts to address mental health disparities in Unit 4 schools."
Impacting Educators and Students
"The strength of this cohort is in its diversity," Stone says. "They each represent different kinds of engagement." Each project will serve as a case study to inform the public engagement values framework, definitions, and metrics for the College of Education.
Such engagement will only increase, she adds.
"Public engagement is always evolving at the College, and the university is actively reworking how we define, as a campus, these kinds of public engagement concepts and projects and ideas. So, this cohort will help us define and measure at a campus scale when our faculty go up for tenure and promotion and are evaluated along public engagement lines. We'll start to create preliminary definition and evaluation metrics that we can look at and use going forward."
The bottom line, however, is simple: The public engagement projects undertaken by the College will focus on enhancing the educational systems involved, both traditional and nontraditional (such as the churches that Avent is working with). And the projects will work to improve the communities these educational systems are housed in and positively impact teachers and students.