Survey: Teacher Shortage Worsening For Most Illinois Districts
by Peter Hancock, Capitol News Illinois / Feb 28, 2021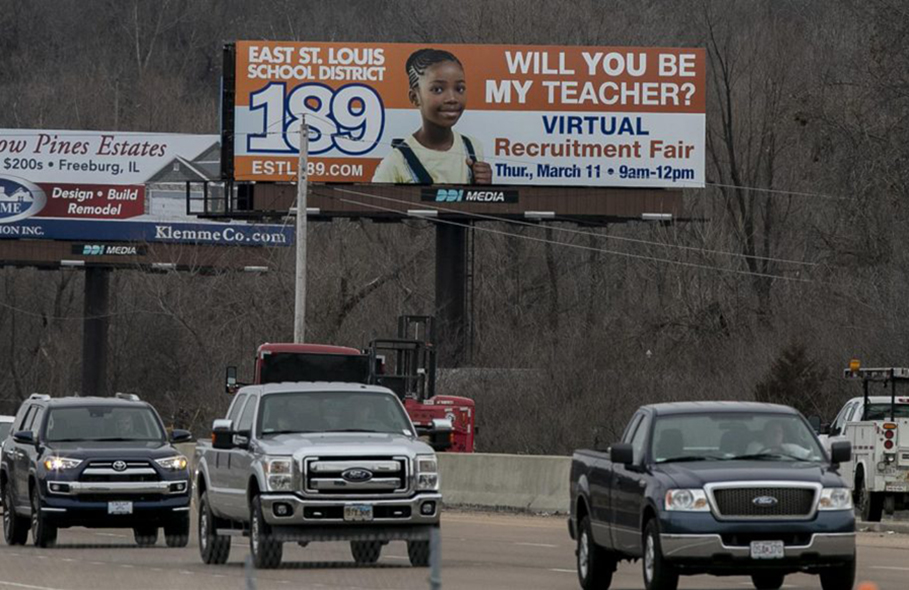 A billboard located along Illinois State route 15 in Centreville advertises for teachers for East St. Louis School District 189. Photo credit: Belleville News-Democrat.
James D. Anderson, dean of the College of Education, spoke to the Capitol News Illinois (Springfield) about various issues surrounding teaching as a career choice in Illinois.
A new survey of Illinois school districts shows most are continuing to have trouble filling open teaching positions with qualified teachers and even more are having difficulty hiring substitute teachers.
It's a problem that has existed in the state for many years and one that experts attribute to a variety of factors, such as low pay and the difficulty in attracting new teachers to work in certain parts of the state.
The survey has been conducted each of the past four years by the Illinois Association of Regional Superintendents of Schools. Regional superintendents are in charge of supervising schools in the state's 38 educational regions and operating regional offices of education. They also act as a kind of conduit of information and support between the Illinois State Board of Education and the state's 853 local school districts.
"You know, it's not like we just stubbed our toe, this is a crisis," IARSS President Mark Klaisner said in an interview. "It's getting worse each year. And when we asked them to look forward, they said, you know, in the next five years, we don't see this changing."
The latest survey was conducted in early October 2020 and included responses from 591 of the state's 853 districts. Of those responding, 77 percent said they have a teacher shortage problem while 93 percent said they have a problem hiring substitute teachers, particularly since the start of the COVID-19 pandemic.
Individual districts have responded to the shortage in a variety of ways, such as canceling the offering of some classes or switching them to online formats as well as filling critical positions with teachers who are not fully qualified to teach in a particular grade level or subject area.
In fact, the districts that responded to the survey reported a combined total of 938 open teaching positions – 17 percent of the 5,414 positions that districts were looking to fill – were either unfilled or filled by someone who was not certified in that grade level or subject area. That percentage, however, is actually down from previous surveys. In 2017, districts reported that 28 percent of their open positions were either vacant or filled by someone not fully qualified.
The largest number of those was in special education at all grade levels, where 195 positions were either vacant or filled by an unqualified teacher. In terms of percentages, though, computer science teachers were also hard to come by. Forty-one percent of the open computer science positions were either vacant or filled by an unqualified teacher.
Districts also reported having trouble filling elementary education, math, physical education and science positions.
The survey also found that 257 classes offered in the participating districts had been canceled and 195 had been moved online because school administrators could not find educators to teach them.
The severity of shortages also varied by region. In west central Illinois, for example, 89 percent of the districts responding to the survey reported having a teacher shortage problem, compared to only 55 percent of the districts in northeast Illinois.
Causes of the Shortage
Education researchers in Illinois say the reasons for the teacher shortage are numerous and complex, but it boils down to the fact that there are more veteran teachers around the state retiring or leaving the profession than there are new teachers coming out of university schools of education.
James Anderson, dean of the University of Illinois Urbana-Champaign's College of Education, said in an interview that for a variety of reasons, including the cost of a college education and the salaries teachers earn after graduating, teaching has become a less attractive career than many other professions.
"You graduate from high school, you come to college to become a teacher, you borrow a significant amount of money along the way, then you go into the profession with a very low salary," he said. "And then you try to pay off your student debt and perform your job as a teacher. And that's a very difficult invitation to accept."
The minimum wage for a teacher in Illinois is $34,576 for the 2021-2022 school year and is scheduled to increase under state law to $40,000 by the 2023-2024 school year.
An analysis of the survey results showed a strong correlation between the severity of the shortage and the average teacher salary in a given district. As teacher salaries increase, superintendents report less of a problem with teacher shortages.

Read the full story at WILL's Illinois Newsroom...