Technology Loan Program Helps Families Receive Early Childhood Services Online
by Sharita Forrest, UI News Bureau / Dec 18, 2020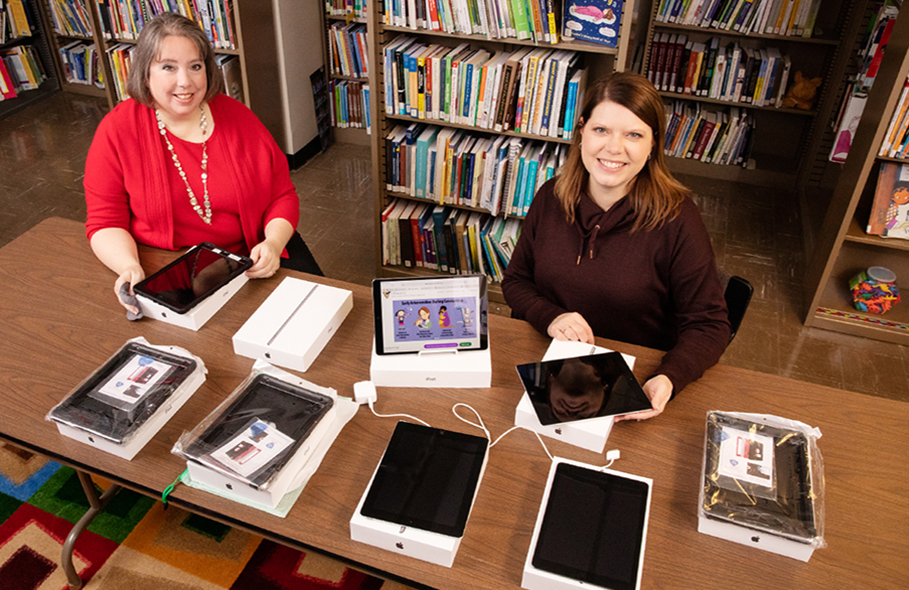 Sarah Isaacs, the librarian of the Early Intervention Clearinghouse, and research information specialist Jill Tompkins show some of the tablet computers and Wi-Fi hotspots that families of infants and children with disabilities or delays can borrow for telehealth visits with providers of early intervention services.
When the COVID-19 pandemic forced Illinois service providers to suspend in-person early intervention visits last spring, families of infants and toddlers with disabilities or delays who lacked online access faced challenges obtaining services such as speech, occupational therapy and developmental therapy.
However, a technology loan program provided by the Illinois Early Intervention Clearinghouse at the University of Illinois Urbana-Champaign is helping many families across the state obtain the equipment they need to participate in live video – or telehealth – visits with their children's therapists.
Families obtaining early intervention services who have smartphones or computers but lack internet access can borrow Wi-Fi hotspots from the clearinghouse, while families who need digital devices can borrow tablet computers with or without data plans. The equipment is lent for free.
Since the clearinghouse began lending the equipment in June, it has received hundreds of requests from families, most of them needing both a tablet and a Wi-Fi hotspot to access telehealth services, said U. of I. Special Education associate professor Meghan Burke.
She is the principal investigator on the grant from the Illinois Department of Human Services Bureau of Early Intervention, which funds the clearinghouse.
Operated by the Early Childhood Collective at the U. of I., the clearinghouse functions as a statewide lending library for the 20,000 Illinois families of children with disabilities and delays, and the 6,000 professionals across the state who provide services such as speech and physical therapy, nutrition services and assistive technology for infants and children up to age 3.
The resources available through the clearinghouse include books, DVDs, tip sheets and a newsletter on early intervention best practices and parenting.
"The clearinghouse was uniquely prepared to be a strong support for families during this difficult time," said visiting project coordinator and clearinghouse librarian Sarah Isaacs. "Early intervention services are critical because young children grow and develop so quickly. If they do not receive services during that narrow window, it can have lasting effects."
Early intervention services are typically provided in the natural environment, in the family home or day care setting, Burke said.
"If you have a young child up to age 3 with a disability such as Down syndrome or a speech or language impairment, a provider comes into the day care center or the home and coaches the family about effective strategies to use with the child to help them make progress," Burke said.
When rising COVID-19 cases in the spring prompted safety concerns about face-to-face contact, state officials suspended in-person visits temporarily and shifted to online delivery to help flatten the curve.
"Thankfully, state officials quickly put together guidance allowing teletherapy so that families could use Skype, Zoom or other internet platforms to connect with their therapists and continue to receive needed early intervention services remotely," Burke said.
Isaacs and information specialist Jill Tompkins set up each device with the necessary apps and programs to help families get a quick start with their live video visits. When children age out of early intervention services or no longer need them, their families return the tablets or hotspots to the clearinghouse, and the equipment is cleaned and lent out to the next recipient on the waiting list.
"One of the great things about the Illinois Bureau of Early Intervention is that they want to ensure that these practices are equitable," Burke said. "With telehealth, families who lack access to consistent internet or those who don't have a smartphone or computer might not be able to participate."
The technology lending program is funded with a $10,000 grant from the disability advocacy organization The Arc of Illinois, a $30,000 grant from the Illinois Developmental Disabilities Council and project funds from the clearinghouse.
"We were really excited to get the $10,000 grant so we could support quite a few families with it initially," Burke said. "But after we served those people, we still had a waiting list of more than 65 people we didn't have devices to serve."
When the Illinois Developmental Disabilities Council awarded the $30,000 grant in mid-November, the clearinghouse was able to purchase additional devices to serve about 40 more families on its waiting list.
"Without this funding and, accordingly, the technology, these families would not be able to receive needed early intervention services," Burke said.
Feedback from families and providers using the technology loan program has been positive, as it has helped them bridge the digital divide and connect with their therapists safely.
"It's a good feeling to know that we are providing a necessary service during the pandemic," Tompkins said. "The families are very appreciative to have the equipment they need to support their child."
"There's a research project out of Rush University that is also lending devices to families who are eligible, but aside from that and our clearinghouse, I don't see many other ways for families to obtain the technology they need to engage in early intervention services remotely," Burke said. "­­We are excited to fill this niche."
For more information about the technology loan program, to request devices or search the lending library for materials, visit the clearinghouse webpage or call 877-275-3227.