University Primary School Aces the Transition to Remote Learning
by Tom Hanlon / Jun 10, 2020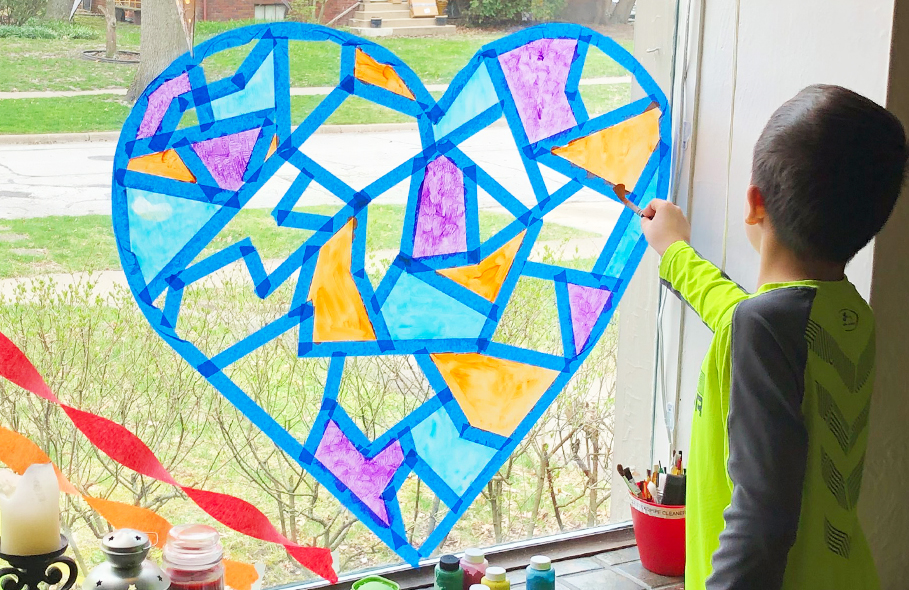 Two parents share their experiences as their children transitioned to the mandated remote learning caused by COVID-19. While the transition was far from easy, the overall experience was positive—and the learning continued, unabated, in this new context.
In one room, some kindergartners and first graders at University Primary School are learning about the Great Barrier Reef. (It is the world's largest living structure; it can be seen from outer space; over 1500 different species of fish live in the reef.)
In another room, their classmates are solving "the mystery of the missing firewood." As they brainstorm about the firewood, they also collaborate on a picture of an aquarium, drawing fish inside.
"I know!" one child says. "Let's ask the fish about the firewood!"
One boy informs the group that he asked the fish already, "and the fish said to look in the woods, and then there was a big explosion of missiles and subwoofers!" This boy proceeds to draw a dance floor with subwoofers, and informs everyone that rock music is blaring from the speakers.
All of this learning, discovery, imagination, and collaboration is taking place in individual homes across the Urbana-Champaign area—homes that are connected through Zoom, the video communications company that has skyrocketed in popularity since COVID-19 turned the world upside down.
The rooms referred to are virtual "Zoom Rooms." Children, teachers, and parents virtually connected each school day once the pandemic required sheltering at home.
Welcome to school, COVID-19 pandemic style.
The coronavirus changed the way teachers and children met and interacted. It altered lesson plans and how those lessons were delivered. And it transformed the role of parents in their children's education.
The only thing it didn't change was the quality of the learning that took place over the last 10 weeks of the school year at the College of Education's University Primary School.
A Stressor for Parents and Kids
"Our kids are used to having their own independent identity away from us at school," says Kathy Kew Lee, mother of Daehyun, a third-grader at Uni Primary School. "Here, they were forced to have their school identity with us watching them. I could tell that was causing him stress."
Hari Sundaram, whose son, Vikram, is a kindergartner at Uni Primary, points out a different identity issue. "Vikram would see me as his dad, not his teacher," he says. "If I'm telling him he has to do A, then B, then C, in some structure, he'll tell me 'No, you're my dad, and I'm playing with you.' As parents, we were playing dual roles."
The first few weeks, Sundaram adds, he and his wife worried that they weren't creating the right learning context for their son. "We were overwhelmed," he says. "Then we realized we just had to let it go and it would be fine."
Lee notes that she spent a lot more time with her third-grader (she also has a sixth-grader at Countryside School) than she originally expected. "It was surprising how much work it's been for me," she says. "I didn't realize how much there was to learn, being in this situation."
But all that extra time wasn't a negative, she adds. "I've learned a lot about Daehyun and how he is in the school environment, and I've realized more closely which things are hard for him and which things are easy."
She has helped him see not only his strengths, but to reconsider his perception of his weaknesses. "So, while it's been a bit of a challenge navigating some of those harder things, I see it as a blessing," Lee says.
Juggling Work and Remote Learning
Another challenge for many parents, Sundaram included, was juggling their own work-at-home schedules with helping their children learn at home.
"My first thought was how will this work?" Sundaram says. "My wife and I both teach at the University, but fortunately we teach on different days, so we ended up sharing the load. My wife worked in the mornings and I worked in the afternoons and evenings. It was difficult for Vikram, though, because he expected to be with both of us."
Lee acknowledges another positive that came out of the pandemic: more family time together. "Our two boys have a lot of activities," she says, "so now, every night, we have family dinner. We weren't able to do that before." Another wrinkle in family time: After she would read to Daehyun at bedtime, her sixth-grader would read to her. "This never happened before!" she says. "So, there are some real blessings amongst all of this."
Sundaram concurs. "These times have strengthened the bond between us and our child," he says. "The flexibility that Uni Primary offered is critical. I spent countless hours happily playing tag with Vikram during recess—something we never did during the regular workweek—and without worrying that we hadn't completed a project due after recess."
'Fantastic' Communication from Uni Primary
Among those blessings, both parents agreed, were University Primary director Ali Lewis and her staff.
"We would get two to three emails a day from Vikram's teachers, just about things like everyday math or maybe something the teacher wanted to share," Sundaram says. "Ali was wonderful in letting us know at the outset that not only was this hard, but that she and her colleagues had talked through the various issues, what the structure of the day should be like, and the emphasis that yes, these are crazy times, and if it's not working, figure out a way that works for you. That was wonderful.
"Uni Primary was fantastic in communicating expectations and plans."
The encouragement from Uni Primary to find the way that best works for the family was just what Lee needed to hear.
"Sometimes we'd set goals for ourselves, and there would be tears, so I'd say, 'Okay, today we're going to make a cake, and we'll do math making a cake and throw everything out the window.'" (Except, we assume, the cake.)
Maintaining an Emphasis on Social and Emotional Learning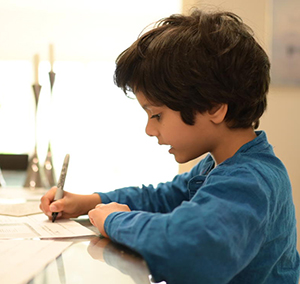 In addition to being given the option to change plans or even opt out of a Zoom session "if participating on that day was not a good fit for you," Lee is grateful that Uni Primary maintained an emphasis on social and emotional learning (SEL).
"My son and I did a lot of problem-solving together," she recalls. "You know, why did this feel hard for him, how did it differ from what he did and saw in the physical classroom, and how does that inform me as a parent? For example, having flexibility in this time period, like an open writing assignment, could feel crippling to Daehyun. I wonder if in a time when so many things are out of your control if having flexible assignments felt harder than usual."
Sundaram appreciates how Uni Primary orients learning around the child's everyday experiences, grounding that learning in the real world around the child. For example, rather than adding numbers in a book, they might be asked to count the number of kids wearing something blue that day and the number of kids with something red on and add those numbers up.
"In Zoom class, he had a screenshot of people, and he was asked to count how many were wearing hats," Sundaram says. "One of the values of Uni Primary is children understand how to learn without really knowing they are being taught."
Uni Primary promotes critical thinking, he adds, and the school also "gives children the sense that they have agency in terms of how they go about doing things. This is really important as far as education is concerned. When a child understands that he or she has the ability to change his or her immediate context, this is very valuable."
Using Technology to Continue the Learning
That understanding was particularly valuable this spring, when kids' learning contexts changed dramatically due to COVID-19. Besides using Zoom to connect, and to devise various virtual breakout rooms for the kids to explore (thus, the room on the Great Barrier Reef and on solving the mystery), Uni Primary used technology to everyone's advantage in other ways. Kids recorded and uploaded short videos of themselves using Flipgrid ("to present a project or share a riddle or inspire each other through drawings or poetry," Lee says); teachers used online resources available from Kahn Academy for math and Epic! for reading so they could better focus on the kids' SEL needs; and teachers used the whiteboard function of Zoom in various ways, including facilitating the children's collaborative drawings.
"The whiteboard worked very well in K-1," Sundaram says. "The kids would create art together in real time. I think all the kids loved that.
"The use of technology was cool and probably fostered some ways of learning that wouldn't have happened in the physical classroom."
Deepened Appreciation for Teachers
The remote learning experience this spring has deepened Sundaram's appreciation for Uni Primary teachers. "When we have kids at home, you realize the amount of work it takes to get them to focus, to understand," he says. "It helps you to appreciate teachers a lot more."
That appreciation was expressed during Teacher Appreciation Week, which Lee coordinated for Uni Primary.
"Parents wrote about the sense of stability that teachers were still providing their kids on a daily basis, and how that made a big difference in their kids' mental states," she says. "A lot of kids said it was a scary time to go through, but it felt less scary because they were going through it with their teachers.
"We know a lot of teachers were homeschooling their own kids. The whole Uni Primary community has been very appreciative of the flexibility, the caring, and the attitudes of the teachers."

About University Primary School
University Primary School (Uni Primary) is a PreK-5th grade Reggio Emilia-inspired lab school where children are engaged in creative, challenging, and meaningful curricular inquiries using The Project Approach alongside Common Core Standards. Uni Primary has been The College of Education's Lab School for over 30 years. Located on the University of Illinois campus, the school enjoys the intellectual resources a world-class university affords. The democratic classroom communities at Uni Primary make effective use of cooperation, negotiation, and choice as a means to foster children's curiosity and love of learning. At Uni Primary, children are nurtured to support diverse talents and abilities through differentiated practices attuned to intellectual, social, and emotional growth.