New Faculty Address STEM Evaluation and Equity in a Global Context
by Tom Hanlon / May 4, 2020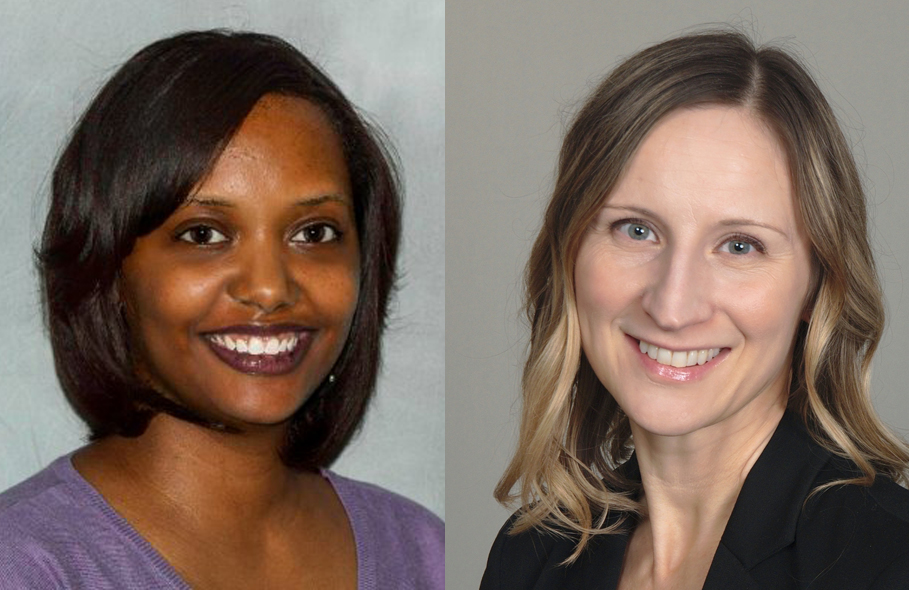 Cherie Avent and Melissa Goodnight, new faculty in the Department of Educational Psychology, build capacity in STEM evaluation, equity in global and international contexts, social justice, and mixed-methods research. It's part of the department's growth plan to complement an already rich set of methodologies in the Quantitative and Qualitative Methodology, Measurement, and Evaluation (QUERIES) division in the department.
One of Rodney Hopson's first charges when he arrived on campus at the University of Illinois at Urbana-Champaign was to rebuild the evaluation unit of the Department of Educational Psychology, which had been affected by recent retirements.
Hopson, who came to Illinois through a Distinguished Faculty Recruitment Fellowship in 2018, has been busy doing just that. And he anticipates the department's two newest hires, assistant professors Melissa Goodnight and Cherie Avent, will make immediate contributions to the unit, department, College, and university.
"My chair entrusted me to lead the committee search, and with the help of senior colleagues in the department and College, I knew that I wanted to build on the historical foundation of our QUERIES unit, particularly our focus on evaluation that has had some a storied intellectual and academic tradition around the world, and I'm excited about Melissa and Cherie, because they're exceptionally brilliant. So, we put ourselves on the map again in a big way," Hopson says.
Goodnight earned her PhD at UCLA, where "she was trained by well-known educational evaluation and research theorists, researchers and comparativists, who have laid the foundation of interdisciplinary fields in education," Hopson says. Avent just completed her PhD at the University of North Carolina at Greensboro this spring and is working in the STEM space. "She's a student of a former Illinois student," Hopson notes. "Her advisor was mentored by and through this tradition of excellence in evaluation, an Illinois school of evaluation I would admit, and hope to distinguish more in a forthcoming book, that has shouldered giant ideas for decades. So Cherie understands the importance of the tradition and ethos of a place like the University of Illinois."
Social Justice and Evaluation in STEM Fields
Avent's research interests include social justice and evaluation, communication, and STEM evaluation. "STEM fields have historically had issues around equity, diversity, inclusion, and access," she says. "One piece of my dissertation looked at how do STEM evaluators conceptualize issues of equity, diversity, and inclusion, and how does that influence their roles and decision-making roles and their processes?

"I hope to dig deeper into those three areas at Illinois, whether I'm doing that collectively or separately," she adds. "I do think there's a through line between all three of them, but they can each be looked at individually."
Avent, who will teach a mixed methods course in the fall in addition to engaging in research, has already worked with faculty at the University of Illinois on a couple of NSF-funded projects. In one, she and Dr. Ayesha Boyce, her mentor at UNC Greensboro and an Illinois alumna, acted as the external evaluation team for a nanomanufacturing project with the College of Engineering. "We were tasked with assessing program quality and the project's impact in its ability to enhance STEM education and diversify the STEM pipeline," Avent says. "The NSF is pushing to broaden participation in STEM fields. We looked at how minorities are being engaged and recruited, how they are encouraged to either pursue graduate school in a STEM field or pursue a STEM career."
Evaluation in a Global Context
Goodnight joined the University of Illinois in 2017 as a lecturer in Global Studies, recruited to teach its research methods and human rights courses. For the 2019-20 academic year, she has been teaching online courses in both Global Studies and for the Department of Educational Psychology. As an adjunct lecturer for Educational Psychology, she has turned two core evaluation courses—Evaluation Theory and Evaluation Practice—into eight-week online courses.
"One of my interests in evaluation is in the history and development of the field," Goodnight says. "I'm also really interested in the field's future orientation, where it is headed, particularly in trying to meet the social challenges of society in terms of global contexts. For example, how is evaluation serving the social needs and institutional development of countries like India?"
She mentions India because she spent about a year there doing fieldwork for her dissertation, and also has spent several summers there. That experience helped to pave the way for her to become a lecturer in Global Studies. "My background research in issues of equality in India's rural education system, as well as my training in comparative international education, made for a good academic fit," Goodnight says.
Another research interest of Goodnight's is evaluation theory, particularly evaluation's relationship to society—"more broadly, how we understand how evaluation affects social institutions and how it influences the work of organizations.
"I'm really tackling two questions. One is why is evaluation important, why does it matter to society, to issues of social justice? And the other is how can we better develop evaluation—in our theory, our practices—to be more human, more equitable, more democratic?"
Goodnight and Avent will be helping to develop an evaluation certificate program for the department, an initiative that Hopson has been pursuing, Goodnight says. "It will help develop evaluation capacity and train graduate students from multiple disciplines how to do evaluations," she adds. She also plans to develop an archive that represents the history of evaluation and practice in the College of Education.
Ready to Hit the Ground Running
"I'm excited about joining my colleagues in evaluation," Goodnight says. "They are part of this very important legacy in the field and do phenomenal work. I'm inspired by them and eager to collaborate with them."
Avent echoes that excitement. "The Ed Psych Department's reputation both nationally and internationally has been furthered by scholars who have been seminal to the field of evaluation theory and practice," she says. "To be able to join that legacy, to continue furthering the field, really excites me. The university offers a number of opportunities in grant funding and research that will allow me to continue my line of research that will move the field of evaluation forward.
"I'm looking forward to getting started and hitting the ground running."
"We're going to yield some incredible fruit"
"We've been very fortunate," Hopson says of the new growth in the department. "Our methods faculty services beyond the College of Education to other graduate students who need the education in evaluation. We serve as a pathway for a lot of graduate students. So, to add two more to that is going to be tremendous.
"It's raining now for us in our department and our evaluation unit. We're going to yield some incredible fruit in years to come."