The BER Today: Rich, Relevant, and Multidisciplinary
by Tom Hanlon / Sep 19, 2019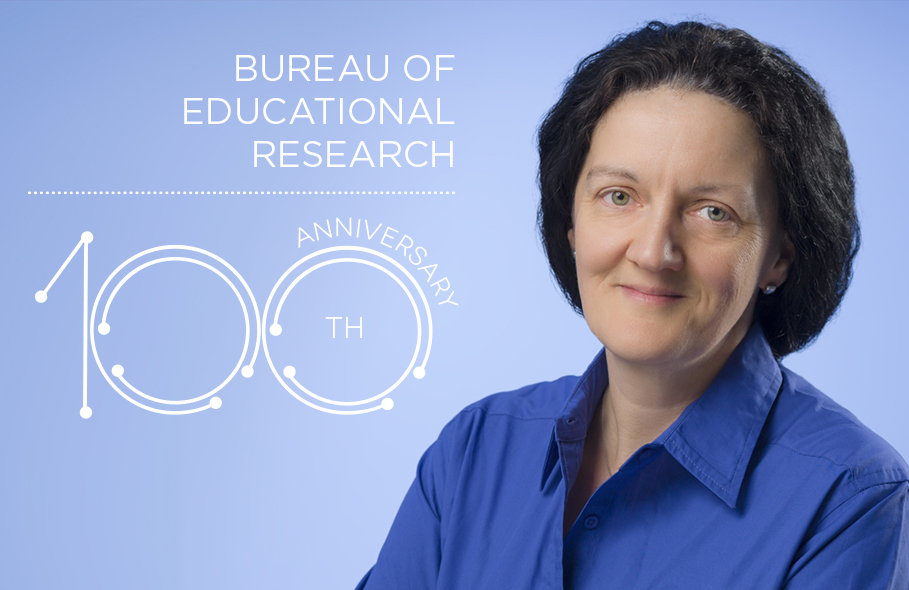 The Bureau of Educational Research spawns and supports multiple initiatives that produce tools and solutions that impact all of society.
The Bureau of Educational Research is a proactive and prolific organization that develops, sustains, and supports a number of important research initiatives. In doing so, the bureau remains relevant today, a full 100 years after its inception.
Those initiatives originate from the College of Education, but many are interdisciplinary efforts that benefit practitioners in multiple fields.
Here are just a few examples of the initiatives that have come from, or are supported by, the Bureau of Educational Research (BER):
The Illinois Learning Sciences Design Initiative (ILSDI), a campus-wide effort led by the College of Education, involves 35 units on campus. It is focused on designing, disseminating, and commercializing transformational technological tools to support learning environments and practices.
One of the initiatives that came from ILSDI is called Technology Innovation in Educational Research and Design (TIER-ED). Through TIER-ED, teams of interdisciplinary researchers and designers are developing novel applications of new technologies that address critical issues in education and learning across the lifespan. Those technologies include virtual reality, augmented reality, and artificial intelligence.
The Illinois Digital Ecologies and Learning Laboratory (IDEALL) provides the infrastructure for fine-grained research on learning with emerging technologies, enabling scholars in the College of Education and across campus to study learner interactions with digital technologies in real-time.
Janus is an initiative in formation, aiming to offer a statewide participant recruitment network to study human development and wellbeing across the lifespan. It provides a data structure to support research across many related fields, including social and behavioral health, education, and economics.
These initiatives, says Gabrielle Allen, associate dean for research and research education in the College of Education, who leads the bureau, both highlight the importance of collaboration and align with the mission of the University of Illinois.
"We are seeing the emergence of the importance of interdisciplinary research, with a focus on the science and engineering disciplines around addressing the critical issues educators face today," she says. "And more recently, the University is focusing on its public mission and thinking deeply about civic engagement and social impact."
Promoting and Supporting Transformative Research
The BER's mission, Allen says, is to promote and support transformative research and engagement that advances educational practice. "We see ourselves doing this in a number of ways," she says. "We establish and organize teaching and catalytic and capacity-building activities, resources, and relationships. We develop and support proposals, projects, and initiatives. We provide advanced research services and grant management for faculty in the College to enable them to respond to the very broad set of funding agencies and opportunities that are available. We understand the grants that are out there, what they are trying to accomplish, and that can help us put together an initiative that is more likely to be successful. And we try to provoke social and infrastructure support that help faculty meet the challenges our society is currently facing."
Those challenges have caused the research to shift to a more outward focus, Allen says. "We see questions coming up in education requiring more cross-disciplinary expertise and more coordinated action," she notes. "If you look at the deep topics in the College, in general you see this trend to be more about interdisciplinary with local impact. Having the bureau in the College enables us to respond."
A Collaborative Effort
The BER makes a conscious effort to look for new collaborators in conducting studies and building educational tools. "By consistently paying attention, it means we can stay ahead of the curve," says Elizabeth Niswander, director of strategic initiatives for the BER. "That way we'll be ready to fire when the opportunity arises."
Those opportunities can arise with new research networks, Allen adds. "We've been working to leverage from new research networks out there like the Illinois Innovation Network, where we can connect more easily with different government institutions, industry, and non-government organizations," she says. "These are the kinds of partners with whom we need to build these large-scale infrastructures to support modern research."
The BER's current projects with the Discovery Partners Initiative and the Illinois Innovation Network aim to improve the success of school transitions, which, Allen says, "is immensely important for the study of workforce development and also to provide the infrastructure for research across different disciplinary domains in the College and the University."
The research partners on campus alone provide true heavyweights to collaborate with. For example, Niswander says, with the National Center for Supercomputing Applications (NSCA) being local, critical data research can be accomplished.
"We're living in a time when data consumption and data access are social issues," she says. "We find the corporate world is very innovative but fairly light on the sense of responsibility when it comes to managing data. This offers the opportunity to think, how can we take that seriously for research purposes and also become trustworthy partners with other education and social organizations? It doesn't have to be a trade-off; it can be a win-win that can produce certain kinds of data with measurable results without compromising individual wellbeing and so forth. It's ambitious but it's important."
Always Moving Forward
The BER has remained relevant because it is always moving forward, adjusting with the times and the needs of the people it serves. And right now, Allen says, that means joining with the national movement toward "convergence research," where a problem-driven approach to integrate knowledge from different disciplines, with diverse researchers and stakeholders, is applied to real-world challenges.
"That's very exciting both for the research and also for the way that we contribute to the land grant mission of the University. That's what motivates the work that's done in the bureau," she says.
The Bureau of Educational Research (BER) in the College of Education at the University of Illinois at Urbana-Champaign celebrates its 100th anniversary on September 27, 2019, from 8 a.m. to 3 p.m. at 22 Educational Building at the College of Education, located at 1310 S. Sixth St. in Champaign.
To read more about some of the initiatives the BER is involved in, please go to:
https://tier-ed.education.illinois.edu