Meet Briana Lucas, '12 ECE, SLPS Kindergarten Educator of the Year
by Ashley Lawrence / Jun 13, 2019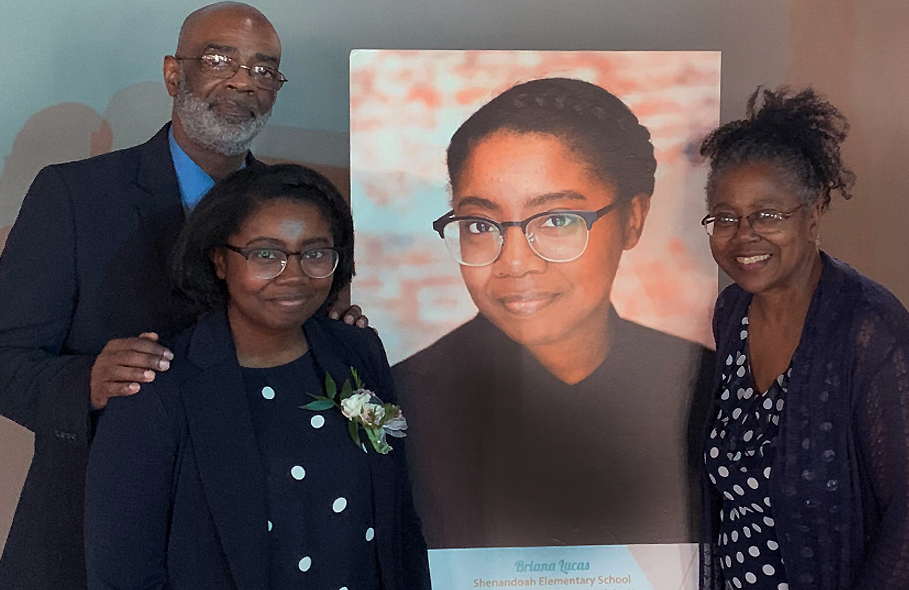 College of Education alumna, and current Ed.D. student in the Diversity & Equity in Education program online, Briana Lucas was honored with the Gertrude Faust Potthoff Kindergarten Educator of the Year award at a ceremony held in May.
St. Louis Public Schools (SLPS) presents its Educator of the Year awards annually to 17 dedicated, inspirational educators and school leaders among its nearly 2,200 employees. The program was created to recognize and reward effective practices that benefit students and the teaching profession. One awardee is chosen within categories such as early childhood education, elementary STEM, PK-12 special education, kindergarten, secondary math, and more. Nominees must demonstrate excellence in the classroom or in a leadership capacity, which is evaluated in a two-part process. First, a written nomination from a colleague, administrator, student, or parent is reviewed. Then, nominees are observed at their schools by a panel that includes former educators, community leaders, and field-specific experts.
All 2019 Educator of the Year awardees were honored at an awards reception with family and colleagues at Palladium St. Louis. Each winner received a trophy, a plaque for his or her school, and a $1,000 award provided by donors to the St. Louis Public Schools Foundation. Honorees also received a $500 award through the Parsons Blewett Memorial Fund.
Afterward, Lucas, who has taught in SLPS for four years, shared more with our Communications Office about the recognition and her future goals and dreams.
What was your reaction when you found out you had been chosen for this award?
BL: My school, Shenandoah Elementary, is one of the smallest schools in SLPS, and it seems like everybody—other teachers, classroom volunteers, grandparents of my students—knew about me getting this award before I did. It's a close-knit community. The day I found out, my principal had the whole school come to the gym for an assembly. He called my class up, had me come up front and congratulated me. It was amazing—my kids were so proud of having "the best" teacher, and I had other older students calling me out in the hallway to congratulate me.
Why is this honor important, and what does it means to you?
BL: I feel being recognized as Educator of the Year shows my kids that if you dedicate yourself to others, it pays off. It reaffirms for me that what I'm doing is good. It makes my students feel good too, makes them excited to come to school and proud of me. I've told them that I'm sharing this award with them, and they think that's pretty cool.
The way I teach was basically how I was raised. Being originally from this area, I know what my kids are going through. I'm teaching them how to survive, and how to use their voice. I'm guiding them to make things better. Stay in school, use your voice, and use that voice for positive change. Being recognized like this makes what I'm teaching them even more legitimate.
Already having completed a master's degree from Columbia University Teacher's College, and now being recognized as an outstanding early career educator, what can you tell us about your future goals?
BL: First, I am currently pursuing an Ed.D in Diversity & Equity online through the College of Education at Illinois. I started the program in January of this year, so hopefully will complete the coursework in about three years.
Eventually, I want to create my own school. I want to reach kids through social justice, having empathy for other people of different cultures and backgrounds. I have ideas of how to approach this and get the community to rally around the concept. My end goal is to fix some of the social problems through a school to help kids who are from St. Louis and East St. Louis. Public schools are trying our best to fix trauma issues, but don't have adequate resources. I want to have a school that helps parents, grandparents, the whole family. A place where we can reach people holistically with jobs, housing, continued education, and more. Something that serves and strengthens the whole community.
The classes I'm taking in my program are helping me understand not just what the problems are within our current educational system, but what we do next. Professor Pak (Yoon Pak) is challenging us to creatively determine how we fix them.
Watch the VIDEO from the 2019 SLPS Educator of the Year awards reception here…