Prof. Linda Herrera Helping Transform Education 6,000 Miles Away
by Communications Office / May 6, 2019
Big reforms, or "transformations," as they are being called, are underway within the Egyptian Ministry of Education and Technical Education (MOETE), and one of the College's own is helping guide this change. Professor Linda Herrera, EPOL, who is working as an education research consultant for the Ministry, recently led a workshop in Cairo with key stakeholders from the country's education policy and international donor community.
At the workshop, Professor Herrera discussed trends in educational research and plans to establish a specialized research unit to document and provide evidence-based policy support for Egypt's range of education reforms, which are commonly being called "Education 2.0." Herrera explained more about her unique connection to this Middle Eastern nation, and how her work throughout her career, and at Illinois, has prepared her for this moment.
Q: How did you come to be selected for this role?
LH: In 2016, Dr. Tarek Shawki, then serving in Egypt as Senior Strategic Advisor to the President for Education and Outreach, visited the University of Illinois at Urbana-Champaign where he had worked for 13 years in the Department of Theoretical and Applied Mechanics. He wanted to revisit the campus where he got his academic start as assistant and associate professor. Some of his colleagues in Cairo told him that a leading expert on Egyptian education, someone who had been documenting changes in the system since the 1990s, was teaching at Illinois. It was me. He made a visit to the College of Education where we met with a small group of faculty. Dr. Shawki expressed interest in some form of cooperation, but nothing concrete materialized at that time.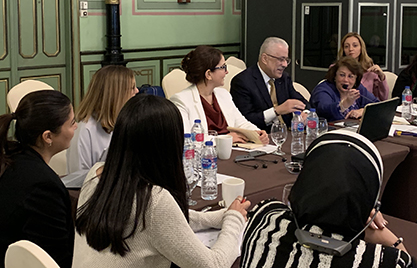 Then in 2018, Dr. Shawki was appointed Minister of Education and Technical Education. During the fall 2018 term, he reached out to me about getting involved in some capacity with the reforms, or "transformations," as they are called, and we had an extensive phone conversation to brainstorm. Soon thereafter, I traveled to Egypt where I visited schools, met with staff, advisors, donors, teacher trainers, and policy experts from the national and international community.
We came to the conclusion that my role would be to work towards establishing a specialized Education 2.0 research unit/program for evidence-based research that could inform policy, evaluate the impact of reforms, provide insights on culture change, analyze big data made recently available with the Egyptian Knowledge Bank and tablets in Year 10, and document the momentous reform process.
Q: How has your perspective, background, and expertise made a difference?
LH: My first empirical study was a year-long ethnography in 1990-91 of the world of a public sector Egyptian girls' school. That qualitative, exploratory, highly-detailed and rigorous work was the best foundation I could imagine for entering the world of educational policy and later, global studies. From that microstudy of an Egyptian school, I have been building knowledge outward to try to better understand connections between the local school community (youth, families, teachers, government employees) and the state, global political economy, Islamist movements, geopolitics, new technology regimes, mass uprisings, cognition, and so on. My research has continuously adjusted to incorporate larger historical and political forces and their bearing on education systems, without losing sight of local actors. Being able to retool as a researcher and policy-thinker has proved beneficial as I approach this new challenge.
I have also been fortunate to work in international post-graduate programs where I have advised graduate students who have been immensely diverse in terms of interests, place of origin, orientation, social background, etc. Whether working with students from the Children and Youth Studies program at the International Institute of Social Studies in The Hague, or our own Global Studies in Education students, I continue to become more nimble as a research thinker and broaden my understanding of educational diversity in a global context.
On the point of my background, it must be added that I first went to Egypt at age 22 and lived in the country for 17 years (I grew up in California in a mixed Arab-Hispanic home). Egypt was the place I married, studied, raised children, formed deep and lasting friendships, learned about the complexity of nations and politics, and researched school systems. I care deeply about Egyptian society and this caring adds another dimension to the skills and knowledge I have gained over the years and my desire to be of service to the educators, policy makers, and families of the country.
Q: What other relevant information can you share regarding education policy in Egypt?
LH: Too often, education policy unfolds globally as a top-down process in which powerful multilateral organizations and development wings of OECD countries set the education policy agendas. At this current juncture, Egypt is not merely the recipient and implementer of policies, but is poised as a policy pioneer. The Egyptian Knowledge Bank (EKB) and other initiatives in place constitute a bold 21st century educational experiment with potentially far reaching consequences. However, their implementation, reception, and effectiveness are far from fully understood. It is not yet clear how the sum of these reforms will reorient the system towards Education 2.0 and bring about a different mission and set of national and international priorities, practices, and outcomes in relation to the economy and society.

This national project can offer valuable lessons for other countries, particularly but not only middle-income countries grappling with ways to retool schools and education systems in an age of advanced digital technologies, global connectivity, shifting understandings and practices of citizenship, and rapidly changing realities in the world of work and the economy. Hence, the need for research and documentation in real time as reforms unfold and take root throughout Egypt. We hope a research unit can play a role in informing policy and sharing the experiments of Egypt with a broader education policy community.
Learn more at Dr. Herrera's website.