NILOA challenges higher education's status quo
by Filip Przybysz (filip87@illinois.edu) / Jan 9, 2018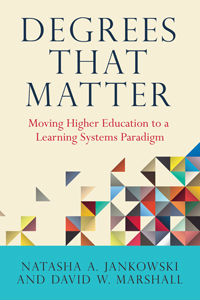 NILOA challenges higher education's status quo with introduction of new learning systems paradigm
Natasha Jankowski, director of the National Institute for Learning Outcomes Assessment (NILOA), and David Marshall, a senior scholar at NILOA, offer a critique of the current higher-education system in their new book, Degrees That Matter: Moving Higher Education to a Learning Systems Paradigm. Jankowski and Marshall claim that the student experience in higher education is often disjointed. To address that problem, the authors present a learning system in which critical educational elements are in alignment, not only enhancing the learning experience for students, but improving higher education altogether.
Degrees That Matter introduces the four aspects of the proposed learning systems paradigm that today's students require─consensus-based, aligned, learner-centered, and communicated. Based on research conducted at more than 800 institutions, Jankowski and Marshall guide readers through the learning systems paradigm and lay the path to a more integrated and connected educational experience for students. Together, the four aspects of the paradigm have big implications for how to think about assessment for learning in higher education: shifting how to work in higher education and, as a result, how to map where learning happens as well as assess student learning through the form of meaningful assignments.
"Their 'consensus-based, aligned, learner-centered, and communicated' system prepares students with relevant 21st-century learning regardless of when they enter or re-enter our institutions. A 'must read' for institutional leaders, administrators, faculty and staff across all institutional types," said Peggy Maki, a renowned higher education consultant in the field of assessment.
Natasha Jankowski is the director of NILOA and a Research Assistant Professor in the Department of Education Policy, Organization and Leadership at the University of Illinois Urbana-Champaign. She is co-author, along with her NILOA colleagues, of the book Using Evidence of Student Learning to Improve Higher Education and has written various reports for NILOA as well as a regular NILOA Perspectives column for Assessment Update. Her main research interests include assessment and evaluation, organizational evidence use, and evidence-based storytelling.
David Marshall is a senior scholar for NILOA. His research, taken from a practitioner lens, explores issues of alignment and curriculum mapping as a complex collaborative process in higher education, both within institutions and across institutions nationally. He is the author of Tuning American Higher Education: The Process, co-author of Roadmap to Enhanced Student Learning, and co-editor with Jankowski of a special volume of New Directions in Institutional Research on the Degree Qualifications Profile (DQP) and Tuning.
Discover details, photos, and author bios.