A life remembered: Bud Spodek's impact on early childhood education began in 1950s, continues today
by the College of Education at Illinois / Dec 11, 2017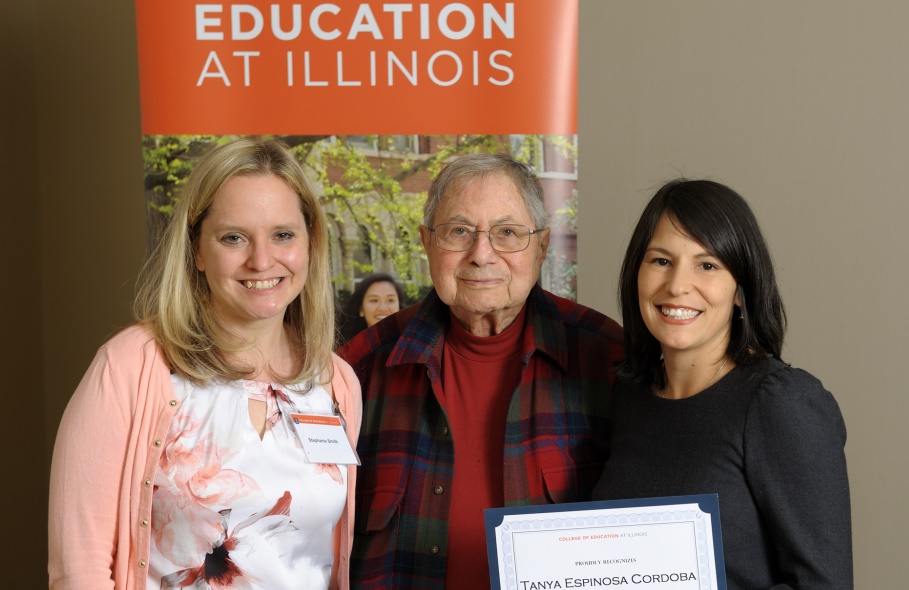 Stephanie Sanders-Smith, Bud Spodek, and Tanya Espinosa Cordoba
at the 2017 Student Recognition Brunch
Professor Emeritus Bernard "Bud" Spodek—an educator, mentor, researcher, and writer whose contributions to early childhood education spanned six decades and influenced people of all ages worldwide—passed away on Dec. 3. He was 86 years old.
Spodek's passion for his lifelong work and his rise as a scholar within the early childhood education field started as a result of "unintended consequences," according a 2009 interview with Jean Mendoza. As an undergraduate at Brooklyn College he majored in psychology, with exploratory career thoughts of working with young children.
One of Spodek's undergraduate courses required that he do fieldwork in preschool, and he chose to do so in the progressive school Beth Hayeled in New York City. His tasks as an observer in the classroom required that he simply sit and take notes about the children.
"Instead, I was down on the floor interacting with the kids," Spodek told Mendoza.
After earning his bachelor's degree in 1952, Spodek took a job at Beth Hayeled as a co-teacher of 4-year-old children. He concurrently attended graduate school, taking one class per semester, to further his insights into early childhood education. Spodek earned a master's degree and doctorate from Teachers College, Columbia University in 1955 and 1962, respectively.
Spodek arrived at Illinois in 1965, a time when the field of early childhood education was expanding greatly on campus. Along with Dr. Lilian Katz, he played a major part in that expansion and helped establish a program of early childhood teachers and scholars who became recognized worldwide as leaders in early childhood pedagogy, teacher education, and the professionalization of early childhood education. During this period, Spodek received grants to train teachers, participated in summer institutes, and trained teachers in three-year doctoral programs.
Spodek's storied career included research that was focused on curriculum, teaching, and teacher education in early childhood education. He built relationships all over the world with well-known educators and scholars, and trained and mentored undergraduate and graduate students who later became leaders themselves.
Interim head and professor of Special Education Michaelene Ostrosky was guided by Spodek her very first year on campus—1991—as a mentor, colleague, and friend. In conjunction with the Department of Curriculum & Instruction, Ostrosky said Spodek was instrumental in making the early childhood program and the early childhood special education program more collaborative so that students could graduate as teachers prepared to teach all children. With Spodek's help, the curriculum was redesigned so that students graduated with certificates in early childhood education and early childhood special education.
"That made the students more marketable in the job market," Ostrosky said, "and allowed them to enter early childhood classrooms across the state with strong skills and pedagogical knowledge in curriculum and methods, assessment, family-centered practices, and current trends and issues in our field. Bud's imprint on and vision for the early childhood program is visible in the way our current students are prepared to enter the workforce."
Spodek served as president of the National Association for the Education of Young Children (1976-78), chair of the AERA Early Childhood Education and Child Development SIG (1981-1983), and founded the Pacific Early Childhood Education Research Association, serving as the organization's president until 2008.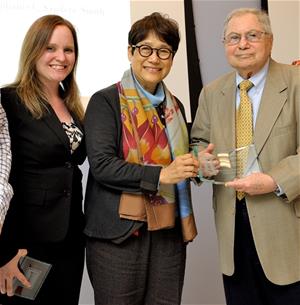 In 2011 Betty Chan, who did doctoral work in the College of Education and was awarded an honorary degree of doctor of humane letters in 2010 by the University of Illinois, established the Yew Chung – Bernard Spodek Scholar in Early Childhood Education fund in honor of her mentor. The fund currently supports Stephanie Sanders-Smith, an assistant professor in the Department of Curriculum & Instruction.
More recently, Bud and his wife, Prudence, established the Spodek Dissertation Award for students who are working to complete their dissertation study related to topics of early childhood education. The inaugural award was given last month to student Tanya Espinosa Cordoba at the College's annual Student Recognition Brunch, with Spodek on hand to present the gift.
More than 40 years after coming to Illinois, Spodek's influence is still strongly felt in the early childhood teacher education program, according to Sanders-Smith, and students are still taking courses that he conceived of and developed.
"The program still has ties to his foundational ideas of strong connections to practice coupled with intellectual rigor," she said. "We, in early childhood, remember our roles as professionals, as reformers, and as advocates for children and childhood. We follow the lead of Dr. Spodek to recognize the 'moral act' of being a good teacher that, in his words, 'The children will become something that they would not have without you.'"
Discover more about the life of Bud Spodek.