Innovation in Education Camp offers teenagers hands-on look at future teaching
by Sal Nudo / Aug 29, 2017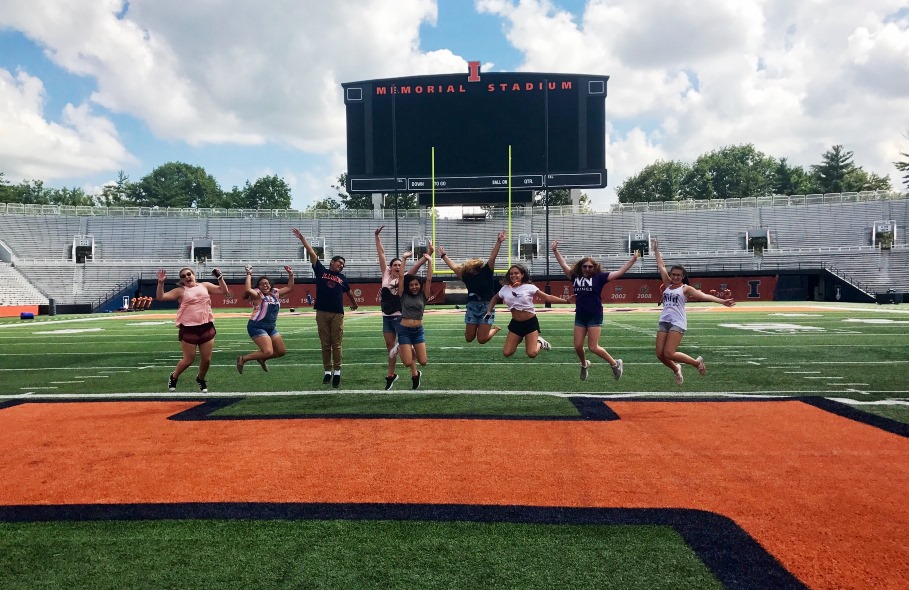 Looking back on her teenage years, Kendall Williamson, Ed.M. 17 C&I, isn't sure if she would have attended a summer camp at the College of Education for high school students who were thinking about becoming teachers. Maybe she would have; maybe not.
But if such a camp had existed at that time, and if she had attended, Williamson, who received her undergraduate degree from the College of Applied Health Sciences, might have pursued the field of education sooner than she did.
Guiding the career paths of potential future teachers early on was one reason Kathy Ryan, assistant dean for academic affairs, and Allison Witt, director of the Office of International Programs, started the Innovators in Education 5-Day Camp held in July.
Make no mistake: This was not a weeklong fun-in-the-sun-type camp where attendees could lounge around on campus or hang out in downtown Champaign. The nine high school campers from the Chicago suburbs, all of whom stayed in beautiful Wassaja Hall, were busy the whole time. They heard a lecture by Clinical Assistant Professor Adam Poetzel, who discussed new strategies and methods being developed and implemented in math teaching.
They listened to a heartfelt welcome message from Dean James Anderson about his student-teaching experience and his first year as a teacher. ("It was beautiful," Ryan said.)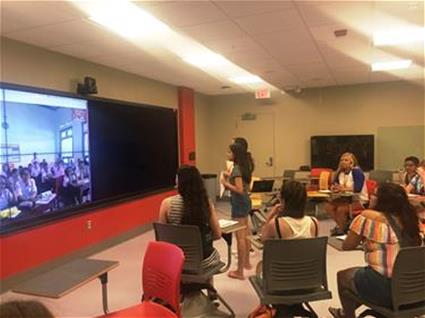 They discussed education practice in some of the highest-ranking K-12 schools in China, Finland, and Singapore and utilized cutting-edge technology in the College's iFLEX classrooms, which included teaching an English lesson to students in Indonesia.
They interacted with and watched presentations by pre-service Chinese students who were on campus, getting detailed information about education in China.
And they visited a Spanish camp at University Primary School in Champaign to interact with children and to observe scholars such as Dr. Ali Lewis, educators who are super-passionate about what they do.
They loved what they saw here in terms of possibilities that are coming their way."

- Allison Witt
The aspiring teenaged educators loved it all.
"We can show them the future," Witt said. "This is the future of teaching here, and that's really what they need to see in order to make an accurate decision about their career. They need to see what it's going to look like in 10 years, and this is where you see that. And it's how you know you want to be a teacher.
"The nine high school students we had here, they loved the future of teaching. They loved what they saw here in terms of the possibilities that are coming their way."
That was true for sophomore Ricardo Pliego, who attends Lane Tech College Prep High School in Chicago. His camp experience at the College marked the first time he'd been away from home for an extended period, and he was a little nervous. By the end of the week, however, Pliego called his time away from Chicago the "highlight of my year."
"Watching everyone talk about their careers and seeing their passion, it felt so reassuring to have found individuals who share my views and passion toward education," Pliego said. "Illinois holds a special place in my heart, especially the College of Education."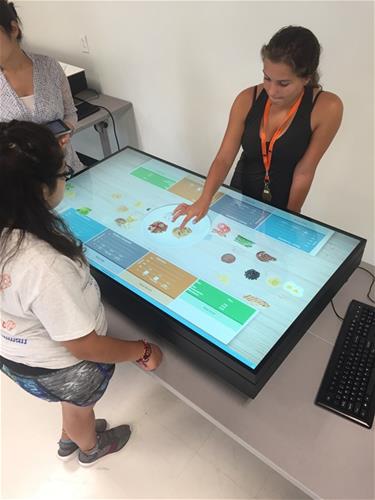 The post-camp comments from other attendees were similarly positive. Overall, they felt the camp explored interesting areas of education, helped them discover what college life is all about, showed them how the Illinois admissions process works, and provided a look at the opportunities undergraduates have. In a survey following the camp, one camper wrote:
"I met so many people who were so passionate about education, and it really reaffirmed for me how much I want to teach and made me feel excited and confident about my decision to teach."
Williamson, who recently began her teaching career at a school in northern Chicago, participated in the "Talking to Teachers" panel at the camp in Room 166. She was joined by Raphael Casas, Illyanna Lopez '16 C&I, and Juan Ramirez. The four educators took questions from camp attendees about a wide range of topics such as what made them want to become teachers, what the job market in teaching was like for them, how to balance a personal life with studying, and the options and benefits of studying abroad.
Williamson said she was amazed by the teenagers' many astute questions and was glad the panel could offer them varied perspectives of the field that ranged from an elementary education viewpoint all the way through high school and college.
"I was really impressed with the questions that they had," Williamson said. "Everything spanning from how to handle behavior management to how to work with students dealing with poverty. I remember all four of us on the panel were thinking if they're already asking these types of questions, then they're set on a good career path for them."
Throughout the week Meghan Kessler, who is pursuing a doctorate in Curriculum & Instruction and is co-director of the Illinois New Teacher Collaborative, served as the camp's program director. Along with Lopez, who served as the assistant camp director, Kessler accompanied the campers to destinations all over campus, which included visits to the Giertz Education Center, Spurlock Museum, Illinois Field, and the Illini Union.
Similar to Williamson, Kessler can look back on her own path in education and see the value of the Innovators in Education Camp. During high school she was a teacher's aide for a first-grade classroom. Through the experience, Kessler realized that that level of teaching wasn't for her.
"The more exposure these high school students have to either working with kids in different grade levels or exploring different systems or seeing the work of teachers in schools of different shapes and sizes the better off they'll be," she said.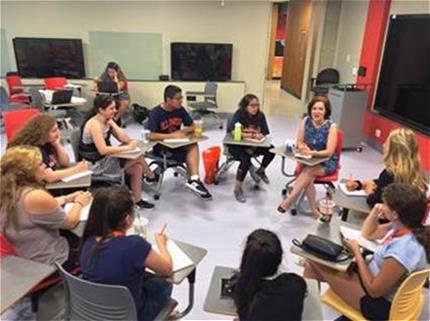 Ryan and Witt said future camps will likely have double the attendees and possibly a wider scope that includes more information on research. In addition, one-day camps will be available starting October 27 and periodically during coming years. Witt said the abbreviated camps will highlight the technological and global aspects of teaching, as well as strive to help high school students learn and conceive of new teaching ideas for the future within a stimulating and supportive environment.
"I don't think it hurts to put these ideas of themselves as a teacher in the future," Witt said. "It's good for them to begin imagining what that's going to look like. I want them to imagine it as this technologically advanced, global profession, and to have that vision now as they picture themselves in the future."